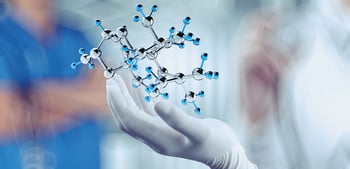 Sorry cotton: It's actually chemicals that are the real fabric of our lives. Many people overlook the complexities and products that come as a result of the chemical industry, such as many of our foods, medications and beautiful landscapes, but they're integral to so much of what makes our lives possible. The chemical industry is an $801 billion annual industry that employs 800,000 plus professionals in the United States alone.
As for people in charge of finding people to make those chemicals, they're responsible for hiring some pretty in-demand folks as, on average, 80 percent of the chemical workforce earn over $100,000 annually. And as the chemical industry is rapidly expanding both in the United States and overseas, there is an increasing demand for companies to maintain and build their talent pipelines.
One leader in the chemical manufacturing space was under constant pressure to fill several high-skill positions quickly and efficiently. To turn the valve and alleviate some of that pressure, the corporation immediately called on Yoh to take on their recruitment needs and streamline their hiring processes.
The Dilemma
For most people, job openings with high salaries are a good problem, right? Not for the people who need to fill the positions. One company, a globally recognized chemical manufacturer, needed a partner to help fill a number of high-paying, difficult-to-fill marketing, sales, and regulatory positions on a consistent basis. And when the company's previous talent vendor wasn't quite cutting it, they called on Yoh to help pick up the slack.
Yoh played by the rules of osmosis and became the client's strategic partner for RPO – knowing all of the dos and don'ts of the recruiting process.
The Strategy
After realizing recruiters would need to make up for lost time cause by the previous vendor while still keeping costs to a minimum, Yoh quickly built a team of two recruiters and an interview coordinator to fill the roles. With job roles ranging from product marketing and regulatory experts, to scientists and salespeople at all ranges of, nothing but the best would do, so Yoh introduced some of its most skilled, adaptable recruiters to handle the increased workload. The Yoh team managed all search efforts, interviews and onboarding of new employees. Throughout the process, Yoh was seen as part RPO provider and part talent advisor, constantly evaluating the client's talent landscape and evolving with the client's needs.
The client did not have a large budget, but Yoh was able to strategically plan, execute and drive results that exceeded client expectations.
The Impact
Prior to hiring Yoh, the client was seeing acceptance rates close to 50 percent, way too many rejections to make any hiring headway. Given Yoh's strategic approach, the team grew the rate on job acceptances to a near-perfect 98 percent. But that was just the start of it.
When the client needs to partner with another vendor on a project, Yoh reviews all agreements and contracts ahead of time and, using our industry insight, negotiates to lower the company's spend whenever possible. On one project, for example, Yoh discovered more than $28,000 in savings that the client was essentially giving away. With Yoh, the vendor-client relationship is always a fully collaborative, trusted partnership. Yoh members often meet face-to-face with the client to ensure everything is on track and adjusting where necessary. Soon, Yoh will be providing full candidate interview training to all company HR team members and hiring mangers as part of its RPO partnership. It's all a part of the added value Yoh brings to each of its relationships.
Outside of filling positions, Yoh coordinated with the client to help improve its brand perception within the talent industry. Yoh translated feedback received in interviews into stronger prompts for interviews and helped grow its social media presence as a new recruiting tool.
In the end, Yoh and the client created a strong chemical bond and a long-term relationship. Want these results for your company? We can help.
Click here to view the full case study.