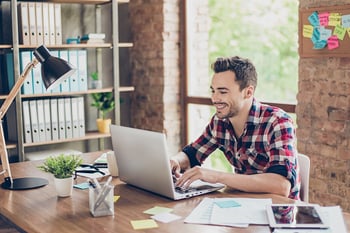 If you're new to the recruiting industry, it's essential to establish a brand identity and an online presence as soon as possible. The challenge, however, is figuring out how to present yourself to the right clients. Fortunately, this guide can help you create strategies for your recruitment marketing that can be incorporated into your daily business operations.
Create content
Keep in mind that companies and job seekers will go to the recruiters who can offer the best services in the market. If you can show them that your top priority is making sure you get them what they want, they will flock to you. One effective way to keep prospective clients informed is through regular publication of resourceful online content.
For example, you can publish blogs or send email tips that help build a professional brand for yourself that people can trust. Just writing simple content, however, isn't enough. It should be unique and genuinely capture the interest of your intended audience.
Consider writing regularly and posting your content on various social media platforms. This will allow you to attract a large pool of candidates while measuring their engagement level simultaneously. This will give you a clear understanding of exactly how to reach the best candidates.


Widen your market reach
Job seekers can come from many different backgrounds. If you want to increase your recruitment pool, consider potential candidates regardless of their individual demographics.
There are distinct advantages to having a diverse workforce since people from different backgrounds can provide employers with new and innovative ideas. This innovative thinking can even lead to increased profits. As companies become more aware of the need for diversity, recruiters must consider having a diverse candidate pool to increase their value proposition to prospective clients.


Use email to connect with prospects
It's both easy and inexpensive to send emails, and their response rate typically is high compared to the investment. However, it isn't enough to just send details of job roles; instead, consider giving relevant and helpful recruitment advice. Provide insight into the challenges faced by job candidates and employers.
Also, since the average person receives plenty of emails, ensure that your emails stand out. So, how can you make email recipients notice and remember you?
Start by creating subject lines that catch people's attention. You should aim to create some intrigue without revealing too much, which will make people look further into your email. Additionally, it should contain a call-to-action strong enough to entice them to click on the link to your site to find out more.
Timing is also crucial. You don't want to send too many emails to your recipients too often. If you do, they may get annoyed and either ignore or unsubscribe to them. You can, however, automatically schedule emails to be sent out at the appropriate time, containing content suited to their interests and skills.


Build your brand
Your advertisements and communications are intended to present a compelling reason for clients to use your services instead of competitors. This is why branding is essential for your business. Likewise, you can help clients attract the best candidates by:
Projecting the image that the client's company is an excellent workplace
Assist in the recruitment drive and employee retention
Therefore, in a job advertisement, make sure that you mention how your clients value their employees. Include any rewards, benefits or training opportunities they would be receiving. By painting a strong company image, you can increase your client's job application rates.
However, don't limit your client's selling points to a straightforward list. Consider using emotional language and graphics to create a reliable and positive brand that job seekers can connect to.


Take advantage of Google Ads and job boards
In the UK, around half of the digital advertising budget is devoted to paid searches. For example, you would only pay for an ad when a potential candidate clicks on it. This is a good way to help you keep your spending under control. Also, the pay-per-click (PPC) model produces results that you can quantify to analyze your advertisements' success. In addition, you can easily see the keywords in your ads that give the desired response.
Job boards are suitable for posting work opportunities. While some are private, most of them are in the public domain. They could be:
National or local in scope
General or specialized jobs
Free or subscription-based
If you're a recruiter who's still starting up, consider taking advantage of free online job boards such as Craigslist or Gumtree. Furthermore, established competitors can provide valuable insight on how to attract and maintain clients, so consider attending industry events and networking.


Consider advertising on social media
Advertising on social media is another way to help you attract and engage with potential candidates. The most popular platforms are:
Facebook: you can target specific prospects based on their age, education, location, areas of expertise, etc.
Instagram: this is a unique social media platform for recruitment purposes. With its sleek interface, your target audience will be able to engage with your ads since it doesn't feel 'spammy'; it makes advertisements a bit more fun
LinkedIn: this is a site that can reach both active and passive job candidates. It has tools that can analyze and track the people viewing your ads through their location, company and other essential information.
Twitter: you can make use of this platform's hashtags to advertise for job openings. For example, you can include in your tweet the hashtag #accountant. By doing so, you maximize your tweet's exposure, and people looking for an accountant position will be easily attracted.


Make use of online tools
One of the pieces of software you can use to make the recruitment process run smoothly is Meetup. It's an app where people can join groups or organize meetings. Recruiters can use it to host events for clients or candidates. Another helpful tool is Workable, which can help you in automating the writing and posting of job ads and other related content.


Conclusion
With all the tips mentioned above, stepping into the recruitment world should be a smooth process. You'll discover more helpful tips as you interact with clients, candidates, and members of your industry.
Keep in mind that regardless of the strategies you use, it's essential to meet the needs of your target audience. As you gain their trust, they will provide more business for your company and enhance your brand.
About the Author: Chris Anderson is a search engine optimization (SEO) and pay-per-click (PPC) expert with over 15 years of experience in online marketing. As head of Recruitment Traffic, he builds strong and lasting relationships with recruitment businesses by providing them with client leads, candidate applications and significant bottom line results.