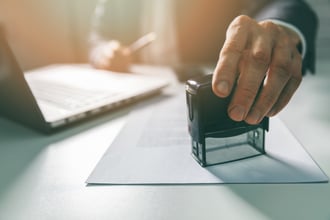 Training and certifications are a great way to advance in your career. They can increase your chances of landing your next job or advancing at your current company. This is especially important during uncertain times like these when the economy is spiraling. Taking that step shows your employers that you are a credible and proactive person, committed to what you do. The number of unemployed workers has skyrocketed, while the rest of the workforce hopes to maintain their job security in the age of Coronavirus.
Read on to learn five ways certifications help your advance and recession-proof your career.
Jumpstart your career
When you are a fresh graduate from University or looking for ways to change your career path more easily, earning the proper certification can help you validate your knowledge and skills in your interest areas.
College graduates are often not in sync with what the job market demands. They have gained the theoretical knowledge of subjects but lack some of the skills required to work in production-ready environments.
Well-crafted training programs can help young professionals in bridging this gap. Certifications are a great way to boost your career by proving you are job-ready and making your expertise accredited.
Keep your resume fresh and gain a competitive edge over other candidates.
The modern job market is highly competitive and ever-changing, so continuously developing your skillset is encouraged and expected. Your resume is an important part of your desired career path, and it's a place where you can show off all of your accomplishments.
Learning new skills makes you marketable and relevant to employers. Certifications prove that you are both well-trained and committed to professional growth. They verify your skills and also your ambition.
By enrolling in a course or training and getting certified, you'll gain valuable experience to add to your resume.
And candidates like these are more attractive to recruiters and companies, especially when there are plenty of candidates with everything the job description asks for. Having a relevant certification will help you stand out and create a more appealing personal brand.
When you acquire relevant skills within your professional field, you bring more value to your potential employer.
Enrich your professional endeavor faster by earning an online certification
The good news is that you can get certified even while under lockdown or social distancing measures. Whether you are looking to take your career to the next level or change your career path quickly, there are necessary certifications available online to help you achieve your goals.
Choose carefully as not all courses are created equal. It's important to check whether the certification is accepted in your professional field and whether it adheres to the latest industry standards and guidelines.
When it comes to health care providers, the increased need for cardiac and life support professionals due to pandemic means that acquiring ACLS online certification can help those looking for job opportunities enter the profession quickly.
And those already working within the health care will become better prepared for COVID emergencies. Comprehensive digital programs like these will provide you with the knowledge and skills necessary to build a stable career.
Certification provides you an opportunity to prepare for in-demand skills
Due to the rapid rate of technological advancement, the need for new skills is increasing. The digital transformation resulted in positions that require a specialized set of skills that are not easy to find.
As recruiters and executives struggle to fill these roles, it may be the perfect opportunity for employees!
According to the World Economic Forum, by 2022, more than 50 percent of the workforce will require reskilling and upskilling. You can stay ahead of the curve by doing your research now and learning valuable skills.
Researching the most in-demand skills can help you understand what organizations are currently in need of. Make sure to upskill frequently, so you are always up-to-date. Evolving your knowledge over time and staying relevant will secure your position in the industry of your choosing.
It can help you get back in the saddle quickly, even if you find yourself in need of a new job unexpectedly.
Achieve your long-term career goals
One of the keys to a successful career is having a clear vision of your future and where you want to be professionally in years to come. It's like reverse engineering. Once you set your goals, you can determine tactics and steps to help you achieve the outcome you desire. Understanding your long-term career goals will help you make the right decision and avoid paying for the wrong certifications or upskilling in the wrong direction.
Research your industry in-depth, and read job postings carefully. They will give you an idea of what industry leaders consider necessary for positions you aspire to capture. Talking to industry professionals can help you too, as they can advise you on whether a particular certification is valuable or not. Remember, investing your resources in the right milestones is crucial to streamlining the whole process and achieving your professional goals.
Earning a certification is a great way to strengthen your future job outcomes and rise to new heights. It can help you build upon your current knowledge, enhance your skills, and ultimately increase your chances of getting a better salary.
About the Author: Sophia Smith is a lifestyle and social media blogger and graphic and UX designer. She is an aesthete and photography lover by heart who loves everything that includes visual communication. Sophia is also very passionate about yoga and mindful living. Lately, she writes about digital marketing topics, from content to social. She has contributed to several publications, including Women Love Tech, Leader Maker, Legal Reader, Businessing Mag, Ruby Connection, Monterey Premier, and many others.