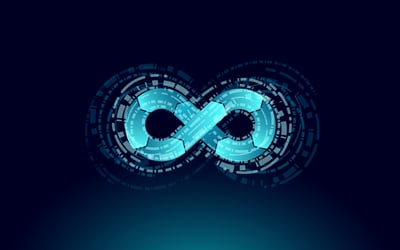 DevOps has been growing ever since Patrick Debois coined the term in 2009, and it is still trending in the world of information technology. The DevOps ideology has been embraced globally, with it being implemented in almost every top business organization, including Amazon, Netflix, Walmart, and Adobe to ensure quick and efficient delivery of software products and services to meet the demands and requirements of their fast-paced customers. DevOps is still popular in 2023 because it promotes a culture of shared responsibility and an efficient team collaboration approach between developers and operators, resulting in an efficient, swift, and secure software development cycle while allowing continuous testing, monitoring, and maintenance of existing deployments.
According to Global Market Insights research, DevOps will remain the flavor of the season for the foreseeable future, with no signs of abating. The DevOps market is expected to grow from more than $7 billion in 2021 to at least $30 billion in 2028. This article will walk you through some popular DevOps certification courses that can assist you in successfully transitioning into the DevOps ideology and getting you started.
There has never been a better time to get certified in DevOps, whether you are a complete novice or a veteran professional in IT. A DevOps certification can enhance your resume, boost job prospects, increase earning potential, differentiate you from competitors, validate your skills, and pave the way for professional success.
1. Postgraduate Program at Caltech CTME in the field of DevOps
The California Institute of Technology's Centre for Technology and Management Education (Caltech CTME) offers an excellent DevOps certification program in collaboration with Simplilearn's digital platform that caters to candidates from both programming and non-programming backgrounds from a wide range of industries, allowing them to master the craft and develop job-ready skills for DevOps career advancement. CTME is part of Caltech's Division of Engineering and Applied Science, a world-renowned science and engineering institute that is home to some of the world's brightest minds.
The main benefits of such online programs are that they offer a special blended learning experience that teaches you the fundamental DevOps concepts and tools, including Git, CI/CD with Jenkins, configuration management, Docker, Jenkins, Ansible, Kubernetes, and many others, through a thorough and well-structured curriculum created under the expert guidance of academic and industry experts.
2. DevOps Engineer Master's Program
Simplilearn's DevOps Engineer certification program teaches you the fundamentals of continuous integration, deployment, and monitoring using DevOps tools, configuration management, automation processes, inter-team collaboration, and IT service agility. In a practical, hands-on, interactive approach, you will also learn about important DevOps tools such as Git, Docker, Chef, Jenkins, Puppet, and Nagios.
The program is suited for seasoned IT professionals like Software developers, cloud engineers, tech leaders, and systems administrators who want to advance their careers as DevOps engineers.
This DevOps engineer certification courses have a well-structured and tailored curriculum that is taught via live interactive classes by world-class industry practitioners and highly-rated trainers. Through real-life case studies, the training program also assists you in gaining relevant industry experience.
3. Docker Certified Associate (DCA) Certification
Docker is an open-source software platform that enables the development and rapid deployment of applications using containers. Having a docker certification can be quite advantageous because containers are increasingly taking over as the standard approach for software packaging. You may learn about the foundations of Docker and the main technologies, including Docker Hub, Docker Compose, Docker Swarm, Docker Containers, Docker Engine, Docker Images, Docker Network, Docker Daemon, and Docker Storage, in the Docker training course.
4. Certified Kubernetes Administrator (CKA)
Kubernetes is a well-known container orchestration tool used to manage workflow and services. Having a CKA certification validates your knowledge of Kubernetes troubleshooting, cluster architecture, installation, and configuration, Kubernetes services and networking, Kubernetes Pods, Deployments, and Replica Sets.
Benefits of DevOps certification
1. Acquire cutting-edge knowledge and abilities
With the introduction of new technologies, the field of DevOps is continually evolving and demanding. A DevOps certification verifies your proficiency in all the most cutting-edge technologies and skills, including DevOps methodology, continuous integration and delivery, containerization, cloud platforms, deployment automation, and many more, which you can learn about through hands-on practice in interactive labs and project work.
2. Increased earning potential
Having a DevOps certification increases your earning potential. It may come as no surprise that DevOps roles have consistently maintained their position as one of the highest-paying jobs in the IT field.
3. Diverse career opportunities
With the integration of the DevOps philosophy across organizations, there is a high demand for competent DevOps professionals to fill the huge skill gap, as there are fewer professionals with valid DevOps expertise. Thus, professionals can capitalize on this skill gap by obtaining a DevOps certification, which can guarantee better career opportunities.
Final Takeaways
In conclusion, becoming certified as a DevOps professional not only validates your expertise in various DevOps tools and helps you hold a strong grasp of various technical skills and knowledge required to thrive in a DevOps environment, it also opens doors to a myriad of opportunities and propels you on an upward career trajectory.
About the Author: Frank Mengert continues to find success by spotting opportunities where others see nothing. As the founder and CEO of ebm, a leading provider of employee benefits solutions. Frank has built the business by bridging the gap between insurance and technology driven solutions for brokers, consultants, carriers, and employers nationwide.