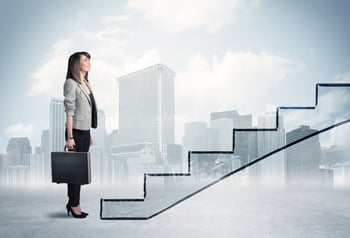 Whether you are fresh out of college and just starting the job search, or are currently employed and looking for a change, starting the quest for a new job can be overwhelming.
There's no need to panic. Just like most things in life, you get out of the job search what you put into it. That can vary from how you network for job opportunities to nailing that final job interview.
In this digital age, there is a lot of information out there. To get the big picture on what you need to do to land your dream job, these six steps will help you evaluate your job search strategy and ultimately, help you land the job you want.
The 6 Key Steps to Getting the Job You Want
1. Make a Plan
Get organized and strategic about your job search. Think about your experience, what you are looking for, and what companies are hiring. Keep narrowing it down and track everything. That way, when the recruiters come calling, all of the information will be right at your fingertips.
2. Use Social Media
Social Media is one of the most significant tools in your tool belt. You can use it to search for jobs, network, and research fields of interest in order to better understand the job market. It's important to put your best foot forward in the world of social media: ensure that your social media account profiles and what you share reflect the type of person you think your future employer would like to hire.
---
---
3. Look Beyond the Internet
Networking and word-of-mouth are some of the most effective ways to learn about job opportunities. You have a better chance of getting the job you want if you have the right person in your corner championing for you. So, join industry groups, reach out to your networks, and start setting up some lunches.
4. Write the Perfect Resume
Your resume will get 8 seconds of face time. 8! It's important to make your resume short and to the point. Load it with essential keywords regarding your experience and the industry of your position so that applicant tracking systems (ATS) can push your resume to the forefront. This involves tailoring each resume to each position you apply for.
5. Write Great Cover Letters
Use your cover letter to distinguish you from the competition. This is the time to let your writing skills shine and get into the details of what makes you the best candidate for the job. The cover letter allows you to dive into the details that you couldn't fit on your resume.
6. Nail Your Interview
If you come fully prepared for your interview, your confidence will shine through. Do your research, dress to impress, and have a list of questions. You are interviewing them as much as they are interviewing you!
It's easy to feel bogged down by the idea of searching for a new job. These six steps can help you figure out where to start and how to get a handle on the process. For an even deeper dive into these steps, download this eBook and start to get excited! It's easy to lose track of the fact that at the end of this journey is the career that you have always wanted. So stay motivated and keep your eye on the prize.
About the Author: Amy Williams is a Digital Marketing Manager at Yoh and alumni from the University of Pittsburgh, having earned her degree in Media Communications. In her spare time, you will find Amy performing with an operetta company, as well as enjoying all things pop culture, food, and Philadelphia.