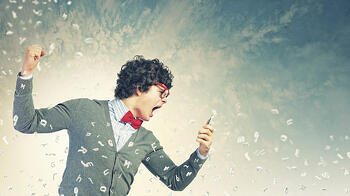 It's that time of year again, where between all of the parties, treats, and eggnog, some things aren't quite as pleasant including, the crowded malls, endless lists of holiday tasks or sitting down to pay those holiday bills. That's probably why Bob River's Comedy Corp's "The Twelve Pains of Christmas" has been a favorite Holiday tune of many since 1987 and on my mind this holiday season.
In the recruitment industry we all love what we do, helping candidates find the job of their dreams; whether it's through outsourced recruiting, contingent labor programs, or like me in marketing - getting candidates the information they need, is fulfilling and rewarding in its own way. However, sometimes candidates can make the process a challenge. If you are a recruiter or hiring manager, I know you'll agree.
So, I enlisted the help of our Yoh-Certified recruiters to pull together... Sing along with me..."The 1st Thing About Candidates That's Such a Pain to Me..."
1. "I'M RUNNING LATE"
Being late is a sign of an irresponsible employee. It immediately leaves the wrong impression to both the recruiter AND the client. If you are not on time for the first appointment you ever make with them, or even worse if you don't show up at all, it blows your chance of getting the job. Of course there can be extenuating circumstances, but leave as early as possible. It never looks bad when you are too early!
2 "Compensation Games"
After clearly talking about a new position and rate/compensation of the position with Jane/John Doe, they say they are comfortable and interested. The recruiter stated again to be clear that is the maximum you can go for the opportunity. They confirm. After going through the entire process and the final offer is sent, they ask for more money. WHAT?!?
3. "Just Be Honest"
If you know you are not going to pass a background check or drug screen, it is ALWAYS better to be upfront with the recruiter rather than fail in the end and waste everyone's time. If you aren't honest on your resume, it will always come back to haunt you in the end.
There's nothing more refreshing than honesty. Be honest with the level of interest you have or don't have in a given role. When candidates lie, they are wasting our time and their own. This can be disheartening and can make us less likely to seek them out for other future roles.
4. "The paperwork is done, but where is my candidate?"
We found the perfect candidate for a hard-to-fill position. All of the paperwork is complete! Let's talk about your start date. Many calls, emails, and texts later...hello? Cue the Charlie Brown walk of shame back to the hiring manager.
5. "Too long text messages"
Text messaging in recruiting is becoming more standard these days, but a few words or a sentence will get the message across just fine, at least until there is more time for a phone call or email. Anything longer? Pick up the phone!
6. "Stalling once the offer is extended"
The candidate wants the job SOOOO bad, and we enthusiastically extend the offer. Now they need more time to talk to their significant other or want to see if they get an offer elsewhere, Hmph.
7. "Too Little, Too Late"
The recruiter has been mining resumes on LinkedIn and in their ATS, and they think that they have found the PERFECT candidate. They reach out to them a few times, no reply. Move on, find another candidate, and months later Mr. or Ms. Perfect responds to their outreach - they are very interested! *headslap*
8. "Excessive follow-up"
The recruiter/candidate communication is a delicate dance. That's why we wrote a whole blog about how often you should follow up with a recruiter. Learn when to draw the line on communicating and when it becomes excessive.
9. "Update Your Resume"
Resumes are essentially the clients first impression! (and recruiters!) There is a spellcheck function to keep your typos in check, or maybe even have a friend be a second set of eyes. Keep it current, simple, and clean (No excel tables please!). If the resume format is dated, it causes more work for the recruiter and can often eliminate the candidate. Moral of the story: Take time to update your resume before it gets into the hands of a recruiter.
10. "What's the emergency?"
Calling 7 times in 4 minutes when a recruiter is on the other line for a non-emergency is never wise. Please, leave a voicemail and we'll gladly call you back. There is probably a very good reason the recruiter couldn't answer the first time.
11. "Rescheduling an interview"
Interview scheduling can be like playing Jenga, if one person backs out the whole thing falls apart. We beg you, please make every attempt to make the interview and try not to be the reason that the scheduling falls apart.
12. "Check yourself"
Whether or not you have the necessary job requirements can sometimes be a gray area for those applying for the job. We get that. But other times, there are blatant discrepancies with the experience of the candidate and the role they are applying for. Ultimately, this just winds up wasting the recruiter's time and the candidate's. Ask yourself, "Am I truly qualified for this role"?
If you're a candidate, now's the time to confess one of the worst pains you caused a recruiter. For all you recruiters out there, need to get something off your chest? Share your thoughts in the comment section below.