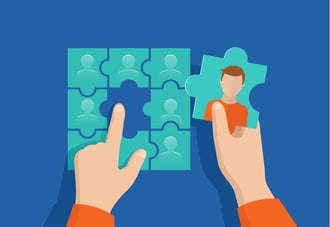 Being a recruiter is an exciting yet challenging job. Your goal as a recruiter is to find the best applicant for the position by streamlining the hiring process. But what happens when you hit a rut and realize that you cannot find employees who are qualified for the jobs you are searching to fill? It may be that the process you have been using to recruit new hires needs an update.
The workforce is a fluid environment that is constantly changing due to technological advances and new jobs being developed frequently. As a recruiter, you need to stay up to date on the career world changes and be prepared to face the challenges that are bound to happen during the recruitment process. Staying ahead of the game and being willing to make adjustments along the way helps ensure that you will find the best applicants for the job.
1. A Wide Pool of Applicants without the Right Qualifications
Depending on where you are looking for potential new hires, it may seem like there is an overwhelming amount of people available, but they don't have the credentials you covet.
How and where you advertise the available jobs you are trying to fill can significantly impact finding the right candidate for the job. Many recruiters struggle to find qualified applicants because they are not casting a wide enough net or are not specific in what they need in a candidate. When searching for applicants, make sure to provide specific details on the requirements, certifications, and training required for the job you are filling.
Then, make sure to post the search on a variety of websites and a variety of different companies and locations. Suppose you are only searching for applicants locally or within your community. In that case, you are likely missing out on the genuinely qualified applicants that may be willing to move or work remotely.
2. Losing Applicants to Competitors
In the recruiting world, connections were meaningful, and establishing business relationships took time. There is still truth to that, but thanks to the availability of jobs at the click of a button, applicants often interview you in the same way you are interviewing them. In other words, you may need to impress them with what the job can offer and be able to do so quickly.
Businesses know that they need to have competitive offers for jobs that include paid time off, benefits, flexibility, and more. Your company must have offers for competitive salaries as well as flex time and room for growth.
Workers entering the job market know their worth and are likely not to settle when there could be a more competitive offer out there. Be willing to negotiate. After all, it is true that you get what you pay for, and the same is true for hiring new employees.
3. Providing an Insignificant Interview Experience
As a recruiter, you know that first impressions have a major impact. When prospective candidates come in for an interview, as important as it is for the potential candidate to make a good first impression, the company must make a good impression.
When candidates come in for an interview, they assess the office environment and tone set during the interview. Whether you are part of the interview team or not, it is imperative to make sure that all those involved during the interview remember that they need to set an excellent first impression.
Do this by showcasing the unique and beneficial aspects of working for your company. After all, the working relationship is mutual. The candidate wants to know they will be in a supportive and collaborative work environment if they are hired for the job.
4. A Delayed Hiring Process
One of the most significant success indicators as a recruiter is providing companies with quality candidates who stick out from the crowd. However, both recruiters and businesses are often a hang-up looking to hire, and that is the unnecessary delay in hiring because they are searching for the perfect candidate. Spoiler alert, they don't exist.
If you have a strong candidate in mind for a position but are hesitant to proceed because of a lack of experience, this can delay the hiring process. In turn, you are likely to lose this quality candidate to a competitor.
Why? Because many organizations recognize that even if a candidate does not have significant work experience, they are likely an eager worker that is ready and willing for training to improve their skills and expertise. So as you go through the hiring process, make sure to move swiftly. Otherwise, you will likely lose out on some great employees simply because you couldn't make up your mind.
5. Lack of Branding
You may be working to hire employees for a fantastic company. But if the candidates have never heard of the company and the company does not have a strong online presence, you are less likely to find quality candidates.
As you are working to build your brand, think about working smarter, not harder. What this means is to use the available resources that you already have. Ask your current employees to increase your company's presence online with solid reviews.
A prospective employee will do their research before taking a job with your company. If your online presence is minimal or, even worse, harmful, they are less likely to be interested in working for your business.
Refining The Recruiting Process
Recruiting new candidates for a job is an in-depth process that takes time. When you have an established protocol for how to conduct the process, things will run smoothly. Take some time to reassess what is and is not working for your recruiting team.
Stay open to change and be flexible to make adjustments as needed. Being willing and ready to improve your recruiting process will provide you with access to the best applicants out there. And isn't that what recruiting is all about?
About the Author: Gabe Nelson is a content specialist with over seven years of experience, currently working with iwrecruiters.com. He has a passion and keen understanding when it comes to the HR and recruitment industry. He has written hundreds of content pieces in numerous niches. Currently, he lives in Missouri with his wife and kids.