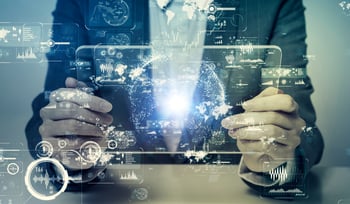 When you need to build or update your software, launch new features to keep your business growing – hiring software engineers for dedicated software development is the way to go.
Estimates suggest that the employment rate for software developers will grow to 22% from 2019 to 2029. That is much higher than the average of all other occupations. The demand for quality tech talent is continuously increasing, and it's be coming more complicated to find quality software engineers.
In this article, you will find out where to look for a tech team for your project and learn about the best ways to outsource software development.
What are the Channels to Hire Programmers Online?
The research predicts that the media, telecommunications, and technology industry will become one of the three leading industries globally by the end of 2030 - and it will mark an enormous shortage of tech talents in the US.
As software engineers' supply and demand keep increasing, developers do not need to go out in the market looking for jobs. As a result, it's already more complicated to find tech talent.
Here is a list of the top channels you can use for searching the best programmers for your project:
Dev Shops
A software development shop refers to a company that offers a wide range of services to help you build software products. The software products may include websites, mobile and web applications, cloud, VR, AR, Machine Learning, or Artificial Intelligence solutions.
A typical dev shop consists of different development teams dedicated to various projects. You can find several programmers with different tech skills in one company, web designers, UX/UI designers, product and project managers - all roles you need for an entire dedicated software development team.
How Does It Work
By outsourcing your development projects, you can focus on your primary business operations. You can either completely outsource your IT projects and management to a dev shop or hire a development team based on your requirements and work with them to achieve your goals.
You can start by finding a list of top software development companies in the location you are interested in and contact them with your requirements. Some companies can have limited resources, and they won't be able to help, but after reaching a list of dev shops, you will definitely find some that are ready to start your project with their engineers.
After discussing your needs, you will have some interviews with developers to evaluate their tech and soft skills. Also, you will discuss your budget and deadlines to understand if the company can meet your requirements. After that, you will have all the needed information and decide which outsourcing partner would be the best choice for your project.
After your contract is signed up, the development team will start working on your goals.
Pros
Provide a wide variety of developers with different tech skills
Provide project and product managers
However, it usually takes a lot of time to find a suitable and reliable outsourcing company.
Freelance Platforms
When we talk about channels to hire software developers, freelance platforms have become one of the most common solutions.
There is a list of top reputable freelance platforms where you can look for suitable engineers or post your job and wait for candidates to apply:
Upwork
The freelancing platform offers a user-friendly interface and a large pool of freelancers.
You can post a job describing your project requirements and outline the necessary skills needed. Upwork will find profiles that match your requirements and reflect your post on their feeds.
Next, you will get a list of the interested candidates from which you may choose the eligible profile by analyzing their skill sets and reviews.
Discuss the fee and employment type with your candidate, and you are good to start working.
Pros
In-built time tracker
Quick access to a vast pool of human resources
Mobile application
Good customer support
TopTal
The second freelance website on our list is TopTal, which was initially a dedicated freelance software development platform. However, in 2015 TopTal included designers in its pool.
Rigorous screening of all candidates, in which approximately 3% of them pass, helps this website stand out from the crowd.
The hiring process is more or less similar to that of Upwork. You post an ad on the portal and wait for candidates to respond. Then, you can hire a suitable profile after interviewing them.
Pros
Its talent pool consists of exceptionally skilled developers and designers
Fast recruitment
Confidentiality of data
However, while hiring developers from any freelance platform, you must be patient as it may take a while to validate if the candidates suit your project.
Marketplaces
Another effective way to find the right talent for your IT projects is through a marketplace for rapid engineering staff augmentation.
With YouTeam, you get access to a whole community of software developers here with a network of 20,000+ vetted contractors from hundreds of development agencies. It's one of the best solutions for hiring skilled developers.
How Does It Work
YouTeam maps talented developers with your requirements and ensures they are the right fit for your team. If you've had a hard time finding top talents for your organization, this marketplace will hire the best offshore candidates for you within a few days.
You need to send your requirements, and the team will list out the top developers meeting your requirements within 48 hours. You will have some interviews and choose the best fit for your project.
Pros
A Multiple-step screening process of the candidate
48 Hours turn-around time
Easy access to top developers from the best outsourcing companies worldwide
Tailored mapping to your requirements
Coding Platforms and Communities
Coding platforms and communities like GitHub and StackOverflow have all types of profiles, from senior software architects to junior freelance developers.
How Does It Work
Stack Overflow is more than just a job board. It is a peer review site where techies come to ask and answer questions and discuss trending topics.
Job posting on this site is super easy, and you can target a particular type of programmer by category.
GitHub is yet another tech-specific forum to locate experienced programmers. Developers visit this site to manage projects, review code and discover new tools.
GitHub makes a great job board where you can attract talented developers. However, job listing on this platform might be expensive, costing $450.00.
Pros
Easy to review developers projects
Best talents on one platform
Easy hiring
Conclusion
Now that you have learned about the 5 channels to hire software developers, critically analyze your requirements and the skills that you desire in your developers.
Decide which channel is more suitable for your business and how time and money you are willing to invest. Remember, a quality developer may not come cheap, but the costs on a great tech talent always worth it.
About the Author: Iryna Bilyk is an expert content marketing manager who works at YouTeam - a marketplace for instant engineering team extension. She passionately discovers and writes about technology, innovations, and software development solutions.