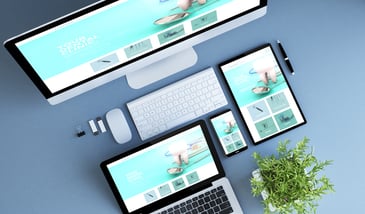 Word press developers are some of the most sought-after professionals in the field, as they are capable of tackling technical hurdles while creating one-of-a-kind websites to maximize the impact of your brand. Hiring a web designer comes with many benefits, chief among them being the ability to have any code-related issues solved quickly and efficiently. The talents of these developers also go beyond what someone can do with "no-coding-required" software alternatives.
Instead of a surface-level website build, you get personalized, professionally refined, and performance-friendly results that are thoughtfully tailored to the behaviors and interests of users. These web development experts cover all the angles, from custom themes and plug-ins to comprehensive site mapping, testing, debugging, and updates. That way, you don't have to.
A developer's individual experience and background will determine their capabilities, as there are many suitable applications for their skills. There's freelancing, which is where most developers start their career, as well as working for agencies and even government organizations. Other developers may have a background in dedicated plugin or theme development. Some may even operate within distributed agencies, where their talents help to attract and retain highly sought-after brands as clients.
Bearing these points and applications in mind, the costs and capabilities of web designers will vary depending on the individual and their skillsets. Finding a developer that suits your specific needs means weighing the pros and cons in relation to what they bring to the table. In this blog post, we'll go over some important elements to consider when hiring one of these tech-savvy professionals.
Consider Your Budget, Design Needs, and Timelines
Understandably, based on the capabilities that a word press developer offers, they're going to cost more than a basic drag-and-drop software interface that allows users to quickly cobble together their own sites. However, if you choose an experienced and well-regarded developer, you will get what you pay for.
This means that you might not always want the most affordable developers. These individuals typically are new to the fray, lacking the experience and reputation required to help tackle more advanced technical issues. Depending on your design needs, project complexity, and timeline constraints, it may be safer to go with a more well-traveled developer who, understandably, charges more for their services.
The best course of action tends to be introducing passionate developers with realistic cost expectations. Don't rush in with a shoestring budget and require the site be finished within a week. If a design is more complex, has more pages, demands more custom assets, and needs more time to complete while matching expectations, then it will be more of an investment. Of course, the right developer for your specific needs can mean a greater return on said investment in terms of increased traffic, leads, and conversions.
Consider the Benefits of Hiring WordPress Developers
WordPress is one of the most widely adopted platforms for website development. In fact, over 43% of web content is powered by it. It only makes sense that dedicated WordPress developers are in high demand. Again, the developer you need will vary depending on the specific needs, goals, and budget associated with the project. These professionals are a great option for brands who want to stand out and not simply roll with a prepackaged theme, instead carving out their own creative vision and making it a reality.
Some developers are front-end specialists, including the user experience (UX) and any site elements visitors can see. As the term implies, back-end specialists do a lot of behind-the-scenes code tweaking and testing, making it possible to integrate plugins with your site. Of course, there are also web developers who are experienced in both front and back-end development, making for a well-rounded service investment. Naturally, the latter will almost certainly cost the most.
Lastly, web developers are excellent for bug fixes, testing, performing site audits and risk assessments, checking for security vulnerabilities, and providing technical support to address their findings. This is not easy unless you are an experienced coder, and it requires keeping up with the latest innovations and standards. Maintaining site health and efficiency, protecting user data and privacy, and providing a smooth experience while addressing traffic drop-offs are all crucial if you hope to get the most out of your site.
What Are Some Must-Have Skills and Qualifications of Web Developers?
While every word press developer will have a unique background based on where and how they have applied and refined their skillsets, there are several essential qualifications that you should look for. Let's quickly go over them below:
HTML (Hypertext Markup Language)

is

used as a foundation for site structuring.

JavaScript, which is used to create and update UI/UX elements that can be interacted with by the user.

CSS, known otherwise as Cascading Style Sheets, is crucial for front-end development as it's used to define the visual identity of a site.

SQL, short for Structured Query Language, is a must-have for back-end developers. SQL ensures that websites and apps can interface with dedicated databases.

PHP

is

a coding language used by WordPress and is therefore essential for site development on the platform.

Mobile development expertise is more important than ever as more users tend to browse while on the go via phones or tablets.

Familiarity with digital security best practices, compliance standards, and other forms of risk-aware knowledge.

Capable of learning, adapting, and growing skills rather than fearing change.

Collaborative and positive, and able to accept constructive feedback.
Questions to Ask When Hiring and Best Practices to Keep in Mind
Next, here are some quick-fire questions you should be prepared to ask when interviewing a candidate. They should be prepared with answers if they possess industry experience.
How much do you charge, and do you prefer hourly or flat-rate payment?

Can we view samples of your previous work?

How experienced are you in WordPress development?

Are you proficient in front-end, back-end, or both forms of development?

Could you provide us with at least two references?

How do you prefer to keep in touch?
Additionally, here are some best practices for you as the interviewer/client:
Be specific and clear about your project expectations.

Get the entire plan for the project written down so that it's documented and easy to follow.

Ensure frequent touch points and be realistic with any sudden changes you propose.

Ensure that a written contract is signed that confirms the timeline/deadline, project scope, and other parameters.

Be aware that the average salary for a word press developer can range

between $45,000 and $150,000 per year

, depending on their experience and capabilities.
There's never been a better time to choose a word press developer, and there are thousands of skilled professionals in the field to select from. Narrow down your options, get to know the candidates, and utilize their talents to make your vision a reality!
About the Author: Marek Tyniec is the Marketing Coordinator at Goodiewebsite. He is an experienced online marketing professional with deep insights into the challenges of software houses serving B2B clients on US, UK, Australian, and Western European markets. Specialty coffee lover before it was cool, and a fan of independent cinematography. Influential cycling blogger and journalist, setting trends in Polish cycling media since the early 2000s.