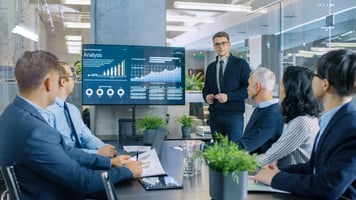 More business organizations today are investing in custom software solutions. Being scalable, secure, and 100% customizable, they are perfect for every type of business. But hiring full-time developers to meet every software requirement can be expensive for any organization. That is where custom software developers prove practical and affordable!
While many companies opt for freelance developers through the internet, it can be a lengthy and tiresome process. It is almost impossible for a software engineer to handle every step of development, from designing to coding to deployment. Moreover, securing data and IP is of utmost importance, which may be at stake in an individual developer's case.
On the other hand, custom software development companies provide dedicated developers with expertise in various software practices. This way, companies ensure that efficient and comprehensive software solutions are offered for their users.
Furthermore, the pricing is applicable only for the period during which these services are used. This way, organizations can set a budget and hire a team that fits their needs and financial limits. So, how to pick a good custom software development team? If you are planning to hire one, here's a checklist of 5 factors that will help you make the right decision.

Company Portfolio
This is an essential step before you look for development teams. There are many software companies offering staff augmentation services at affordable prices on the internet. But you need to select a team that has knowledge and experience building software similar to yours. Therefore, you can begin by making a list of top companies offering an extended team of developers.
Company portfolios will give you a fair idea of every company's previous projects on your list. For example, if your company is set to launch a new mobile app, you can shortlist companies best known for developing mobile apps that match your software plan.

Standard and Fixed Pricing
Once you have prepared a list of companies, the next important factor is the pricing. The average cost of building custom software with essential features and the median utility is US$36,000. Therefore, it is crucial to have an explicit knowledge of the pricing structure followed by the developers.
You can discuss per hour costs, upfront charges, and additional costs if any software design changes before the project kickstarts.
Pro tip - Software companies that offer free trials and refunds for unsatisfactory services are indeed your best bets.
Knowledge of Current Development Trends
Custom software development has a vast scope. Therefore, it requires various practices, tools, and technologies in the development process. Before hiring a development team, you can ask for a list of frameworks, programming languages, testing and debugging tools, and so on. This way, you can ensure that the team follows current technology trends to deliver a state of the art software solution.
For example, IoT (Internet of Things) and Artificial Intelligence were the top trends in software development in 2020. Discuss with the development team if they can integrate these technologies to develop futuristic software.

Ability to Integrate
According to software development, it takes around 4 to 5 months for a team to deliver complete software. The development company you pick will be working in coordination with your existing technical team for a considerable amount of time. Therefore, the hired team members must integrate well with your team.
If it's a remote team of developers, you can arrange engagement programs for the teams to get to know each other. Some companies also offer induction and training sessions with the teams to ensure smooth functioning.

Continuous Support
Once the software is deployed, it requires upkeep to ensure stable functionality throughout. Therefore, along with software development services, a company that can provide post-deployment support is a good option. Some companies offer these services with extra fees as per the requirements. Moreover, a team that has developed the software is best suited to maintain its functionality.

Final Thoughts
Any company building custom software has one primary objective: offering a better user experience than any off-the-shelf software. That is precisely why a team that understands and strives to implement the best software practices is essential. We hope this checklist helps you identify a developers' group perfect for your organization.
Author Bio: Hardik Shah is a Tech Consultant at Simform, a firm that provides mobile app development services. He leads large scale mobility programs that cover platforms, solutions, governance, standardization, and best practices.