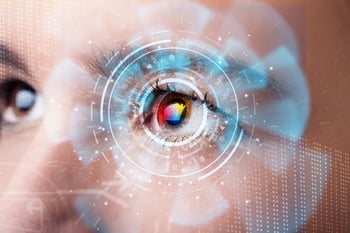 AI technology is revolutionizing the way we do business by improving customer service and building stronger relationships between brands and consumers. If your business isn't yet on board with AI innovations, you'll soon be left behind.
The capabilities of AI are in line with customer expectations as consumers want more personalized and smart interaction with the companies they do business with. It's this interaction that can improve customer engagement and increase your level of support, two elements that are crucial to your success.
Here's how Artificial Intelligence is being used to improve and enhance the customer experience:
how ai is improving customer experience
1. Accurate recommendations
Artificial intelligence can use historical buying data to make shopping recommendations that are relevant and unique to each individual customer. How does it work?
AI algorithms can search through each customer's buying habits, including what they purchased and when they made the purchase. AI improves the shopping experience by making product recommendations that are based on what your customers are interested in and most likely to buy.
2. Friendly chatbots
AI-enabled chatbots can provide your customers with consistently pleasant customer service and an immediate response instead of being put into a queue to wait for an available support representative.
Making the process of communication as easy and pleasant as possible leads to satisfies customers, while at the same time freeing up your employees so they can focus their energy and time on other tasks.
3. Shopping and auto-payments
Consumers today are looking for convenience when it comes to shopping and making payments. Using smart speakers such as Echo and Alexa, your customers can make purchases and pay their bills with voice-enabled AI, interacting with your business at a time that's best for them.
4. 24/7 accessibility
Sometimes customers want their questions answered after business hours or they may want to update an order before the business opens the next day. For a small business, hiring employees to be available at all hours is unrealistic and costly. Using AI chatbots, you can give your customers the service they want regardless of what time it is.
5. Hassle-free shopping
AI creates a shopping experience that's hassle-free and simple for your customers. Consumers are looking for fast and easy interactions when making purchases. AI makes the process of buying smooth and easy all the way from deciding what product to buy to completing the transaction with fast shipping and delivery.
6. Responsive and useful phone bots
In the past, phone bots have been automated with limited functionality, usually providing one-word answers and simple directions to consumers. This type of simplicity in business communication can quickly lead to customer frustration.
Today's AI phone bots are smart and helpful, solving problems and answering questions efficiently and precisely. This means that when customers call your business, they're getting accurate responses to their questions with useful and intelligent voice interaction.
7. Get to know your customers
Using text analytics, AI is able to interpret consumer comments and help you better understand what it is your customers want from your brand. This type of data analysis, using both satisfied and unsatisfied text feedback, lets you learn what customers really think about you and your products or services. It's this information that lets you focus on making changes to improve the customer experience.
8. Visual customer engagement
When you adopt visual communication with your customers, you have a powerful way to engage with them and understand their emotions. This insight helps you work towards customer satisfaction by resolving problems fast and easy in real-time.
Using visual channels to connect with consumers also reduces your abandonment rate with new customers, giving you the opportunity to provide them with smart and savvy service.
9. Get personalized with consumers
The word "personalization" is a big buzzword in customer care and providing exceptional service. It's imperative that you deliver relevant and personalized information to your customers that's unique to their individual needs.
Customization such as this will push your brand ahead of your competition, leaving consumers with a feeling of satisfaction as you meet their expectations of what a great customer experience is all about.
10. Big data analytics
Using buying history reports and consumer feedback, AI lets you collect a lot of information about your customers. The more data you have about the people who are buying your products or services the better you can interact with them on a deep level that results in efficient customer service. AI helps you analyze all this data and come up with results that can improve your business agility, make changes, and embrace new ways of engaging with your customers.
Final words
Gaining customer loyalty and trust is paramount to your success. As AI continues to evolve, it opens up new opportunities for businesses to provide personalized service to their customers. AI innovations such as those listed here can positively impact how you communicate with consumers and make the entire customer experience fulfilling from start to finish
About the Author: Heidi is a writer and content creator based in New York City. When she isn't covering business and tech articles, you can usually find her with her nose in a book or taking a walk through Central Park. You can read more of Heidi's work on the Chattermill blog (https://chattermill.com/blog/).