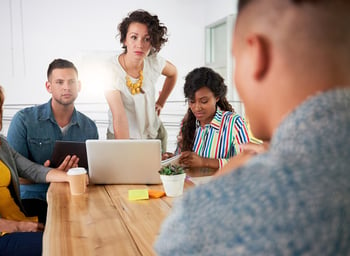 Your recruiting process can be draining, both with your time, resources and energy. This is why we decided to gather professional hacks that will help you speed up the process while delivering amazing results.
We'll cover where to look for great talent, how to automate your recruiting process, what to look for in a new hire, how to encourage people to reach out to you even when you don't have any job listings and how to prepare for interviews. With every step of the recruitment process being covered, we're sure you'll gain valuable insight into how to upgrade your approach.
These hacks will help you strategize and prepare your potential new employees for their new role and your company's culture, which will, in turn, help you prevent high turnover rates.
6 Professional Hacks to Speed Up Your Recruiting Process
Headhunt people from other companies
The one thing every recruiter knows is that the best people already have a job, and the best way to get an amazing person to fill your job vacancy is to look for them in other companies. With research suggesting that around 70% of all job listings are not published publicly and that an estimated 80% of jobs are filled through networking, it's easy to see how important headhunting is today.
A great way to get started with headhunting is LinkedIn. As a professional networking platform, it's only natural that it would be the place to look for various candidates in any industry. Not only can you see where your hopefuls got their education and worked, but you can also see their recommendations and how their superiors talked about them.
Other than just scrolling through LinkedIn, you can use LinkedIn Recruiter. With a Recruiter profile, you can find the right people quickly since it lets you search for candidates that match your specific requirements in the pool of unemployed and employed people interested in new jobs.
A big advantage of a Recruiter profile is that you can look at people's profiles without exposing who you are, meaning your name doesn't show up in their "someone viewed your profile" notifications.
Once you find someone you like, you can easily contact them through LinkedIn messages where your message won't get lost in the pile of emails like it would in a personal email. Moreover, it gives a sense of professionalism.
Make sure to be discreet about your efforts if you're trying to poach someone who already has a job because you don't want to cause anyone problems at their current job.
Automate your recruiting process
As exciting as the recruiting process may be, it can also take up a lot of your time and energy. For that exact reason, you'll likely find yourself searching for a way to automate this process. There are a few ways you can go about doing this.
You can invest in video interviews, which will speed up the process, seeing how you can schedule a meeting as soon as you like someone's application. You can source CVs to make sure all the information in them is accurate and up to date.
One of the most popular ways of automating the recruitment process is applicant tracking. Tracking platforms collect and track all the applicants in different stages of the recruiting process so that your HR employees know which steps to take next with every single one of your applicants.
Once you get to the later stages of the process, you can use contract templates to quickly write contracts and speed up the whole recruitment process by having the candidates sign them with an automated singing option.
That way, you can avoid printing out PDFs, sending them through snail mail and waiting on them to get back to you.
A thing to keep in mind when it comes to your hiring process is not to lose sight of the fact that a human is on the other side of the communication channel. And that is why personalized messaging is so important.
As we previously discussed, the best talent is already working for someone else, so you have to go the extra mile to show how much you care about the person you're trying to persuade to change their job, and a generalized approach will not be enough.
Create a buyer persona
Creating a buyer persona is an amazing strategy for finding your ideal customer when creating a marketing strategy. However, you can use the same principles when looking for a new employee.
A buyer persona is essentially a fictional person that encapsulates the ideal characteristics of your target audience, and you can easily make your version of a person that has all the personality traits you look for in someone who'll hold the job title.
Start by ensuring a perfect fit for your company culture by creating a list of values every employee has to have. You've worked hard to create an inclusive, motivating and relaxed work environment, and you don't want to jeopardize that.
A lot of people will fit your job description, but not all of them will fit into your team and thrive in their new role, so don't set yourself up for disappointment by not thinking about these things upfront.
You should keep in mind that the high turnover rates work against you once you hire someone new, and you don't want to go through the recruitment and onboarding process only to have to start again when the new hire decides to leave.
Analyze your employee turnover ratio and use your findings to rewrite your recruitment strategy. Tell your future employees upfront how you're going to prevent burnout, how you handle employee disengagement, and how you help your workers keep a healthy work-life balance.
Tell them about their role within the company and how you see them progressing and developing in the next few years. Candidates will love to hear that you have actual plans for someone in that position and not just looking to fill a seat. You should also answer the "where do you see yourself in 5 years" question for your company.
Express your company goals and mission, and you'll surely attract people that will value your position in society and work towards the common goals to help you reach your long-term goals. With more and more brands becoming socially responsible, people in the job market will expect you to be open about where you stand on certain social issues.
Once you've got that covered, create a list of skills and experience you think the perfect hire should have, as well as the list of work samples you'll ask for in your recruitment process. If you're clear about all your requirements from the start, it will help people decide whether they should apply or not.
Use social media to attract people to reach out to you
The first utilization of social media for brands is, of course, to promote their products and services and to engage with their customers. The thing they often disregard is the fact that showcasing your company culture and introducing people to the processes that happen behind the scenes work in your favor when it comes to the recruitment process.
We encourage brands to share as much about their company as they feel comfortable with them on social media, even if they're B2B. Social media is here to help you create a relationship with your community, and don't forget that today's customers and clients can turn into employees of tomorrow.
That is why you'll want to continuously post about the benefits of working in your company. If you choose to, you can make this a part of your brand awareness strategy.
Once you give people a look at your company, values, opportunities for your employees and the way you celebrate your company's milestones, you've created the best type of promotion you can offer to new prospects.
Put a face to your brand, introduce your employees and explain what their usual days look like and how they started working for you. You can even use social media to encourage people to reach out to you and showcase their skills and explain how they would enrich your team, even if you don't have a job vacancy.
The more you share about your company, the less you'll have to attract people to your job ads once they're up. If you establish your company to be a leading example of investing in your employees, granting them bonuses and generally be there for them, you'll have an ample amount of job applications at all times.
So don't be shy and share pictures from your team buildings, educations, celebrations and other interesting moments and don't be afraid to go a bit off course. Share facts about the average age of your employees, their pets and other things not directly related to business.
Get creative with your job ad
Not to get anyone down, but looking for a job in any job market can be such a draining process that even thinking about it can make you uneasy. There are pressures that come with it. The process itself can change drastically in between two jobs, and getting rejected hurts, no matter who you are.
On the other hand, if a person is already employed and not necessarily looking for a new opportunity, the only way they're going to notice a job listing is if it stands out.
The way you can raise people's spirits is to make applying for a job fun by just writing fun and inspiring job ad, as well as by making applying for a position different and interesting.
Construct your ad by starting with a motivating explanation about how a person in this position gets to impact your team, company and the local community. Don't be afraid to use humor or showcase a silly side of your employees.
Try to incorporate your current employees' in your ad. They hold a certain power as they went through your onboarding process and are now in the position anybody applying for the job wants to be.
Think about creating interviews with them where they explain how their recruiting process and first month on the job looked like.
Secondly, state your requirements clearly and concisely. Every company views seniority levels differently, so don't put too much emphasis on that. Write the level of education, job experience and skills required as well as a way people can apply for the job.
The only part of your job ad you shouldn't be creative with is the name of the position. You don't want to confuse people with names like customer experience enhancement consultant, developer ninjas, and gurus of any kind.
The name of the position should be in the title, and it should be self-explanatory. You need to have a title that catches the attention and provides a certain type of information. It's the first thing people will see, and if it doesn't entice them, they will scroll away.
In the end, you can include a short story about your company, name a few of the most interesting brands you work with and detail some benefits of working in your company. Definitely be upfront about vacation days and bonuses.
Prepare for interviews
Once you collect all the applications from your job hopefuls and go through them, you'll have a list of people you'll want to invite to the next step of your recruitment process, which are usually interviews.
Before you start, create a list of questions you'll ask all of your applicants. Don't leave it up to chance because people will know when you're not prepared, and you'll seem unprofessional. Run your list of questions by your colleagues and make sure they're not intrusive or aggressive.
Ask them direct questions about the things you're most concerned about, like self-motivation and plans for the future. Also, make sure to talk about the company's long-term goals and how you see their future position working towards these goals.
If you're having different people running different interviews, make sure to reach an understanding and discuss how you're going to evaluate the potential hire's skills and level of experience without asking the same questions.
There is no way to prepare for every type of scenario. However, you can make sure your interviewees are comfortable and feel heard. Leave enough time for them to ask questions and voice their concerns.
Be the first person to reach the question of the salary. A lot of companies will string along their potential employees by not discussing the payment until the last step of the recruitment process, and that's where they lose them.
Put yourself in their shoes and answer all of the questions you would have if you were in their place.
In conclusion
As difficult as it may be to find great new employees, especially in this climate where more and more people are applying for positions that didn't necessarily exist a few years ago, it's important to keep in mind that your recruitment strategy needs to be continually worked on.
Making sure your current employees are happy will make your job easier as they can become the best promoters of your company culture. Making them accessible for people to reach out to and ask questions about job listings and their experience is an amazing way of ensuring future employees have a grasp on their responsibilities and workload.
Finding a pool of eligible talent to headhunt is important; however, ensuring they'll get on with your team is by far the most important aspect to think about. Even if you're offering remote positions, you'll want to make sure your new hires are a good match.
If you really think about it, a talented and hard-working person will learn new skills with ease, but a person that doesn't get along with their coworkers will create an uneasy environment for everyone.
That's why creating a sort of a "buyer persona" will help you. Writing a list of non-negotiable characteristics at the beginning can help you in the later stages of the recruitment process, especially during the interview process.
It's especially important not to jeopardize the quality of the process in order to speed it up because you'll just end up with a high turnover rate. So when you automate parts of your process, make sure to pick platforms that won't cheapen your efforts.
Putting your trust in technology will work out as long as you vet out the tools you'll use and find the right one for you.
Once you find the right candidate, analyze your process and figure out what worked and what can be changed in the future so that you optimize your recruiting efforts for the best possible outcome.
Think about the questions that engaged the people you were interviewing, the questions they asked, their biggest concerns and the unique situations they asked about, like pregnancy leave, sick days, etc.
Incorporating all of that in your new and improved recruiting strategy will help you further speed up this process and create even better results.
About the Author: Petra Odak is a Chief Marketing Officer at Better Proposals, a simple yet incredibly powerful proposal software tool that helps you send high-converting, web-based business proposals in minutes. She's a solution-oriented marketing enthusiast with more than 5 years of experience in various fields of marketing and project management.