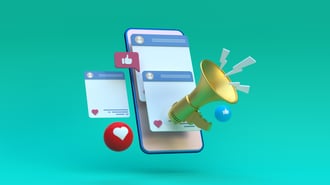 A truly efficient recruitment process will get you the best candidate while using the least amount of resources and time possible. You can't accomplish this without using the right channels.
That's why it's crucial for companies employing modern hiring tactics to actively engage job seekers in the right platforms. By being at the right place, not only will their recruitment initiatives bring meaningful results, but it also improves the company's visibility and reputation to talents it might like to work with in the future.
To help you find the best talents for your company, consider using the four established channels below.
THE TOP 4 MARKETING CHANNELS TO RECRUIT THE CANDIDATES YOU NEED
1. Google for Jobs
Google for Jobs is an enhanced search tool that gathers postings from third-party career sites and presents them noticeably in the engine's search results pages. It amplifies your listings' visibility so you can capture your ideal applicants, making it an excellent digital marketing channel to attract top talent.
The list of job vacancies appears first among the results, with details of the position, career site, day posted, location, etc. Jobseekers can also save their best options and check by industry.
To be clear, Google for Jobs does not let you post directly on the search engine since this is only an enhanced search feature. Google collects postings from other sites and presents them in one glance -- speeding up your candidates' job search online.
Perform any of these actions below to optimize your listing for Google for Jobs:
Post on Google-integrated third-party job sites.

To appear in Google for Jobs, publish your listing on job boards and career sites integrated with the search engine.

Integrate directly with Google.

Ensure your pages are indexable, add structured data for your job posting, and use and update your sitemaps for any changes on your listings.

Boost your SEO. Write short job ads and descriptions with bulleted lists and high-quality keywords applicants are likely to search for online. You should also avoid using jargon. For a better visual experience, include a few photos and videos as well.
Posting on Google for Jobs in this way supercharges your online presence for job searches and increases your chances for candidates to cherry-pick your company.
2. Quora
Quora is a question-and-answer online forum where people post their questions about any topic and get credible answers.
Queries can range from "What are the best life coach certification programs?" to "Why should I care about social justice," "How can I find the best jobs in the US?" and so on.
You can find niche specialists to reach out to and offer jobs from upvoted answers and user descriptions.
To do that, follow these tips:
Bolster your Quora profile.

Complete your profile with critical business details, such as your affiliation, position, expertise, education, business office location, etc. Add a concise biography to give them a concrete idea of why they should consider getting back to you.

Join the conversation.

Give impressive answers to queries related to your niche or job recruitment. This grabs potential candidates' attention and shows your clout and competence to get them where they want to be professionally.

Target the right thought leader for the job.

Keep your eyes open for thought leaders on Quora with answers and profiles matching your ideal candidate's expertise.

Contact your prospects.

When you've found niche specialists to recruit, send them a message on Quora. Introduce yourself, how you found them, and why you're contacting them. Even if they say they aren't looking for a new job yet, they're bound to keep you in mind, so retain the contact, and they can approach you a few months from then when considering a new job.
With these Quora recruitment tactics, you can make the most out of the knowledge-sharing platform and find the best persons to join your company.
3. Text recruiting
Text recruiting is the strategic use of SMS to advertise job vacancies, communicate with candidates, and retain the correspondence during the hiring process -- from initial contact to the final job offer.
You can use text messages to remind applicants of their interviews, answer related queries, update candidates of new job openings, and more.
Automate your recruiting text messages to streamline your strategies for the hiring process. Automated text messages let you schedule your SMS delivery, give instant responses, and notify them for interviews or updates faster.
This relieves you of manual labor, frees up your time for more critical duties, and enhances coordination with the candidates.
SMS delivery automation can also help you assess candidates and screen out unqualified ones. It even comes with analytics and performance reports to evaluate the effectiveness of your text messages.
Consider these tips when sending and automating your recruiting text messages:
Time your SMS delivery appropriately.

Send your text messages within office hours. Otherwise, you will look unprofessional to your candidates and repel them.

Refrain from texting on your first contact.

SMS recruitment isn't ideal if you're the first to contact your candidates. Doing so arouses their suspicions of your identity and where you obtained their cellphone number. Instead, use SMS to communicate with them after conversing with them in another way (such as confirming a previously scheduled interview). You must also get their permission before texting them.

Keep your messages concise and professional.

Avoid lengthy text messages and get straight to the point. Use the right tone and double-check for any typographical or grammatical errors.

Create ready-to-use SMS templates.

Do this for standard texts, such as confirmation messages and answers to FAQs to save time and effort.
SMS recruitment marketing tactics are great by themselves, but automating them augments your efficiency and recruitment experience.
4. Social media and networking sites
Social networking sites are excellent channels for getting the best candidates. People, including jobseekers, use these venues to explore brands they look up to and get updates.
If you've already set up your social page and posted exciting content, you can now leverage it for recruitment. Here's how to get started with your social media promotion:
Engage in relevant conversations.

Get your job postings in front of high-quality talents using the right hashtags, especially the trending ones, on LinkedIn, Twitter, Facebook, etc. Examples include "#[Company]Jobs," "#[Company]Hiring," and more.

Showcase your company culture.

Besides posting your job vacancies, publish content demonstrating how your business is a great place to work in. Showcasing your unique company culture often prompts plenty of shares, widening your brand exposure to other candidates.

Encourage your employees to participate.

Invite your whole staff to wield their social media powers to advocate for the company and share your job postings. Recommend techniques in publishing positive work experiences to entice the candidates.
With these social media and networking tricks, you can broadcast curiosity-piquing content attracting the best candidates to work with your enterprise.
Get top talents with these recruitment marketing channels
The internet offers a plethora of solid digital marketing platforms to maximize recruitment. The good thing is, you don't have to concentrate on just one channel, but integrate as many as your time and resources allow.
With the right strategies, pick platforms with the best features for your campaigns and closely monitor your recruitment marketing performance to acquire great talents across channels.
About the Author : Jimmy is a freelance writer and the owner of the GuildofBloggers.com. He has contributed to several reputable websites like SEMRush, SeachEnginePeople, and Business.com.