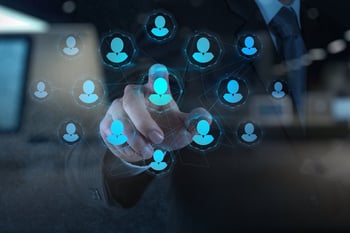 As organizations begin to navigate the challenges caused by the coronavirus pandemic, they face unique circumstances with their workforces. Efficiency is something all businesses look for, especially in managing talent and hiring practices. Now, as states and cities around the world begin to reopen, hiring surges will cause a lot of demand. But through these direct sourcing strategies, you can efficiently meet these demands during these unique times.

In a recent podcast between Debbie Bolla, Editorial Director for HRO Today Magazine, and Vanessa Janus, VP, Enterprise Solutions at Yoh, they discuss expert strategies around using direct sourcing to help find and engage talent to fill areas of need while achieving high efficiency.
Listen to the full podcast below.
Recently direct sourcing strategies have been growing in popularity within organizations, especially as cities and their businesses begin to reopen, causing a demand for talent. Vanessa Janus explains how these strategies take the best in talent acquisition or RPO practices and applies them to contingent hiring. It takes all of those practices used for permanent talent and applies it to the temporary workforce. Direct souring has been gaining traction recently because companies realize the need for better fit talent and to improve the customer experience. Right now, many companies are scaling up, which causes hiring surges as the restrictions from COVID-19 begin to ease. These innovative solutions are what can fill and deploy quality talent very quickly.
Other benefits of these strategies include increasing the temp to hire conversion. Most companies want to find people who are looking for career work. Direct sourcing can offer better engagement and an improved experience for candidates. This leads to conversion, retention, and faster deployment. These approaches also help with cost savings, as sourcing costs are reduced when using these strategies over the traditional standard supplier channels.
Technology for an Effective Solution
Technology has a significant role in achieving efficiency. Vanessa explains how Yoh uses technology to achieve their goals faster. The growth of technology has rapidly increased, and so has the speed at which it operates. By leveraging technologies with AI, machine learning, and automation, companies can potentially find candidates in a matter of minutes instead of days. These tools play a huge role in passive recruiting, since they can build talent pools based on whatever criteria is best for your business. Technology plays a huge role in streamlining an organization's hiring process. Mobile recruiting has also been playing a huge role in hiring of late. It provides speed and simplicity, and sometimes it just takes one click or a swipe of a finger to refer candidates. Yoh has used all these tools to integrate and streamline solutions to help their clients achieve total talent management.
Achieving Total Talent
Companies who want to begin to include direct sourcing strategies and better management of both permanent and contingent labor should start with a partnership between HR and the stakeholders. Vanessa goes on to explain the importance of looking at business objectives and mapping them out. First, identify the problems, then build ideal worker profiles based on your needs. The conversation ends with parting notes from Vanessa. She explains that companies should change the mindset from questioning whether they need a short-term or long-term employee, asking what the stakeholders want, what skills we need, and what needs to happen to get these skills into the organization.