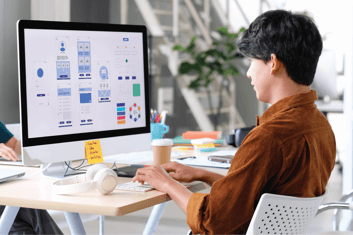 As 2022 approaches, Fintech's growth across markets and sectors continues to expand at staggering levels. New companies are emerging with creative and bold ideas on how to service both consumers and businesses, and many are pushing the use of technologies further down the complexity path. Today, the need for top technical talent is critical.
It's undeniable that new products are being developed at a rapid pace. However, they're only as good as the resources behind them. And since the pace of development is putting stress on companies, the challenge of finding great talent is only exacerbated.
PLENTIFUL FINTECH OPPORTUNITIES FOR TECHIES
Fintech offers incredible career opportunities to candidates across all aspects of the software engineering spectrum. From Software Engineers and Developers to Solution Architects and Product Managers, tech professionals are always learning new skills, languages, and frameworks designed to enhance their market value.
With the growth of the Fintech market and rising demand for top Fintech talent, those interested in rescaling their tech skills can now work on the bleeding edge of product development while adding to their skill portfolio in a high-growth space. Tons of talented techies are migrating their skills to the Fintech market and taking advantage of the new opportunities available to them. If you're one of those people, it's crucial to know the key roles at each stage of Fintech product development.


KEY FINTECH ROLES IN HIGH DEMAND
1. FRONT-END
The key to any new Fintech product is how easily and intuitively the user can interface with it. When developing a mobile app or website, the project typically requires a developer's unique set of skills. Because the space is so saturated, new Fintechs look for experienced professionals who can develop an interactive and engaging mobile app or website that represents their products' key features and value to their clients.
There are many reasons why Front-End Developers are so important to a business, including brand identity, performance, responsiveness, enhanced navigation, and value. Just think about it - a poorly designed or implemented app or website could potentially drive your users away and spell disaster for the company's future. For companies, Front-End Engineers are in high demand today and can make or break the end result.
2. BACK-END SOFTWARE ENGINEERING
Going into 2022, a focus on API is vital for Fintechs. Fintech innovations have developed at an incredible rate causing great strain on the underlying infrastructure to support the new technology. The majority of Fintechs will rely on connecting their apps to legacy IT systems and, in many cases, the core banking systems.
Back End Software Engineers need to be versed in the world of API design and development to help financial services infrastructure providers with guidance in upgrading their technology to participate in the growing Fintech Infrastructure landscape. Over the next five years, analysts anticipate that most legacy financial firms will either open up their current system with API access or replace their back-end systems completely, designed around Open APIs.
Many financial institutions need back-end software engineers to begin the migration to open API design—those who know how the Fintech Infrastructure works will be very in demand over the next decade.
3. PRODUCT MANAGEMENT
There are not enough qualified Product Managers to go around! Product Management is the foundation of any Fintech company. Because a companies' model is based on its products delivering unique services, product teams play a huge role in achieving business goals. If you don't have a great product, there is not much that even an experienced sales team can do.
In Fintech, the stakes are high for bringing innovative products to market. That's why there's an increasingly higher responsibility to perform and come up with original products that suit customers' needs. This will have a huge effect on customer acquisition, customer loyalty, profit, and the overall success of a business.
Luckily, you don't need formal experience or background to become a Fintech Product Manager. While there isn't a direct career path to becoming a Product Manager, there are certain skills that you should develop if you want to make the jump into this growing career field. You must be able to lead cross-functional teams and research and understand the marketplace you're building your product for. And, of course, it's absolutely crucial to have a strong curiosity about the Fintech industry.


YOUR FUTURE IS FINTECH
The biggest draw to these roles today is that Fintech is a booming industry. Both new companies and commercial organizations will continue to incorporate Fintech services into their business models. That rapid evolution means that Fintech will eventually become a universal industry, setting it apart from all other industries. Essentially, it's a fantastic career to think about moving yourself into for growth. With the projected growth over the next ten years across the Fintech spectrum, now is the best time to advance your career to Fintech and rescale your skills for this growing space.
Fintech doesn't just mean companies in financial services. In fact, one of the largest areas of projected growth is in the largest B2C and B2B companies that are now offering Fintech-based services. Companies like Target and Walmart have announced they're becoming Fintech companies, indicating that spread of Fintech is ramping to all industries. And, who wouldn't want to be involved in something as big as that?!