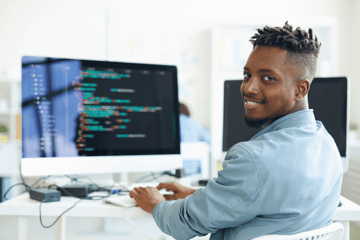 As everyone in the tech sector knows, the list of required and "nice-to-have" skills just keeps growing. From Software Engineers and Developers, to Solution Architects and Project Managers, tech professionals are always learning new skills, languages, frameworks, etc. designed to enhance their market value. Now, many are finding that Fintech companies are placing an even higher value on their "always learning" mentality. Tech candidates have discovered that there is no better place to put all their knowledge to work than a fast-growing Fintech startup company. Let's break down the growth of the Fintech market and why NOW is the best time to join the Fintech Revolution.

FINTECH'S GROWTH
Fintech companies are disrupters by nature. In most cases, they are completely reinventing the way we do things and as a result they are being rewarded with unprecedented growth. Many technologies, such as Blockchain, API Integration, Machine Learning (ML), and Artificial Intelligence (AI) are elevating innovative companies, and replacing companies that can't keep up.
More and more Fintech startups are integrating their services into established financial platforms, or offering more efficient replacement solutions. Consumers are loving it! Consumers are increasingly trusting and adopting Fintech solutions as a part of their routine daily financial lives. Fintech solutions are being integrated into everything we do, including trading, banking, wealth management, payments, lending and much more.
With an average annual growth rate of almost 25%, the Fintech industry is now projected to be $322B in 2022 and include products that enhance everyday life for consumers, worldwide. Still need convincing? Here are some reasons to get on board the Fintech rocket ship:


why join the fintech revolution?
1. GAIN STARTUP WORK EXPERIENCE
Working at a startup is a very unique experience. Fintech companies are great places to learn various skills, as you will most likely be wearing many hats. This is a great opportunity to use ALL your tech skills and apply them to various projects to which you might be assigned. Since there are typically fewer employees working at startups, you will typically gain more exposure to Fintech experts and leaders throughout the company. This type of access generally allows you to leverage your experience and ideas in a place where you can really make a difference.
2. stay current with the latest tools and hone your skills
Fintech companies tend to be cutting edge in every way. The fast-paced environment allows you to work with the latest technologies that are transforming the traditional finance industry. Your tech skills will help you understand the newest technologies and learn directly from your peers with different backgrounds to hone your skills. You'll solve problems that most people can't and celebrate when you conquer the seemingly impossible!
3. OPPORTUNITY TO EMBRACE CHANGE AND INNOVATION
Fintech companies are game changers. They have entirely disrupted the Finance industry, forcing a reinvention of old practices. Entering into the Fintech sector now gets you in at the ground level to learn new transformative technologies as they are created. If the solution doesn't exist, you'll create it. Like a challenge? Take pride in solving a problem? Working at a Fintech company may be perfect for you.
4. JUMPSTART YOUR CAREER
Get promoted fast! Leveraging your tech skills to join a high-growth Fintech company allows you to move up in the ranks quickly. Instead of being locked into a particular tech role at a traditional company, Fintech companies challenge you to continue advancing your skills as new technologies are introduced. There is a constant need for new roles to be filled in Fintech. Bring your tech knowledge, skills and experience to a Fintech company and the next thing you know you'll be asked to take on more responsibility as they grow. Looking for advancement? Quickly grow into a Team Leader, Mentor, Manager, Director, VP, Head of Engineering. There are no limits. Advance your career and grow with the company.
5. financial incentives
Fintech startups place a high value on those who are good at what they do, which is reflected in their compensation. Also, Fintechs pay an added premium for tech pros who can wear many hats, which is always important in small to mid-sized companies. Typically, salaries are a bit higher. Annual bonuses are used as a great way to reward employees for all their hard work and share in company success. Also many Fintech startups incentivize their employees to help grow the company and stay long term by offering some form of equity, which of course varies by level, and can be highly lucrative.


TECH SKILLS THAT ARE TRANSFERABLE FOR THE FINTECH INDUSTRY
software engineering
Fintech companies need a software engineer's abilities to work with large amounts of data, web security, and mobile app knowledge, to name a few. This is an environment for you to quickly advance your career and expose yourself to various domains allowing you to become an expert in your field of choice and choose to grow in that career path.
SOFTWARE DEVELOPER
As more and more consumers continue to adopt mobile wallets and personal payments systems, software developers are needed in Fintech to help develop these mobile apps. According to a Digital Banking Attitudes Study by Chase, 99% of Gen Z and 98% of millennials are using mobile banking apps. That demand will only continue to grow as new technologies advance the user experience of these apps.
PRODUCT MANAGER
A product manager is necessary for the development process of every new product and idea. In Fintech, a product manager still does just that. With some added knowledge of the Fintech industry and the ability to adapt quickly to this ever-growing industry, you can use your technology to create solutions for any of your clients.
MARKETING MANAGER
Marketing managers within tech companies have a leg up with how to develop marketing campaigns and use content to drive business. Those skills can easily be transferred to the Fintech industry. As mobile banking becomes more popular, those companies need new and effective ways to stand out in the saturated environment.
Fintech continues to be a booming industry with new technologies and opportunities to grow and rescale your tech skills. Consider a jump to the Fintech market and begin your future-proof career journey.