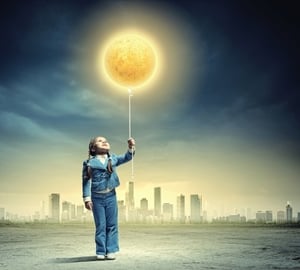 Another day has passed and another dollar is made. Showing up for work is what about 3 billion of us do each and every day all around the world. However, employees today, now more than ever, are redefining what it means to come to work.
Over the past decade, we've encountered monumental changes in what it means to come to work. From the radical shift from the traditional 9 to 5 baby boomers to Gen Y rethinking how and where employees report for duty, there are a number of trends that have redefined our professional lives.
Keeping up with the Joneses
If your company isn't interested in chasing trends (but instead making them), there are a number of new and existing ones that you'll want to put on your radar for the coming year. From alternative compensation packages to a radical change in leadership and corporate philosophies, here are the new and emerging trends that are sure to shake up the future workers for years to come.
Unlimited parental leave
In August, Tawni Cranz, the chief talent officer at Netflix, announced in a blog post that they would be offering unlimited parental leave for new parents, in order to give new parents the 'flexibility and confidence to balance the needs of their growing families without worrying about work'.
Netflix set something in motion with its decision. Spotify, Adobe, Microsoft and Amazon have all increased the amount of parental leave they offer to employees since August, and it stands to reason that more companies - tech and otherwise - will follow suit in 2016.
College benefits for employees and families
In mid-2014, Starbucks introduced the Starbucks College Achievement Plan, which offers all of their US part-time and full-time workers full reimbursement on their tuition for their final two years of college, in an effort to encourage their workers to complete bachelor's degrees.
This year, they expanded the program to cover the full cost of an online degree for employees, as well as the full cost of a 4-year degree for the spouse or child of every US veteran or active military reservist employed 20 or more hours a week.
In May of this year, Fiat Chrysler announced a similar program for its employees. In November, they extended that program to include spouses and children of their employees.
---
Download the HRO Today Worker Confidence Index for more game-changing insights
---
Unlimited vacation time
In October, LinkedIn HR exec Pat Wadors announced, via blog post, that they would be giving employees unlimited vacation time. In the post, Wadors claimed that their new unlimited vacation model was a way to further empower employees.
Companies who have adopted an unlimited vacation policy - including Netflix, Ask.com, Zynga and The Motley Fool - aren't just in it to attract the best talent, or for the good PR it gets them. Having an unlimited vacation time policy reduces paperwork and admin for HR departments, saving both time and money.
Unfriending & workplace bullying
This year saw a first when Australia's Fair Work Commission deemed unfriending a colleague on Facebook to be workplace bullying. The case saw a real estate administrator from Tasmania being issued with an order to stop bullying after a colleague complained about her behavior, which included being unfriended on Facebook.
The case reminds us that outlining your corporate social media policy is an exercise best practiced sooner rather than later with companies and their employees increasingly investing in social media.
Mindfulness takes over the corporate world
Countless organizations are making it a top level priority to relieve stress in the lives of their employees. From offering meditation rooms to yoga classes and even providing coloring books in the office, leadership is reevaluating how to reduce, or even minimize, work-related stress.
While there are a number of studies that show the effectiveness of mindfulness when it's practiced properly and consistently, experts warn that these measures should not be used to justify excessive workloads.
Increased demand for flex schedules
While flextime is hardly a new concept, it's reached something of zenith proportions in 2015, with more and more employees demanding flexible work hours. Some employers are embracing unconventional work schedules with others trying to sweep this trend under the rug.
According to a recent survey, only 3 percent of the organization included in the study stated they would assess ROI on remote work. This sends a strong message from the employer population that job flexibility is viewed as only being beneficial to the employee and not the organization.
Millennials are now the majority workforce
If those Snapchatting, Instagramming, Bieber-loving millennials terrify you, we have some bad news - in 2015, they officially become the largest generation in the US workforce.
In May, the Pew Research Center announced that, in the first quarter of the year, millennials had surpassed Generation X to be the biggest share of the US workforce. Millennials transitioning from college into employment have helped those figures along, as has immigration; over the past five years, over half of the immigrants coming into the US have been millennials.
Which workforce trends do you predict will fizzle out and which will flourish? Let us know in the comments section.

About the author: Kimberley Schollick is the marketing coordinator and resident blogger at Ento a provider of cloud-based software that helps businesses manage their scheduling, attendance and communication. After years working in a variety of industries (including retail, not-for-profit and publishing), Kimberley has learned a lot about team development and management, and now aims to use that knowledge to help businesses get the very best out of their teams.