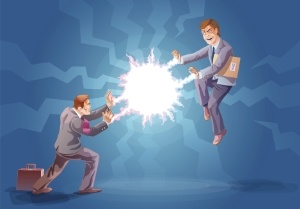 I recently read that the gaming industry is expected to be worth over $100 billion by the year 2017. Commonly referred to as interactive entertainment, gaming has truly gone global, with over 11 countries involved in the development, marketing and sales of video and computer based games. And, with this abundance of growth, come even greater rewards (and jobs options) for gaming professionals seeking full-time and contract work.
Surpassing the profits generated by the movie industry, the video game industry is taking the world by storm. Some of the top interactive jobs currently available include game engineers, 3D animators and environmental artists. To keep up with market demand, companies are offering both full-time and temporary positions. So, with a steady stream of mixed employment prospects, how do you choose between contract and full-time work?
Gaming Jobs Then

To answer that question, let's look at employment as a whole. According to CareerBuilder's mid-year report, "34 percent of the employers it surveyed expect to add temporary or contract workers by the end of the year. Almost half — 49 percent — say they plan to add full-time, permanent workers. In both cases, the percentages are ahead of last year's mid-year outlook."
This is great news when you consider that during the recession of 2008, the economy was so unsettled that many interactive recruiters saw a true market compression: senior talent would take mid-level roles for mid-level compensation just due to financial responsibilities, and that trend continued through most levels of employees. Throughout the recession, the sentiment of full-time work was that it was appealing, both in terms of stability and structure. On the contrary, contract work was deemed flexible, yet volatile, particularly troubling if someone had concerns such as supporting a family.
Even well-known career coaches, like Deborah Brown-Volkman, were advising candidates to take contract work. Volkman was quoted as stating:
"In this economy, even if contract work isn't right for you in the long term, take it. You'll earn money and gain experience, have a variety of networking opportunities and you'll gain more confidence in your chances of finding a job when you're already working."
Gaming Jobs Now

Thankfully, things have improved, and today, there seems to be a shift back to the familiarity of full-time work. But, in my opinion, that doesn't mean you should dismiss or look down upon contract work.
Every person has a unique set of circumstances. When I am working with a candidate who is torn between contract and permanent (perm) work, I advise them to create of list of their current professional and personal wants and needs in order to strategically plan their next move.
If you find yourself weighing out the benefits between contract and permanent work, you might want to consider the following:
Benefits of Contract Work:
Flexibility and improved work/life balance
Provides you with the opportunity to dip your toe into the proverbial pool of a new industry and/or skill
You don't have to commit for a long period of time
Build your network and references for leveraging in the future
However, if your priority now is to build your career or seek financial stability, then permanent roles might be a better area of focus. For instance, if your goal is to contribute as much as possible to your 401k plan, the tax advantages of putting away $10,000 per year tax-deferred into a 401(k) are much better than putting away $2,000 per year into an IRA. That's an $8,000 difference with a 40 percent tax rate. That works out to a $3,200 per year savings for the employee.
Work situations have changed dramatically over the past few years, and will continue to evolve and generate new forms of employment. Companies are experiencing these shifts and understand the need to accommodate various types of employment histories. So, look at contract or a mix of full-time and contract not as limiting, but instead as freeing!
Trudi Sheridan-Lewis is the Lead recruiter for the Interactive Division at Yoh's Bellevue, WA branch. She is passionate about expanding Yoh's interactive footprint in Seattle and nationally. In her spare time she loves to spend time with her family, travel off the beaten path and sample some of the fine wines that the Pacific Northwest is famous for.