DOWNLOAD: HRO TODAY / YOH WORKER CONFIDENCE INDEX REPORT
[Now Including Q2 2023]
Historically, there hasn't been a single index to calculate worker confidence within an organization; that is until now. HRO Today Magazine partnered with Yoh, and set out on a mission: to develop a proven index to measure U.S. worker confidence and optimism in their job security.
After thirty four quarterly surveys, the results demonstrated significant correlations between worker sentiment and other widely used and trusted indices; including Consumer Confidence Index (CCI) and to the GDP.
Complete the form to gain instant access to all of the surveys. Use survey data to better understand how to motivate and retain your employee base.
It's time to get to work -- download the survey today!
Methodology
Yoh and HRO Today Magazine surveyed full-time employees on a monthly basis during Q4 of 2014, all 4 quarters in 2015, 2016, 2017, 2018, 2019, 2020, 2021 and 2022 and Q1 and Q2 of 2023. Using four key components – involuntary job loss possibility, likelihood of promotion, anticipation of a raise, and trust in company leadership -- the study results are shown by age, gender, race, education and income level.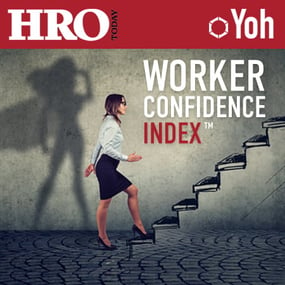 WHAT'S INSIDE
Review survey results by demographic, gender and age
Learn how confident employees really are with their employment status
Download, save and share all twenty two studies