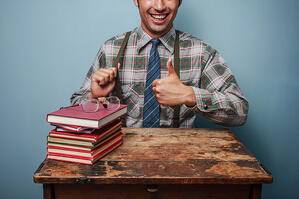 The tech industry is a constantly evolving, exciting field. Ambitious and innovative minds shape this industry — minds that come from a variety of backgrounds, educational institutions and life experiences. After all, the tech industry is perhaps as adaptable as it is evolutionary, opening the door to more progressive forms of employment and opportunities to work remotely.
In this modern, digital age, new trends continue to emerge throughout the various industries. As the tech industry grows and expands, it's perhaps easier to see the effect of these trends in the tech world, compared to other fields.
One trend is making repeated headlines due to its projected, rapid growth over the next few decades. Known as the gig economy, this type of environment encourages temporary positions, short-term engagements and increased employee mobility.
In this article, we'll examine the impact of the gig economy in the tech industry, as well as provide tips for tech workers who are considering a move toward this type of employment.
Understanding the Gig Economy
If you're unfamiliar with the concept of the gig economy, it defines the modern trend of companies hiring short-term workers and independent contractors. The tech industry is a viable field for this trend to thrive, as the Internet — and increased sharing capabilities — provides the ability for employees to work remotely.
Today, gig workers make up about 34 percent of the workforce, and by 2020, that number is expected to rise to 43 percent. So, why the rise, and what are the factors driving the projected growth?
Money and Resources
First, we can consider the impact on businesses. With employees working remotely, companies save money and resources on office space and supplies. Additionally, businesses can also see a financial benefit from hiring freelancers vs. full-time employees, as less money goes to benefits and training.
Investing in the gig economy, compared to a more traditional workforce, is not considered a benefit for all business owners, however. Considerations such as increased turnover, less structure and a cultural shift can negatively impact the productivity and output of a business.
Although its success is dependent on the company structure and management of remote employees, business owners should consider both the pros and cons of moving toward the gig economy.
For tech workers, carefully evaluating the benefits and drawbacks of the gig economy is even more imperative, as deciding to engage in more short-term work directly impacts employment now – and in the future. Let's evaluate those pros and cons.
Pros of Entering the Gig Economy:
Many workers in the tech industry love the appeal of working remotely and independently. Entering the gig economy might seem like the next, natural step in pursuing the ideal career for those worker. Here a few additional benefits to further support that goal.
Flexibility — As a contractor or freelancer, tech workers in the gig economy can set their own schedule. This involves selecting the hours worked each day, choosing which tasks and jobs to take based on availability, and having the opportunity to take time off of work whenever you need it.
Variation — For tech workers who find boredom in completing the same tasks every day, or working for the same company long-term, the variation that complements the gig economy is appealing. For example, developers may enjoy the opportunity to work on unique websites, each with different code and Content Management Systems. Similarly, web designers might find excitement working with a variety of brands and styles.
Financial Benefits — One of the most important considerations for all workers, regardless of industry, is the financial impact of entering the gig economy. Although there's a tendency to correlate freelance work with financial instability, there can also be a financial benefit to pursuing this type of work. Depending on location, for example, web designers and software developers can receive a tax break for the purchase of computer system hardware, if it's intended for work purposes and meets a few requirements.
Perhaps the greatest benefit, however, is the ability for tech workers to pursue employment that appeals to their skillsets, as well as to their interests. 60 percent of employees cite the ability to perform in a role they do best as "very important" to them. For these employees, the gig economy is an attractive environment full of variety and opportunity.
Cons of Entering the Gig Economy:
Although the gig economy has its benefits, there are potential drawbacks for tech workers to consider as well. Let's review the cons associated with this type of employment.
Absence of Insurance and Benefits — Although potential tax breaks are a financial benefit, it can be costly to not have company-funded health insurance, a 401K or pension plans, among other core benefits. This can be a detriment to long-term financial planning, and it can cause financial strain in the event of an unforeseen health problem.
Lack of Job Security — Full-time employment does have another benefit, and that is the guarantee of constant work — or at the very least, the guarantee of getting paid consistently. In the gig economy, however, jobs come and go, and there's no certainty that there will always be continuous income or jobs that fit your skill set. Tech workers can improve their skills and broaden the type of work they're willing to accept, but employment is always dependent on the number and type of jobs available at any given time.
Limited Legal Assurance — Finally, freelance and contractual work is at the mercy of the employer's policies. If the employer fails to provide payment or changes the condition of the employment, there is less legal recourse available for gig workers than full-time employees.
Opportunity and Diversity
The gig economy provides a wealth of opportunity and diversity for the modern workforce, and all signs point to its continued growth and popularity. As the tech industry also continues to grow and expand, it will be important for both tech workers, and employers, to consider what it would mean to join the growing trend of the gig economy.
About the Author: Nathan Sykes is a business blogger and tech enthusiast. To read his latest articles follow him on Twitter @nathansykestech.