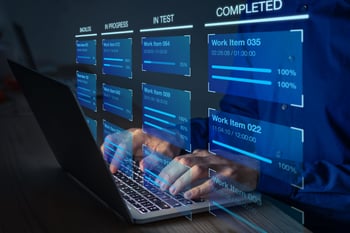 Organizations recognize that partnering with a custom software development company is a wise decision to expand company visibility. By outsourcing custom solutions, businesses can attain their goals while accommodating harsh financial constraints. Ultimately, professional software development companies help to maximize efficiency and value.
While delegating a project to a third party can be extremely beneficial, it also carries particular challenges that a business owner has to address. Let us clarify how to choose the best software development company, how it will help you drive your business, and which aspects to consider while making your choice.
5 Tips for Choosing a Software Development Company
With thousands of organizations operating on the market, choosing a software development team may seem overwhelming. However, if you split the process into several fundamental stages, it will become simpler and clearer. Consider the following tips for choosing a software development company.
1. Define Project Goals and Timeframe
Before you contact your potential vendor, identify a clear idea of what you want to build and when it needs to be done. You'll only waste your time and resources without understanding these fundamental points.
2. Find Software Development Companies
Compose the list of potential partners capable of fulfilling your assignment. You can use search engines, browse reviews and rankings, and ask for referrals.
3. Check Their Portfolio and Experience In Your Domain
Look closer at each company on your list, examining their relevant experience and case studies. Also, consider customer reviews.
4. Check Whether They Specialize In What You Need
If you have specific technology requirements, make sure a development company is well-versed in the technology you need.
5. Make Sure They ACT As A Devoted Partner
An agency may possess excellent technology and talent, but if the team acts merely like an external player, it will hardly produce a magnificent product. Only true dedication leads to remarkable results.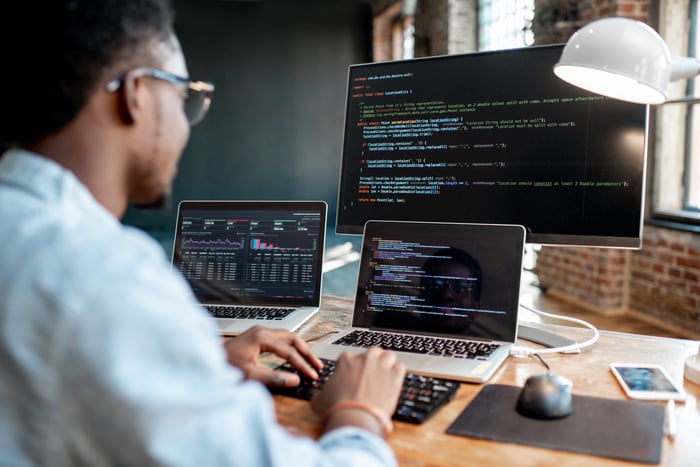 6 Benefits of Hiring a Software Development Company
A competent multidisciplinary developer can effectively complete your digital transformation project, minimize labor expenses, and elevate development execution speed. Consider a range of advantages an experienced developer can offer.
1. Cost-efficiency
With an outsourced supplier, you are saving on recruitment fees, salaries, and operational costs, which you would inevitably incur in the case of an in-house team.
2. Agile Project Management
Choose a web development agency thoughtfully, and you'll enjoy agile development methodology, which means ongoing evaluation and modification of your project's progress. Such an approach leads to a more sophisticated resulting solution.
3. Access to Knowledge, Skills, and Experience
Choose a software development company that will allow you to benefit from profound domain knowledge and a team with the most relevant skills and experience.
4. The Use Of Advanced Management Tools
If you choose the best web development company, it will empower you with the most advanced technology to let you gain a competitive edge.
5. Your Project Will Run Quicker And Smoother
A software development agency will provide an immediate start and comprehensive project management throughout the process.
6. Superior Quality And Timely Completion
A dedicated, professional team will fulfill your job with guaranteed quality within the established deadline.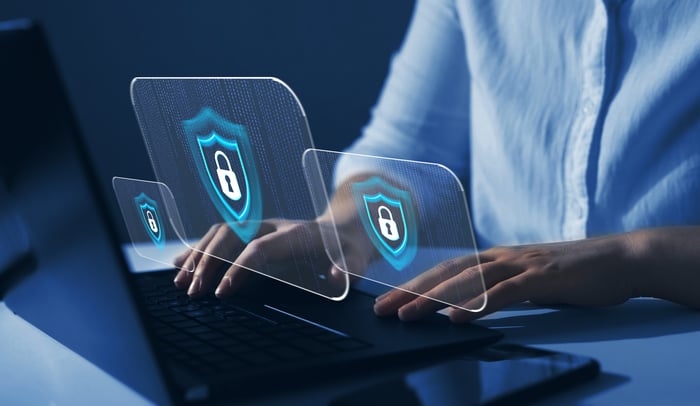 4 Questions to Ask When Choosing a Development Company
After completing the described steps, you might be able to filter out the agencies for further consideration. To choose a website development company among them, you should discuss the major aspects that will let you finalize your choice. What questions to ask when choosing a development company?
1. What Is Their Development Methodology?
Whether a company applies scrum, agile, or other methodologies, it should enable adaptive planning, early delivery, and regular project updates. A properly organized project development process improves efficiency and allows removing any issues expeditiously.
2. What Are Their Security Measures?
When choosing a web development firm, you should ensure they won't expose your information to any risk. Ask them about the measures they take to appropriately handle your idea, product, solutions, and confidential data.
3. How Do They Test And Maintain Software?
The highest efficiency is attained when a company tests the product throughout all development stages. Besides, find out whether the support and maintenance services are included in the preliminary cost estimate.
4. How Well Can They Communicate Their Creation?
A communication style is a significant factor when you choose a web development company. Smooth communication between parties facilitates conducive working relationships and positive outcomes.

Final Thoughts
Whether you need a domestic or international web development company, the information above aims to help you make an optimal decision. An appropriate outsourcing agency can provide a stellar solution for your enterprise.
About the Author: Danil is a SEO specialist at ArtJoker with a passion for creating quality content. Danil's goal is to inform people about the direction of the future, specifically Web 3.0, by writing content that providers readers with insights about the development of blockchain.