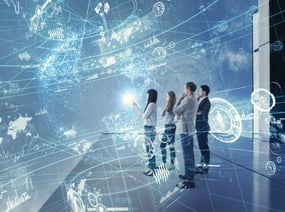 In recent years (and in 2020 particularly), we saw the term "diversity" shift from buzzword to action-item. It's now safe to say that good diversity and inclusion practices are beneficial for advancing business - and large IT organizations are no exception!
REALIZING THE NEED FOR CHANGE
Many IT organizations are making strides to better understand the critical nature of diversity, equity, and inclusion. Companies across industries are rapidly realizing the impact of not only gender diversity but also the representation of all minority groups.
For example, women in tech are smashing IT's glass ceiling, and many are becoming CIOs at large tech organizations. Tech companies inclusive of women are more likely to attract and retain talent, lower turnover costs, and better performance. A study by Anita Borg Institute for Women and Technology found that Fortune 500 companies that have three female directors see a jump of over 60% in the ROI, while a 42% increase in return of sales and 53% increase in return of equity.
To take action, organizations are shifting to strategies that support diversification.
the workforce reflects its values
Within high-growth tech companies and startups, leaders are taking diversity into their own hands. Many are making a concentrated effort to define their values as they relate to inclusivity. They're taking accountability for their company's actions and providing transparency into their diversity and inclusion insights, both on a structural and cultural level.
Many large companies are building public value statements and internal strategies surrounding diversity and inclusion. They're turning inward to their Employee Resource Groups (ERGs) for ways to improve. Getting current employees involved also benefits the company in many ways, both culturally and socially.
With increased visibility and a cultural shift, doors open for people within underrepresented communities to land C-suite and leadership roles.
resiliency drives long-term change
We can all agree that 2021 is a time for learning, change, and growth in the corporate world. As last year proved, mistakes happen, even at some of the largest tech organizations. Now, the way companies handle public unrest following their diversity and inclusion mishaps will determine their authenticity.
As the public brings light to the workforce's ever-present diversity issues, it's up to businesses to listen and take action. The way companies respond to the demand for diversification will prove their resiliency. A number of IT organizations have caught on that this resiliency is the ticket to embracing long-term change. Many are setting a standard by simply listening to public demand for change.
diverse teams produce better outcomes
Great minds think alike, but diverse teams think differently. We're slowly moving past the culture club, or the practice of hiring only those who are a "cultural fit." More inclusive IT teams and cultures will lead to more innovative technology solutions and products. In the ever-evolving world of IT, it's imperative to have a diverse team to steer your organization into the future.
For companies and employees alike, a huge benefit of hiring a diverse IT workforce is a rise in employee satisfaction, lower turnover rates, and higher quality of work. But, how do we build more diverse IT teams? This year and beyond, reinvented diversity recruitment strategies will focus intently on bringing in candidates from varying backgrounds. The trick is in finding ways to eliminate bias, such as hiring a diverse team of recruiters to conduct interviews.