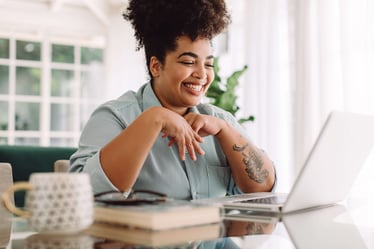 Throughout 2021, we saw the term "diversity" shift from buzzword to action-item more than ever. A majority of companies are now realizing that good diversity and inclusion practices are beneficial for everyone, from business to candidates alike.
Today, the Information Technology industry is leading the pack in the effort to foster a more diverse and inclusive workforce. Here are three ways the IT landscape will continue to diversify and evolve into the new year.


1. Flexibility remains an option for tech professionals
There's no denying that the pandemic threw a wrench into how we work. For many, the realization is setting in that the workforce may never return to the way it was before the massive shift to remote work in 2020. Now, as we enter 2022 with over a year of remote work under our belt, companies will continue to offer flexible and remote work options for many reasons. One of the big ones is its benefit on diversity, equity, and inclusion.
Tech recruiting faced many hardships over the past year in the race to find top, highly skilled talent. However, remote work has worked wonders in attracting candidates from different backgrounds to the industry. The elimination of regional barriers made jobs more accessible to those who may not have had the same opportunities as those living near big cities.
Keeping the doors open to candidates seeking remote opportunities is one fundamental way to enhance diversity within your organization.


2. Efforts to reduce bias in the tech hiring process
Another driver of change lies within modern recruiting strategies. In previous years, companies would simply preach their commitment to diversity and inclusion but not actually do much to hire diverse candidates. However, companies are now taking proactive steps to deliver training on bias busting and promote progressive talent acquisition philosophies and techniques.
In 2022, companies will spend more time looking internally at their own team makeup and decide where improvements can be made in the areas of diversity, equity, and inclusion. And most importantly, they'll put initiatives into place to reduce bias in hiring, which tends to be a bigger problem within the tech industry.
As more IT-centric roles hit the job market in 2022, an opportunity arises for tech companies to put more thought behind the language they use in job descriptions and when speaking to candidates. Companies will make efforts to reduce gendered, targeted language in job descriptions, on company web pages, on social media, etc.
By increasing accessibility, showcasing diversity initiatives, moving past the culture club, and reducing targeted language, companies will reduce bias and open their doors to all candidates.


3. Employee feedback leads to change at massive tech companies
The last big way diversity and inclusion initiatives will carry into the new year are through current employees. For example, many large tech organizations have Employee Resource Groups (ERGs), or networks within the company where employees gather based on shared characteristics, experiences, or goals. Many ERGs host impactful employee-led fundraisers, webinars and learning opportunities, and open discussions to keep their finger on the pulse surrounding tough topics.
In 2022, companies will continue to take feedback from ERGs and employees interested in bettering the workplace. Many large tech companies also have diversity boards, panels, podcasts, and leadership-driven initiatives that impact the company on a large scale. As more ideas surface from employees, companies will continue to build a more inclusive and diverse workplace.
Getting current employees involved benefits tech companies in many ways. A more diverse and inclusive workforce will drive more tech innovation and better products, which in turn impacts company sales and growth.