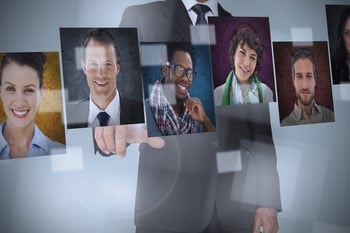 To be a forward-thinking organization, you must be proactive in creating a diverse and inclusive culture that reflects America's population. A more inclusive culture has proven effective in advancing business goals, and a growing handful of companies have begun to invest in practices to create an empowered and diverse workforce. But it shouldn't stop at your staff; with the size of the contingent workforce population growing by the day, it's imperative to implement Diversity and Inclusion (D&I) in your contingent labor strategies as well.
According to a 2019 McKinsey & Company report, companies in the top quartile for gender diversity on executive teams were 25% more likely to have above-average profitability than companies in the bottom quartile -- up from 21% in 2017. They also had a 27% likelihood of outperforming their peers on longer-term value creation. A Boston Consulting Group study found that companies with more diverse management teams have 19% higher revenues due to innovation. The truth is in the data, so what needs to happen to implement a D&I strategy in your contingent workforce?
How to IMPLEMENT TALENT DIVERSITY & INCLUSION STRATEGIES IN CONTINGENT LABOR MANAGEMENT
Leadership Alignment
HR, Diversity and Procurement leaders need to come together for a holistic diversity and inclusion strategy. This encompasses supplier diversity, employees, and contract workers. This is a significant shift as historically, it's usually only about full-time equivalent (FTE) for Human Resources (HR) and supplier diversity for Procurement. Essentially, every person and every company supplying the organization should be considered no matter where in the journey a company is in its D&I focus.
Supplier Diversity Program
Build a proactive strategy for your supplier diversity program that encourages the procurement of goods and services from businesses owned by a diverse cross-section of different groups of people, including (but not limited to) minorities, women, the disabled, the LGBT community, and veterans.
According to an article by Dun & Bradstreet, minority-owned businesses contribute jobs for 2.2 million people, women-owned businesses contribute 7.9 million jobs, and LGBT-owned businesses contribute 2.4 million jobs. This represents a massive chunk of the economy, yet achieving success as a diversity supplier remains a challenge.
Hold Suppliers Accountable
Having a diverse set of suppliers opens up a pool of candidates who are more savvy and selective in determining which organizations they will consider for career options. With that in mind, it's also important to hold your suppliers accountable for providing their own candidate diversity.
Get a pulse check on your suppliers' current hiring efforts by using metrics and goal-setting in order to measure and reward suppliers. Establish scorecards based on your hiring goals, and hold them accountable for hitting those goals. These goals can be set up based on research regarding the industry or the position, the location, and the specific need of your organization.
Understand the Totality of Diversity
Talent Diversity means more than just race and gender.
This can include:
Race

Ethnicity

Gender

Sexual orientation

Religious affiliation

Generation

Disability

Personality type

Thinking style
When considering the diversity of your workforce, it's critical to make every effort to attract, engage, and retain diverse talent across all categories of workers. Why? Consider the length of contract work and the impact on the business. 40% of the workforce could be contingent - this is an incredible number of people working for you. Now also consider the potential of these workers converting to full time.
Consider the workforce demands of today and tomorrow
In 2025 millennials will make up 75% of the workforce, and they rank diversity as top to compel them to work for a company. Not only that, 67% of job seekers consider workplace diversity an essential factor when considering employment opportunities, and more than 50% of current employees want their work to participate in the organization fully.
If the future of the workforce is contingent, let's think about how diversity strategies come into play for your contingent hires. How can you make them feel more included? For instance, you can implement a policy that allows training and participation in company initiatives for contingent workers. There is little co-employment risk created through the inclusion of the contingent workforce in relationship with the FTE workforce. Cross-functional project teams and "think tanks" comprising FTE and contingent workers representing a diversity of age, gender, socioeconomic status and more create opportunities to capture the diversity of thought in a robust and meaningful approach.
What AbOut Inclusion?
Inclusion refers to how people feel at work. A company may be diverse, but if employees do not feel safe, welcomed, and valued, that company isn't inclusive and will not perform to its highest potential. Your contingent workers should not be an exception to this. What processes do you have set up to make sure your contingent workers feel as much a part of the organization as your staff employees?
There is an emphasis on the need to bring one's true self to work. If your employees can't, they are holding themselves back and won't realize their full potential for themselves or the company that they are working for. Inclusion needs to apply to anyone walking in the door, from FTE to long-term contractors to shift workers.
Make It a Company-Wide Initiative
We can't just rely on HR, diversity or procurement leaders; D&I is up to every person, from the CEO to manager to team leaders to workers at every level. It is to up to us to respect one another, no matter where you stand in implementing the strategy. Things like Employee Resource Groups, training and hiring consultants who focus on Diversity & Inclusion can lead to noticeable changes across the organization. Encourage all of your new hires to focus on D&I, and then you can grow to lead your workforce with these hires.
It's Simply the Right THing to Do
It's not just about doing profitable business, it's about doing the right thing. Now more than ever, Diversity and Inclusion should be top of mind for leaders across every aspect of their organization. D&I initiatives provide better opportunities for employees, better results for clients and better futures for everyone.
About the Author: Kevin Poll is the Global Head of Strategic Partnerships and D&I Champion for Willhire, a Direct Sourcing Platform that can service, attract, curate & engage your contingent workforce by leveraging your employer brand with direct sourcing and building a pathway to total talent management. For more information about diversity practices, check out their virtual roundtable TOMORROW, October 27, from 1 - 2 pm EST : Total Talent Diversity: Expanding D&I Strategies to Your Contingent Workforce.