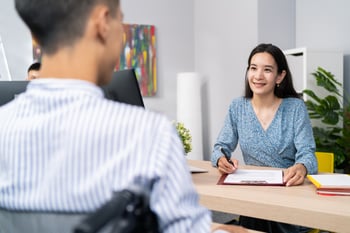 The talent acquisition area in businesses has seen tremendous shifts in recent years—one factor affecting this talent supply shortage against job demands. In the US alone, the disparity is at a 10-year high, with 69% of employers finding it hard to fill vacancies.
The search is on. Two broad terms describe how businesses get people into their organization: headhunting and recruitment. And no, they are not the same, although both share the goal of bringing the best talent into the company. Understanding the different ways to define headhunting and recruitment can help you better understand finding and hiring employees.
Read on as we explore how these two differ in the hiring process and the kinds of roles they acquire.
Defining Headhunting and Recruitment
Many people are quite confused with the difference between headhunting and recruitment. But, what really is the difference between the two?
What Is Headhunting?
Headhunting, also known as the executive search, involves recruiting premium talents to take on high-level or top management roles. A headhunting agency or a headhunter includes looking for individuals with positions such as the chief executive officer (CEO), chief technology officer (CTO), and company president.
This is an exclusive process that scouts candidates with impressive credentials and possess expert skill sets to carry out a head role efficiently.
What is Recruitment?
The recruitment process is something that most people know. Simply, it aims to hunt for potential candidates with skills that match their open roles and complete the needed headcount in certain teams and departments.
Compared to headhunting, recruiters hire people across all levels within the organization. They advertise job posts across all channels, set up a referral program, and participate in job fairs to let interested candidates know they are hiring.
5 Key Differences between Headhunting and Recruitment


Position
C-level or executive roles are challenging to fulfill, and candidates of this caliber are hard to find and need a strategic offer and persuasion. This makes it a next-level recruitment process that headhunters specialize in.
Meanwhile, recruiters typically hire people from entry-level to middle management positions to respond to vacancy gaps within the organization.
Hiring Process
The stark distinction in the roles involved in headhunting and recruitment means they invite candidates differently. In most cases, interested applicants respond to a job post, submit their resume or CV, and the recruiting team evaluates their profile. Although recently, with the workforce demand at a record high, they also take the initiative to reach out to promising professionals with the skills and experience that fit their vacant roles.
With headhunting, headhunters have already pre-screened the candidates before they send invitations to them. Often, they reach out to a passive candidate working under a direct competitor.
This is a tricky situation as most of them have cultivated loyalty and attachment to the people at their respective firms. However, this ensures headhunters are tapping candidates with proven backgrounds and adeptness in the same industry.
Here's a step-by-step account of headhunting and recruitment:
Headhunting





Assess executive vacancy




Outline the needed skills and experience



Research and scout industry names, both passive and active candidates



Review and compare candidates with external headhunters, company executives, and HR officials



Narrow down the list and invite interviews



Forward the job offer and negotiate compensations, work arrangements, and benefits when necessary.

Recruitment





Identify the need to open positions and fill the headcount.





Create a detailed job description



Release a job post on various channels (social media, job sites, referral programs, job fairs, etc.)



Reach out to passive talents


Assess submitted resume, CV, recommendation letter, application, etc.



Send interview invitations



Present a job offer
People involved in the hiring
In headhunting, the CEO or any company executives can approach and recommend industry leaders within their circle that they know fit for the role they're looking for. They can also outsource the process to headhunters to help them build an executive talent pool. They can facilitate the selection process with exclusive research of credible and competent candidates.
The most important role of headhunters is to verify each person's background to filter out misleading and exaggerated profiles among prospects. When it comes to recruitment, the company's internal human resource team almost always takes charge of the process. They identify the need for new roles, plan where to promote job posts, contact applicants, organize interviews, and assist successful candidates in the onboarding steps.
Cost
It's clear that headhunting costs more than recruiting. It requires extensive candidate research. Headhunters are hired as contractors or acquire service from a headhunting firm. Businesses invest in headhunting to ensure only the best people take the company reins.
On the other hand, the recruitment team, as part of the human resource department, are on the company's payroll. Unlike headhunting's specialized selection process, recruitment is often routine work and is already part of the company's operational funds.
Hiring period
Hiring high-level personnel can take months of networking and persuasive discussions. Headhunters allot a significant amount of time to look for talents, assess their skills and experience, and cross-check their backgrounds to establish their integrity and character.
After, it's a significant move that will significantly determine the company's future.
For recruitment, some positions can be challenging to fill, but entry-level and mid-level openings mostly attract the bulk of job seekers. Because of the large influx of interested applicants, recruiters only dedicate a few weeks to contacting, screening, interviewing, and onboarding.
Wrap up
To recap, headhunting involves the specialized process of hiring executive-level positions, while recruitment takes charge of filling in the organization's vacancy demands across all roles. Although headhunting and recruiting contrast in several things, they share the same goal of getting the best people aboard.
Human resources are essential to a business's success. No venture or business idea will take off without the skill and competence of the people toiling behind the scenes. They're crucial to developing innovations, introducing the best insights, collaborating on shared ideas, and working towards a unified goal. In return, companies shouldn't only put their best foot forward when chasing candidates, and it should extend way beyond recruitment.
They should place a high value on their people with well-deserved compensation and benefits, appreciation, and growth opportunities. Most spikes in resignations stem from employee dissatisfaction and unfulfilled professional aspirations, and employee loyalty is a treasure not every business can possess.

About the Author: Moira Zamora is a copywriter and content specialist who has a passion for helping businesses create compelling and effective content. With over 4 years of experience, she has worked with companies of all sizes to develop marketing materials that engage and resonate with target audiences.