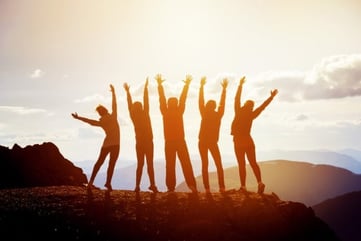 A report that surveyed 353 recruiting professionals concluded that companies with employee referral programs often recruit the best possible employees. This is because new hires who are recommended by your current employees are usually a better cultural fit. They are also more engaged, more productive, and less likely to quit.
That is why an increasing number of companies are running employee referral programs. Here are 10 employee referral program strategies to help you hire the best talent for your firm.


10 Employee Referral Program Strategies to Hire the Best Talent
1. Reward employees
Your employees will be happy to refer potential employees if they gain something in return for it. Reports say that 71% of firms believe that their employees like to receive incentives in the form of cash. For, employees find it a valuable and tangible benefit.
However, 13% say that the best compensation would be paid time off; 10 % identified it as gifts; 4% as social praise; and 1% as a donation to charity on behalf of the employee.
So, the most widely practiced incentive for employee referrals is cash rewards. Your company can set the amount of cash compensation based on how much you can afford. Even if you decide to provide referring employees with gifts, paid offs, or social praise, it would be good to consider a basic cash bonus as well. Thus, employing the best referral program software to incentivize them can help you do this effectively.
2. Shorten the hiring process
The average length of the recruiting process can vastly vary for firms in different locations and sectors. Irrespective of this, firms should plan to cut short their timeline for hiring those candidates who apply through their employee referral program.
This is possible as the time that would be otherwise spent on carrying out background checks and preliminary phone interviews is eliminated. Further, firms can make faster hiring decisions with referred candidates. Reports say that this way, a 4-5 week hiring process gets reduced to just 2 weeks.
3. Give cash rewards in phases
Money is a great incentive. If you choose to give money as a reward to employees for referring new hires, don't give it only after you hire the new employee. Instead, give it as smaller sums in phases such as once the employee refers someone and provides his/her details, after the referred attends your interview, and after he/she is hired.
Such phased incentivizing has two advantages. One is that it paves the way for a continual referral process that encourages employees to keep referring. And the other is that they get some amount of cash even if the person they referred doesn't get hired.
4. Create a tiered referral program
Having an employee referral program in place is great. You can add more fun to it by creating a few tiers for your employees. It can be based on the number of employees referred.
For instance, if an employee has referred a single hire, you can put him under the "Newbie" tier. If he has referred three, he can be upgraded to the "Basic" tier. If 6, "Senior" tier; and if 10 and more, "Mastermind" tier.
You should also increase the value of the reward for each tier. This will motivate your employee to do word of mouth that will bring more talented candidates to you.
5. Don't waste time
Yet another vital employee referral program strategy is to ask for referrals without wasting time waiting for them. You should ask as soon as a new employee has completed his/her first weeks at your firm. For, this is the right time to ask for referrals as they are excited about your company and their job role. So, you will get more referrals this way.
An American property insurance firm called PURE uses this strategy successfully. This way, it has hired many talented people. Estimates say that 40 to 60% of its employees have been procured this way.
6. Conduct informal events
You can make it fun for employees to refer candidates who, according to them, would be a great fit for your organization. For this, you need to organize informal events and allow employees to bring in candidates to have light refreshments or lunch.
Salesforce, the US-based cloud computing giant, follows this method. It periodically organizes get-togethers called "Recruitment Happy Hours." It has spent millions of dollars on such events so that employees can invite potential candidates those they want to refer to it. This way, the recruiters, the employees, and their referrals get to know each other in a low-pressure setting over a few drinks.
7. Gamify it
Integrate gamification into your employee referral program to encourage employee participation in the process. For, game mechanics appeal to the fundamental human need to accomplish and to be recognized. Having different levels for users of the platform elevates their status among their peers.
So, 70% of big firms have incorporated gamification in their workplaces. Fiverr, a freelancing marketplace, has included gamification into its employee referral program for offering points and credits when employees share their job opportunities and refer their friends to it. They also employed it to notify them of the status changes of their referrals. Fiverr gave gifts to its top referrers on a quarterly and annual basis.
8. Acknowledge and give feedback
More than rewards, it is your recognition that your employees crave the most. Your employees would appreciate it if you gave them feedback about the candidates they have referred to you. So, send them feedback on how far the candidate has progressed in the interview, whether or not he/she has been hired, etc. This kind of constant feedback from your end will motivate them further to refer more worthy candidates.
9. Educate employees
Often, your employees aren't aware of the vacant job roles available at your company and what kind of candidates you are looking for to fill those. So, every month or once in a few months, conduct meetings to educate your employees in these regards. You can have your HR deliver a speech on any opening for high-quality roles.
You can encourage the active participation of your employees by giving out an extra paid off day, cash, free lunch, or gift on-the-spot for their referrals. It further leads to brand awareness.
10. Make it social-media friendly
Social media networks such as Twitter, Facebook, LinkedIn, etc., are great places to source potential candidates. So, encourage your employees to use their platforms to spread the word.
Simplify things for them by coming up with recruitment-based content on social media. Send them a weekly email with updated job vacancies. Include a social media copy so that your employees can copy-paste it on their social media profiles and share it with their friends and followers.


Wrapping up
Hiring the right job candidates is a big challenge for companies these days. They can overcome this by resorting to employee referrals. Employee referrals bring you the best hires as your employee know the right fit for your company. Use our employee referral program strategies to hire the best possible talents who would also stick to you long-term.
About the Author: Shivani is a content writer at InviteReferrals, which provides referral software that allows businesses to attract new customers from existing customers through referral campaigns.