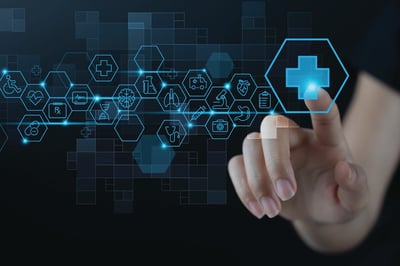 Technology's impact on patient care is more significant than ever. Rapid technological advancements have transformed how professionals operate and patients receive treatment. With experience in healthcare and IT staffing, Yoh understood the need for specialized technological expertise to drive innovation and efficiency in organizations. When a leading nonprofit healthcare network in New York faced a challenge, Yoh was prepared to offer innovative solutions.
As a leading healthcare provider and employer, Yoh's client required specialized talent to propel their technical projects and initiatives forward. After turning to Yoh for support, the organization's challenges were met with proven solutions. Yoh not only addressed their pressing talent needs but also transformed their business to drive new capabilities and outcomes.


---
Want to jump ahead? Read the full case study here, including how Yoh placed 110+ highly qualified IT candidates over the course of 10 years.

---
The Dilemma
With an extensive network of facilities and physicians, the organization faced a critical dilemma – finding qualified IT and Healthcare IT candidates with specialized expertise to support their technical projects. As one of the largest providers and private employers in the state, they couldn't afford to compromise on the quality of talent. Yoh quickly stepped in to help.
The healthcare network's decision to trust Yoh's expertise led to a pivotal moment in 2012 when they sought a Surgical Information Systems (SIS) subject-matter expert. Yoh's successful placement of this expert marked the beginning of a partnership that would reshape their approach to talent acquisition.
The Strategy
From day one, Yoh's New Jersey-based team recognized the urgency and significance of the roles that needed to be filled. Leveraging their extensive network and deep understanding of the healthcare domain, Yoh crafted a strategy to support their talent needs. Over the span of a decade, Yoh worked diligently alongside the client to identify and secure top-tier candidates for over 110 positions. Yoh's support spanned a wide range, from general IT roles to niche Healthcare IT positions, and even extended to areas like clinical informatics and population health.
Furthermore, Yoh's strategic involvement wasn't confined to regular talent acquisition. During a crucial Epic implementation project, Yoh played a vital role in a large backfill initiative, ensuring seamless continuity as the organization underwent significant changes. Yoh's support facilitated business-as-usual operations while allowing the organization to focus on integrating Epic successfully.
The Impact
Yoh's unwavering commitment and strategic support had a profound impact on the healthcare network's capabilities and outcomes. By sourcing highly specialized professionals, Yoh empowered the organization to tackle intricate technical projects with confidence and efficiency. This partnership proved invaluable during major system migrations, ensuring that the nonprofit maintained operational continuity even during critical transitions.
The consistent delivery of quality talent Yoh provided made them one of the organization's top vendors for eight consecutive years. Many of the candidates provided by Yoh seamlessly integrated into the organization, with some transitioning to full-time employees, a testament to the exceptional quality of Yoh's placements. The healthcare network knew they could rely on Yoh to prioritize their talent needs, aligning their mission with the right professionals.


Interested in learning more about Yoh's success with this client? Read the full case study here!