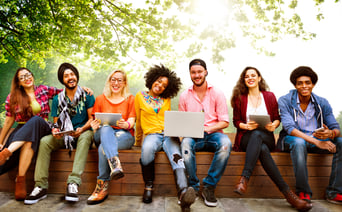 Millennials are the generation born between 1981 and 2000 and they are also referred to as Generation Y, Generation Next, or Echo Boomers. At work, the leaders of millennials are none other than Generation X.
In order to successfully guide their successors, these GenX leaders must be aware of the behaviors, strengths and challenges related to Millennials. A few of them are:
Myths About Millennials
It is a myth that millennials are difficult to recruit, engage, and retain as compared to other generations. The contributions they have made in the workplace over the years are immense. Corporations have a great opportunity to tap the millennial workforce's potential for a mutually beneficial solution. To utilize the potential of this generation, their leaders must clearly understand which millennial characteristics to be kept subdued and which to nurture.
Leadership qualities to have for handling millennials IN THE workplace
Millennials, by nature, are inquisitive individuals and this very trait may make it difficult to satiate their intellectual appetite. Millennials are talented and tech-savvy. Not only do they expect variety in their work, but they also actively seek out avenues to channel their creative side.
Millennials are not Baby Boomers
Baby boomers are the generation that was born between 1946 to 1964 which, in many cases, means they are the millennials' parents. One main way in which millennials are different than baby boomers is their political ideology. Millennials tend to identify themselves as political independents. Some helpful insights into their behavior are discussed and described by Simon Sinek, British author and motivational speaker, and should be watched here.
Reasons Behind Frequent Job Changes by Millennials
Millennials generally possess a robust entrepreneurial mentality and they often seek opportunities to climb the corporate ladder, irrespective of their present designation. If they feel that they are not receiving any personal benefit or growth, there is a high chance they will look for a new job. This attitude makes it 100 times tougher for you, as a leader, to keep them at a particular job.
Expectation of Millennials from their leaders
Mere understanding of human resource management tools and techniques is not sufficient to manage this demanding lot of professionals. While managing millennials, it would be a big mistake for a leader to assume that only interpersonal relationship and open communication would be sufficient to ensure their productivity.
The characteristics in a leader that millennials look up to
Project leaders should have an understanding of their team's communication needs. They should communicate clearly, completely, and concisely with people at all levels regarding their responsibilities, goals, performance, expectations, and feedback.
What Project Management Techniques will work on millennials?
Brainstorming with the project team members would be extremely helpful to gather points and issues and to explore innovations and ideas. Any lack of experience of any member can be compensated by other members involved in the brainstorming process.
Tricks a leader should know FOR retaining millennials IN the same workplace for longER PERIODS
There are many factors that can help retain a millennial to a job for longer than expected. Millennials expect their business expenses to be reimbursed. If the employer's reimbursement policy is complex and cumbersome, millennials may give up professional development opportunities such as attending conferences and training sessions in order to save themselves the aggravation.
Conclusion
It is up to the leader to know and acknowledge that millennials, while they represent valuable human capital, also can pose a challenge in managing properly. With the advancement of technology, the workplace is changing as well, and the millennials are making the most of it. Due to their capability of thinking differently and older generations retiring, millennials will be occupying much of the workplaces in the coming years. And with that, their influence on work culture will have a greater impact on how more and more organizations operate internally.
Hence, the future depends on how we shape it right now.
About the Author: Maria Thomas, Content Marketing Manager and Product Specialist at GreyCampus with eight years of rich experience on professional certification courses like PMI- Project Management Professional, PMI-ACP, Prince2, ITIL (Information Technology Infrastructure Library), Big Data, Cloud, Digital Marketing and Six Sigma.