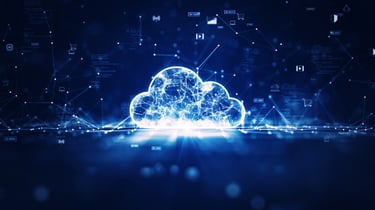 The emergence of cloud-native applications has brought about a paradigm shift in the world of software development. Gone are the days of monolithic cloud architecture. Businesses today are rapidly embracing the transformative power of cloud-based applications, to infuse greater efficiency, scalability, and flexibility into their digital assets. According to Gartner's projections, more than 95% of upcoming digital workloads are expected to be implemented on cloud-native platforms by 2025 - painting a clear picture of the widespread adoption of cloud-native architecture. Let's explore the eight benefits that cloud-native applications can provide for your business.
1.
Cost-efficient
In the past, businesses heavily relied on monolithic architecture—a traditional software design approach where an entire application is constructed as a single unit. However, it is crucial to recognize that as the application expands in size and complexity, monolithic architectures can present a variety challenges for businesses - listed below.
Increased Cost
Scalability Limitations
Reliability Issues
Maintenance Complexities
Lack of Technical Expertise
Fortunately, the emergence of cloud-native architecture has revolutionized the landscape. These apps seamlessly operate on cloud infrastructure, leading to a significant reduction in expenses associated with backup, development, maintenance, and resource utilization. Moreover, the reliance on the cloud native system further contributes to lowering various other business expenditures.
2.
Highly scalable
One of the primary advantages of cloud-native apps lies in their effortless adaptability and reconfiguration. These apps enable you to incorporate customer feedback and make improvements accordingly, facilitating a dynamic customer-centric approach.
As your business expands, your requirements naturally evolve. By leveraging cloud-native apps, you can effectively stay ahead of these changing needs. These solutions offer high adaptability and scalability, empowering your business to progress without the need for costly hardware investments.
3.
Enhanced customer experience
In today's digital landscape, mobile devices have become the preferred choice for accessing products and services. As a result, businesses are increasingly adopting a mobile-first approach to app development by transitioning to cloud-native apps.
By embracing cloud-native apps, businesses can ensure they cater to the mobile-centric preferences of their target audience. This strategic shift helps companies avoid significant losses in investments and efforts. Furthermore, cloud-native solutions offer the advantage of resource relocation to a more flexible and scalable platform. As a result, businesses can enhance the overall customer experience, creating seamless interactions between customers and their brand.
4.
Improved System Reliability
Business downtime poses significant challenges and financial implications. However, with cloud-native apps, businesses can establish a resilient system capable of self-healing. By adopting this server-less platform, businesses can mitigate the impact of failures on the entire application.
The cloud-native approach effectively minimizes downtime and ensures higher uptime, which is crucial in building customer trust. Reliability is a key factor that customers consider when choosing to partner with a brand. By embracing microservice architecture, businesses can deliver the best possible user experience.
5.
Ease of management
Cloud-native provides businesses with a streamlined and user-friendly infrastructure management experience. By leveraging the server-less nature of this platform, businesses can bypass the complexities of configuring, planning, and provisioning cloud resources.
Adopting a cloud-native solution allows businesses to significantly reduce the time required for infrastructure setup, enabling more efficient utilization of human resources. If you are encountering stability issues with your networking, transitioning to a cloud-native approach presents an ideal solution for easily implementing alternative mechanisms.
6.
Prevent vendor lock-in
Hardware vendors often impose locked-in licenses on their solutions, which can be a major hurdle for hardware buyers. This creates a significant challenge because canceling the license becomes difficult, even if there are concerns about poor performance and security. To make matters worse, the substantial financial investment involved only adds to this problem.
However, cloud-native apps offer a way to circumvent this vendor lock-in period by enabling the utilization of services from multiple providers. By embracing the cloud-native solution, you gain the flexibility to adjust your plan or seamlessly transition to a more suitable option that aligns with your budgetary requirements.
7.
Easy troubleshooting
Due to the existence of microservices, cloud-native apps come with a default trouble-tolerant feature. If troubleshooting needs to be done after deployment, users can easily trace the issue and its origin. Each of the microservice acts as a problem mender which tracks the issue. Once it is found, the issues are fixed while eliminating the likely downtime.
8.
Strengthened security
When you store essential business data in the cloud, security becomes paramount. Monolithic cloud storage involves continuous sharing of data across various departments and users, which can create vulnerabilities for potential intrusions in the cloud infrastructure.
Ensuring that specific data is accessible only to authorized individuals is crucial. It is important to consider security features such as multiple layered authentications, data auditing, along with access and share restrictions. Cloud-native apps encompass all of these security measures, providing users with a comprehensive security framework. By adopting the cloud-native solution, you can fortify your important data with a robust layer of protection.
Concluding Thoughts
Effectively handling vast volumes of data can pose significant challenges without the appropriate tools. Thankfully, cloud-native applications have transformed the data management landscape for businesses, streamlining the collection, storage, and retrieval processes. In the current data-centric era, it is vital to prioritize all aspects that contribute to your business's success, with efficient data management emerging as a key pillar for scaling your operations.
By leveraging the power of cloud-native solutions, your business can enhance its operations, foster seamless collaboration, and ultimately deliver exceptional results. Embracing the cloud-native approach empowers your business to thrive in the era defined by innovative tech solutions.
About the Author: Naveen is the marketing and product head at JoomDev. He loves to convert his ideas into reality by developing products to make your online business successful with his WordPress plugins and mobile app development services.