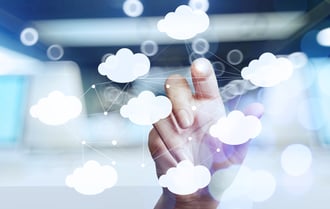 More employees employees are working remotely than ever before due to the COVID-19 pandemic. But as companies adjust to this new normal, cyber attackers are probing for vulnerabilities to exploit
The rapid transition to distributed work and a fully remote workforce has increased the risks for your organization. While remote work has its set of perks that come with it, it also poses unique security challenges for companies.
Since employees are not in a physical office working environment, they often rely on their Wi-Fi networks to access company data, which can be a big threat to your company's confidential information. To mitigate these risks, companies not only need to implement clear and comprehensive policies, but they also need to proactively take measures to ensure the integrity of company data.
One of the best ways to ensure your data security is by using the cloud instead of saving company data on every device. According to a survey, more than 90% of companies are now using cloud servers. But despite the rapid growth, the nature of the cloud poses a serious security breach that can affect any organization.
So, how can companies protect themselves while enabling innovation, flexibility, and access to employees? If your company operates on the cloud, you must take the following measures to prevent cloud security threats.
8 CLOUD SECURITY TIPS FOR DISTRIBUTED COMPANIES
1.
Have Policies in Place
Certifying a cloud application is only the start; you have to ensure the right governance processes are in place to ensure compliance with data privacy mandates. A proactive approach by IT managers is crucial to put security measures in place. Make sure your employees are trained, you enforce usage policies, risk assessments, and always stay alert to the ever-changing cloud security landscape.

Classify the data based on its sensitivity and make sure you apply correct data security techniques for each class of data. Once you have a better understanding of preventing cloud security threats, you can make more proactive and informed decisions about the infrastructures.
·
Lock External Collaborator Access
Develop and ensure work policies to enforce data-sharing protocols. Team members working outside the organizations for designs, digital marketing should not be given access to the finance and compliance files.
2. Device Security
The location of your stored data is essential but not as important as who has access to your crucial data. Tie user identities to back-end directories and establish access controls to mitigate the risk.
· Consider your Organization's BYOD Policy
If your employees are using a company laptop, you can help the data by loading it with firewall configurations, anti-viruses, security updates, etc. You can also establish rules for employees, such as not allowing them to put personal information on computers, not removing data from the official computer, or transferring it to other devices. If you don't have a BYOD policy, you expose yourself to a set of security risks.
3. Train Employees on Basic Security Knowledge
All security breach investigations end up in the same direction; uneducated employees. So, by teaching your employees on defense practices, you can mitigate the risk of security threats. It's essential to involve your employees in protecting the company assets.

When employees are involved, they are more likely to take ownership of their responsibilities and obligations towards security measures. Moreover, running unannounced security tests helps as well. Invest in tools that will allow you to send phishing emails to check if your coworkers take appropriate action in the given scenario.
4. VPN
One of the most effective ways to secure data is the Virtual Private Network. VPN provides an extra layer of security that encrypts data, masks the user's location, and, most importantly, hides the IP address. Most big organizations already have a VPN in place, but smaller organizations also need to appoint a VPN provider.
5. Ensure Updated Softwares
Automatic updating on all official devices allows you to dodge the glitches in the previous version. It's crucial to encourage your team to update their software to the latest versions of their company's security policy supports.
6. Mandatory Backup Plan
Although it is more secure than hardware, you may lose data permanently from the cloud as well. So, if and when it happens, make sure you have a secure backup of all data. Furthermore, IT managers should distribute data across multiple zones for added protection. Lastly, it's also imperative to adhere to the best practices in daily data backup.
7. Contingency Plan
It's essential to have a plan B; you must not rely on a single server and have a backup server. So in case one is down, you can access your data from the other server.
Know your Protection Options

No matter how effective the cloud may be to you, it's essential to understand its limitations to recover data lost in case there is a user error or an attack. Ensure that the data residing in the cloud is backed up, and the applications running on it have a backup in other locations as well.
8. Encryption is Key
Last but not least, Cloud encryption is important for protection. To ensure the protection of data, encrypt it. Encryption is a process in which data is coded in a way that can only be solved with a key. The owner of the information has the key, and so, they are the ones that can access the data—keeping it safe from hackers.

To sum it up, we believe a shift to distributed companies is a great trend that will lead to deeper collaboration, creative thinking, and much more. But as we embrace the new style of work, let's make sure security is a team effort. Remember, cybersecurity needs constant vigilance from the team. It's everyone's job to assess and implement the necessary security precautions to ensure your organization is working safely and productively.
Author Bio:
Arslan Hassan is an electrical engineer with a passion for writing, designing and anything tech-related. His educational background in the technical field has given him the edge to write on many topics. He occasionally writes blog articles for https://www.dynamologic.com/