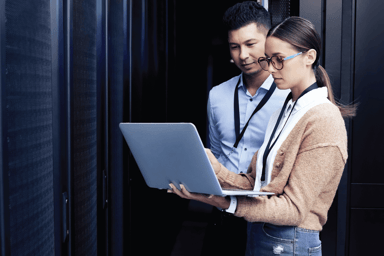 Companies large and small are packing up their on-premise data systems and moving to the cloud. Today, you simply can't skirt around the fact that there's an unprecedented amount of data floating around. For the sake of our data, privacy, and livelihood, organizations need to get a better handle on it all.
It's true that concerns surrounding cloud storage capacity, maintenance, and security are here to stay. However, taking the proper risk mitigation steps and considerations into your own hands can put you at a competitive advantage. Here's what you need to know!

4 'MUST-KNOWS' OF CLOUD SECURITY
1. Cloud Security Takes Ample Planning & Maintenance
Moving to the cloud won't happen overnight, and neither will a solid cloud security strategy. It takes time, planning, and the right team to maintain it. In order to stay secure, there's a lot that goes into the pre-planning, setup, and post-migration that you need to consider before biting the bullet and migrating to the cloud.
Cloud security should be a forethought instead of an afterthought! Security protocols and strategies should be built into the migration process from the very beginning, from discovery and analysis to planning and design to implementation and support. Furthermore, it's crucial to have the right people in place for every step of the migration process - especially on the security front.


2. External Hackers Aren't Always the Biggest Threat
Cyberattacks are indeed more sophisticated than ever. However, while external hackers are a big concern, they're not the sole (or even biggest) threat to consider. Without proper training and policies in place, your internal employees across your company/organization are also a major threat. A certain level of cyber vigilance is critical to your employees following cloud security protocols.
Train your staff to take the cloud seriously! It's important to foster a cybersecurity culture. That means you should train your whole workforce to spot and respond to cybersecurity threats, such as phishing and malware attacks. Start with basic knowledge like creating a strong password and identifying possible social engineering attacks. Then, move on to more advanced topics like risk management and protocols.
Since the threat landscape changes on a daily basis, you should also invest in specialized training for your cloud security team. IT security professionals can only keep your company, employees, and customers safe if they are constantly learning about the latest threat trends and risk mitigation measures.
---
Need fast and easy cloud migration tips? Click here for benefits and best practices of moving to the cloud.

---
3. The Cloud Security Market is Rapidly-Evolving
It seems like every week, a new cloud security product hits the market. Sifting through the available information, tools, and subject-matter experts (SMEs) to implement your strategy could seem like an impossible and daunting task. It definitely takes the right mix of procedures, technologies, and people to get it right. Unfortunately, that ideal mix is never a "one-size-fits-all" - every company is unique.
Partnering with a talent vendor who can connect you with the most knowledgeable cloud security SMEs is a great way to stay ahead of the curve. Those individuals will come to your team prepared with insights and experience in the leading security tools and technologies.


4. Internal Cloud Adoption & Security is a Learning Curve
Keep in mind - Asking your leadership and internal employees to adopt new technologies and processes is a big deal. Depending on your employees' familiarity with Cloud technologies, it may take more or less time to bring them up to speed. Some employees may face a learning curve and need more time and resources to adjust.
Cloud security knowledge, understanding, and adoption should be a part of the conversation from the very beginning. It may take several hands-on training and education sessions to explain the true benefits. However, if done correctly, you'll reap the benefits of a secure cloud infrastructure.
COMMON TITLES TO CONSIDER FOR YOUR TEAM
Whether your current working model is entirely in-person, fully remote, or a hybrid approach, it's imperative to have the right SMEs in place. Some of today's hottest cloud security jobs include:
Cloud Security Specialist
Cloud Security Manager
Cloud Security Architect
Cloud Security Technician
Cloud Information Security Architect
Cloud Security Engineer
Senior Security Engineer
Senior Security Engineer - Cloud Data Security
GCP Cloud Security Consultant
Systems Engineer - Cloud Security
Infrastructure Security Engineer
Senior Systems Engineer - Cybersecurity
Principal Engineer, Cloud Security
Principal Cloud Infrastructure Engineer
Director of Cloud Platform Security
JOINING FORCES WITH A CLOUD TALENT PARTNER
If one thing is clear from the above 'must-knows,' it's that strong cloud security relies on having the right people in place on your security and training teams. In addition, it's essential to keep these in mind and implement the appropriate security tools, protocols, and policies. By doing so, you can minimize risks and take full advantage of the benefits cloud computing solutions offer.