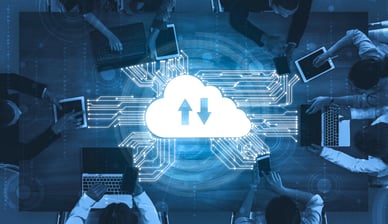 Every organization's cloud journey is unique, and yours is no exception! Once you realize the benefits of jumping on the cloud-wagon, the question that follows is, "Now, how do I move to the cloud safely and strategically?" That's where cloud enablement and migration comes in, or the systematic process of analyzing your organization's existing landscape and planning how you'll move your data and applications from an on-premises architecture to the cloud.
As more organizations across industries have undergone cloud migrations over the past decade, a number of approaches and best practices have emerged, along with talented and experienced cloud experts to help lead and support the move. Within the industry, this spectrum of solutions or strategies is known as the Six R's. To help organizations select the right approach, here's a closer look at the six cloud migration strategies and some of the selling points of each.
6 CLOUD MIGRATION STRATEGIES TO CHOOSE FROM
1. Rehosting
Rehosting, also known as "lift and shift," entails moving applications from a local data center onto the cloud with limited or no changes or modifications.
Rehosting is often seen as a meaningful first step toward more comprehensive cloud solutions. Since it doesn't require code or architecture changes, it can be executed relatively quickly and with minimal resources. In some cases, vendors may have automation tools that streamline the process even further. However, simply transporting legacy applications onto the cloud means some cloud benefits go unrealized. As a result, organizations may opt to execute the lift and shift first, then optimize and re-architect their solutions once they're already running in the cloud.
2. Replatforming
Replatforming adds a layer of optimization (and complexity) to the lift-and-shift approach.
While the core architecture remains intact, replatforming typically involves transitioning to some cloud-native services to capture additional cloud benefits.
---
Need fast and easy cloud migration tips? Click here for benefits and best practices of moving to the cloud.

---
3. Repurchasing
Repurchasing involves the shift to a software-as-a-service model for key parts of your offering or your operations.
As legacy enterprise solutions age, many organizations are opting to replace them with SaaS tools. Popular repurchasing migration categories include customer relationship management, productivity tools and HR systems. In many repurchasing efforts, it pays to have individuals involved with expertise in the existing application as well as the SaaS tool that will be used in the future.
4. Refactoring
Refactoring involves digging into the architecture and development of the application and retooling it with cloud-native features.
This is often seen as the most involved migration tactic. It can require significant resources, but also comes with the potential for the greatest rewards. For businesses looking to make the most of cloud solutions and are facing an inflection point around features, scale, or performance, refactoring is worth serious consideration.
5. Retiring
Retiring is essentially an anti-migration – removing applications that are no longer needed rather than moving them to the cloud.
Identifying and removing unused portions of your IT infrastructure can help streamline focus and operations in terms of productivity and processing power. As organizations pursue cloud migration strategies, deciding what parts of their framework don't have to make the switch is a valuable exercise.
6. Retaining
Like retiring, retaining means being strategic about applications that aren't yet ready to be included in the migration process.
Keeping some architecture in-house is a more realistic approach for many organizations when it comes to ROI. Organizations looking at hybrid cloud deployment strategies should make sure they have the right team building out a long-term strategy to determine if – or when – it will be advantageous to begin the shift from retaining legacy applications to migrating them in the future.
IMPLEMENTING THE STRATEGY - THE RIGHT WAY!
You have made the decision. As you begin your migration to the cloud, you'll want to work with the right team of experts who will ensure that you will take the necessary steps to capitalize on the right cloud solution and strategy that's built for growth. Whether you go with one of these six strategies above or a combined approach, it's important to work with someone to help you do it right.
Download our new eBook to learn how to cultivate an effective strategy to embark on a cloud migration journey that will help your company promote growth, stability, and connectedness.