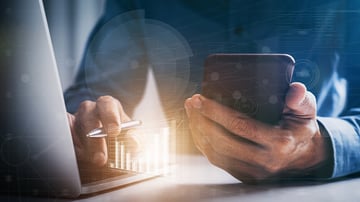 AI is changing the way businesses develop a relationship with customers and interact with them, leading to greater levels of customer satisfaction and higher customer retention rates. With AI at your side, you'll be able to attract new business opportunities for your company and provide better service for loyal customers.
Artificial Intelligence is not a new concept. What is new is the incredible advancement and accessibility of AI technology that's changing how businesses do everything, including how they approach customer service and customer success with AI.
NEW CAPABILITIES OF AI
It's now possible to leverage sophisticated AI algorithms in days to deliver far beyond our best guesses at what customers want. These new capabilities enable businesses to achieve breakthrough performance that allows them to be more flexible and adaptive to changing market needs.
A new wave of AI software tools is available to help marketers and customer service professionals bring a personal touch to their interactions with customers. These tools allow business leaders to build better customer relationships and do more with less while also cutting costs and boosting efficiency.
Customer service automation technologies such as virtual service assistants can help cultivate long-term relationships by proactively communicating with customers throughout the customer lifecycle, including after their purchase has been completed. These tools can automate routine customer interactions and proactively communicate issues before they become significant problems.
How does AI Transforms Customer Experience?

1. Empowers customer self-service
Several companies are using AI to offer customer self-service capabilities. This allows customers to interact with a computer, which can then guide them through interactions with the company's service representatives. An example of this is Netflix, which gives its users the ability to search for movies and then suggest what movies they'd like to watch, thereby streamlining a customer's interaction with the company. Many retailers are also using the same technology.
You can now improve the possibilities of customer success with AI by using a customer service automation tool that delivers AI capabilities. This can be done by using popular chatbots and virtual assistant software, which is relatively inexpensive and easy to use.


2. Improves Personalization
AI is being used to give customers the ability to tailor their customer experiences based on their information. Customers can now ask questions as they would to a friend and get a customized answer. This allows companies to improve the customer experience and helps them strengthen their relationships with customers. This personalization aims to help customers choose the best service options, products, and services that fit their needs.
Companies are also using AI to help them understand and listen to customers in real-time, which allows them to develop a relationship based on their needs. In return, companies can maintain a relationship with the customer and deliver exceptional service.


3. Provides round the clock customer support
Customers can now receive instant personalized assistance 24/7. Thanks to AI! Companies can give their customers immediate, accurate, and personal service, which will help them remove uncertainty about the quality of their support. Many companies have already utilized this technology, with Netflix being a prime example of this trend. This allows them to provide better customer support, which helps create loyal customers.
Likewise, opportunities for attaining customer success with AI are endless through AI tools. Many AI tools like knowledge management software are available that can help businesses achieve faster growth and better performance. One such tool is the customer service virtual sales assistant, which can handle a wide range of tasks for customer service representatives, including managing schedules, setting up meetings, and offering customers personalized suggestions for their needs.


4. Augments customer service team efficiency
Many companies turn to AI to help their customer service departments automate mundane tasks. This can reduce the number of errors in customer service interactions and better customer engagement through real-time social media management and promotion. The tool gives customer service agents different tasks as needed and helps them organize their time to concentrate on prioritizing customers based on their needs.
Companies are also using AI to help them improve the speed at which they deliver service and improve their metrics. AI can help automatically send out metrics and reports to different departments, which helps improve customer experience by improving the efficiency of the service team.


5. Improves decision making
AI decision making tools like interactive decision trees can help customer service teams find better ways to support customers. Machine learning has been used to improve real-time decision-making by customer service agents, allowing them to make faster and better decisions about their interactions with customers. This will also help them handle more complex customer queries, essential for companies looking to grow their business.
AI helps you deliver unparalleled experiences and instant responses to your customers' needs. It can handle all your external communication, freeing you to focus on more critical activities. Companies that attain customer success with AI can quickly grow their business and build customer loyalty, which is essential for long-term growth and success.
Conclusion
As the customer experience becomes increasingly critical, companies can use AI to build relationships with customers and increase their business growth and profitability. The technology is particularly effective in automating routine tasks that can be time-consuming, allowing companies to free up valuable time for handling more critical issues. Customers also appreciate the personalized interaction they receive.
Almost all high-end companies now elevate their customer success with AI, but this technology is not for everyone. AI is complex and can be expensive to implement. It requires the company to invest in top IT talent and technologies, such as voice recognition, data analysis, and ample data storage.
However, the benefits of implementing AI in customer service outweigh the risks and resources required to use this technology at scale. Companies that use AI can achieve customer success like no other while giving their customers an unparalleled experience.
About the Author: Sowmya Juttukonda is a digital media specialist at Knowmax. Knowmax is an AI-backed knowledge base for support agents that helps enterprises reduce support costs and solve productivity challenges.