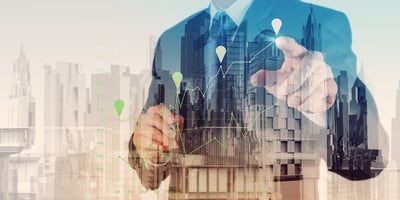 In today's fast-changing business landscape, the way we market and sell goods and services is constantly evolving. So much so that keeping up with it sometimes becomes challenging for marketers all across the world. That is why Customer Relationship Management (CRM) systems were designed to aid and support the efforts of marketing and sales teams.
What doe
s the future hold for marketing and customer relationship manag

ement (CRM)?

Based on the capabilities recently released by CRM companies, there is no denying that we have reached the era of intelligent, integrated CRM. However, to improve go-to-market strategies, both small firms and large corporations must take a deeper, more customer-centric approach. Using a CRM system that is robust enough to provide higher precision and better predictions is the key to being more customer-centric.

CRM providers who can help businesses fulfill the ever-changing demands and expectations of their consumers and track and forecast market trends will have a bright future.

Whether it's the Internet of Things (IoT), artificial intelligence (AI), AI-powered digital marketing, or machine learning, marketing and sales professionals need to stay current with developing technologies.

After all, customers expect businesses to know a great deal about them. They want experiences that are similar to having a conversation, and AI makes that all the more possible.
The role of AI in CRM
CRM has numerous AI applications. However, while most businesses have significantly improved their ability to collect customer data, few can perform analysis, mining, and the understanding required to utilize this data fully.
AI can help predict consumer behavior, act as a sales assistant, generate predictive lead scores, assist in creating targeted content, and even automate service desk functions, to name a few examples.
Artificial Intelligence (AI) can help businesses automate regular processes, provide quick replies to customers, and provide correct insights to sustain business growth.
AI not only eliminates manual tasks, but it also improves the efficiency of sales professionals by offering precise guidance on how to sell more, faster. Many people refer to this as AI-powered marketing, in which artificial intelligence is used to better analyze and forecast customer behavior.
AI and CRM are the greatest and most potent combo in the industry today. These days, the internet has supplanted traditional marketing and sales methods, necessitating CRM to collect information about businesses, customers, and other entities.
Several CRM software providers began investing in AI decades ago. Some of them offer excellent AI-powered systems. Although these systems exist, many businesses are hesitant to invest in them, owing to a lack of understanding.
Dynamics 365 AI, the artificial intelligence offering from Microsoft, is one such solution. Despite Microsoft's early involvement in AI, the first built-in "AI" function in Microsoft Dynamics was not offered until 2016. In 2018, Microsoft Dynamics 365 CRM released its AI applications. Microsoft Dynamics 365 AI apps include Microsoft Dynamics 365 AI for Sales Insights, Customer Insights, Customer Service Insights, and Market Insights.
Artificial Intelligence and the future of CRM
As data sets, integration, and machine learning capabilities evolve, there is greater potential for advancing technology.
Personal data is being disseminated at an increasing rate, necessitating the use of AI to sort it. As a result, almost all tech companies are working on AI with text analysis, machine learning, object manipulation, reasoning, planning, knowledge, voice-speech recognition, perception, and other capabilities.
Here are some thoughts on AI and the future of CRM:
Virtual assistant
When Customer Relationship Management is combined with AI, it increases the efficiency and productivity of employees. It essentially operates as a virtual assistant for all your agents and provides remote assistance. The virtual assistant assists with follow-ups, messaging, customer reactions, and recuperation.
Automated Data Capturing
CRM technologies have made new customer acquisition easier, thanks to automated data capture functionality.
There are numerous advantages of gathering user information while onboarding without having to engage with a human. Social media platforms are the most popular means to communicate right now. CRM views these platforms as a way to communicate with clients and collects data without having to enter any information physically.
Automated data collection helps businesses in anticipating user behavior, allowing them to strategize and tailor campaigns accordingly.
Sales Enablement
CRM and AI can help with sales enablement. AI uses sophisticated algorithms to identify high-performing sales professionals and others who have fewer sales reports. With this data, sales strategies can be explored, and new marketing approaches for generating effective leads can be implemented.
User Retention
The major difficulty that firms face after acquiring new users is retaining those users. On the other hand, CRM allows you to collect data from a variety of activities and put it to good use. Working with this data and artificial intelligence can help you complete the required fields and construct user personas.
You can easily find out when and how to reach out to users with the help of curated personas. You can also receive updates and notifications regarding user segments that are no longer active and find out the best way to contact them.
This improves transactional and operational efficiency, as well as consumer loyalty and maintenance. It also improves user retention while reducing client maintenance time.
Customer Experience
AI and voice recognition are inextricably linked. For example, voice commands are now used by personal assistants in smartphones to search the internet. With modern CRM solutions, such features are generally available. For example, the sales team or customer service can easily enter data by conversing on the microphone.
Speech recognition is the most widely used AI technology. As more and more CRM companies embed speech recognition into their software, this number is only going to rise.
Winding Up!
Artificial intelligence is increasingly revolutionizing business acquisition and retention by replacing traditional approaches. When AI is linked with CRM software, the need to repeat tasks is eliminated, making the process easier and more efficient.
With the help of CRM, businesses can collect reliable data that can be managed and used for centralized interactions. But, overall, artificial intelligence is required for CRM to thrive in the era of digital transformation.
About the Author: Shawn Sauve is the Vice President and Global Dynamics Practice Lead at DynamicsSmartz – Microsoft Gold ERP and CRM (Customer Relationship Management) Partner. Shawn has been helping organizations grow by aligning the right people processes and technology both within his organization and for the clients from various industries like Manufacturing, Construction, Financial Services, and Information Technology. He is a strategic thinker and visionary who can see the big picture and focus on key issues to accomplished established goals.