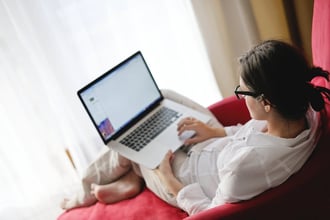 COVID-19 has changed a lot of things for people. Before the pandemic, who would have used "social distancing" as part of their everyday vocabulary? And who would have thought that it was possible to shut down many countries all at once? The way people do work has also been affected in terms of where they work, how they interact with colleagues, and how they deliver results expected from them.
Here are five ways COVID-19 has changed the workplace.
1. More People Will Be Ready to Work From Home
With people across the globe encouraged to stay at home to prevent furthering the spread of COVID-19, many professionals found themselves quickly adjusting to working from home. While some companies may have slowly started rolling out Work From Home (WFH) policies even before the pandemic, many still preferred the traditional physical office setup. Whichever category companies belonged to, their employees quickly learned and adapted to a Work From Home setup to keep business operations going.
One of the challenges of suddenly switching to a WFH setup is that people did not have work-ready homes. Office-based professionals had to create a dedicated workspace to do video calls and prepare the technology they need to work efficiently. One of the biggest challenges was the need for a fast and reliable internet connection.
Eventually, Stay At Home orders will be lifted, and organizations will resume working in physical offices. Although employees can once again report to the office, many will want to keep Work From Home as an alternative mode of working. They may want to Work From Home more often, knowing that they can remain productive even if they are not in the office.
Based on their experience working from home for months, people have learned to create a suitable work environment at home. They have become used to accomplishing their daily tasks without having to go to a physical office.
2. Increased Flexibility
The COVID-19 pandemic has made many organizations take a second look at what employees need to accomplish on a day to day basis. Upon evaluating job roles and responsibilities and how employees do their work, employers have learned which positions can be done from home and, conversely, which positions require in-person attendance.
One thing to note is that companies need to offer more flexibility. While there may not be a 100% transition to a Work From Home arrangement, more employees will want to have the freedom to rethink why employees need to be in the office and consider the reduced costs of having a smaller workspace.
Although many may prefer working from home more often, there are still those who may prefer in-person interactions in the office. What is important is that organizations are ready to be more flexible.
3. More E-Learning
With the COVID-19 shutdowns, many organizations have encouraged employees to take e-learning courses to continue their learning and development. While e-learning courses may have already been available prior to the pandemic, many employees may have preferred in-person workshops and seminars.
During the pandemic, people have become familiar with attending virtual classes, seminars, and training alongside taking e-learning course modules from the comfort of their homes. Post COVID-19, e-learning will continue to be an integral component of employee training and development. It may even take a more significant part of the learning curriculum in comparison with face-to-face learning as people turn to remote working.
With the latest improvements in technology, virtual training and e-learning have become more refined and more accessible. At the same time, companies should consider the benefit of reducing employee training costs by utilizing e-learning. As a result, increased e-learning opportunities are one of the ways COVID-19 has changed the workplace.
4. Focus on Employee Engagement & Team Connection
Employee engagement has always been a critical factor in the success of any organization. This is even more apparent during the pandemic with people working on their own at home. Even with the many benefits that one can get while working from home, there are still downsides, such as social isolation or feeling lonely. As such, managers have the responsibility of keeping their teams and motivated.
With teams working from different locations, it is up to managers to ensure that there is an open flow of communications and that their team members are aware of the company's strategic direction.
With employees working remotely, managers have organized virtual team building activities to boost team morale and drive employee engagement. Team building activities could be as simple as celebrating birthdays or achievements via video call. It could also be fun, virtual team activities such as playing virtual Charades, Kahoot!, or even holding a virtual Show and Tell. Managers should choose activities that will be beneficial to their team and will help increase employee engagement.
5. Redefine the Physical Workplace
Once people return to work in a physical office, expect that there will also be changes in your physical workplace. Above all else, employee safety and wellbeing will be a top priority. Sanitation protocols, temperature checks, and social distancing measures are likely to be implemented.
There will also be a shift towards a more collaborative workplace as people seek social interaction and community engagement. Whereas before the pandemic, some employees go to the office and prefer to work in isolation. Employees will now use their physical workplace to meet colleagues, brainstorm, and have social gatherings. Through these interactions, employees will create a work environment that fosters collaboration, creativity, and innovation.
Conclusion
The pandemic has created numerous changes around the world. One of the most notable changes is in the way we work. As companies and their employees adjust to new ways of doing work, organizations must remain flexible and build a hybrid workplace that fits everyone's "new normal."
About the Author: Mia Turlington is part of the content team at The Long Reach. Mia has worked in the industry since graduating from university. When not writing, Mia can be found researching where her next adventure would be.