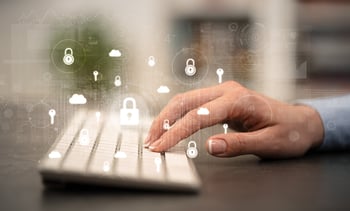 As per the last update of the International Workplace Group, half of the world's employed population are now allowed to work remotely at least 2 days per week. With a pandemic taking over the world, it's about time that people realize the importance of working from home. It doesn't only make an employee's life more convenient in terms of coming to work, but it also lets them perform their job in the most comfortable way that they prefer. In some cases, you might miss your workplace and the atmosphere that the perfect meeting rooms can create, but the convenience of working from home is really great.
But just like working in a physical office, there are also dangers when it comes to working from home. These dangers mostly involve the sensitive information that's shared between the employee and employer. But what exactly are these threats, and how can you stay protected from them?
CYBER SECURITY PROBLEMS WITH REMOTE WORK
Compared to in-house employees, total security is much harder to obtain if the workers perform their duties remotely. Here are just some risks that remote workers face:
SENSITIVE DATA ACCESS THROUGH PUBLIC WI-FI
Some employees, especially those on vacations, may be connecting to public Wi-Fi networks. This makes it easy for anyone with a malicious intent to set up a connection and collect info from them. In a scenario where the user sends a plain unencrypted text, it may be intercepted by cybercriminals.
This will compromise the sensitive info exchanged between the sender and recipient. This is why remote employees should refrain from making use of public Wi-Fi networks and go for the best budget VPN.
MAKING USE OF PERSONAL DEVICES FOR WORK PURPOSES
Employers need to be aware that there are tons of loopholes in a remote working scenario. One of them is the possible compromise of sensitive info when letting employees use their personal devices for work. If the employee doesn't have up-to-date anti-virus software, they are risking the information they are given.
NEGLECT OF BASIC SECURITY PRACTICES
Aside from the possibility of some employees making use of public Wi-Fi networks, some may also be exposing the actual info from their laptop screens. Employees who work in cafes and other public places could be exposing more info about the back end of their employer's business than they think. Habits like talking loudly on the phone or telling friends and family about what and how they do things at work are also considered leaking information.
HOW TO PUT YOUR REMOTE WORK DATA ON HIGH-SECURITY LEVEL
To have a better and more secure workflow in a remote employment scenario, a few things must be taken into account. Here are a few tips you can consider to keep your vital information under lock and key.
MAKE USE OF ANTI-VIRUS SOFTWARE.
Anti-virus software is designed to spot, hinder, counter, and disarm malicious software that may try to enter your computer's system. They work great against worms, viruses, and the very notorious Trojan horses. These will usually require an annual subscription or something similar, depending on the software.
BEWARE OF SCAMS
Online scams have been getting more and more convincing over the years. But for someone with a keen eye and common sense, they're usually easy to spot. One major thing to keep in mind is that if it's on the internet and it's too good to be true, then it may actually be a scam. There are different ways that these scammers can fool you. But before they do, they will usually require some kind of information from you.
This can be your personal details and account numbers. Some may also pretend to know you and will try to offer you some things. This is especially true if they've already breached your computer to grab some info, but this can be prevented if you're using the best budget VPN.
APPLY MULTI-FACTOR AUTHENTICATION BEFORE ACCESS
Another way to secure sensitive details is to place them under multi-factor authentication methods. These days, it's just not enough to use passwords anymore. If you can, put your work files under one-time password authentication methods. This will ensure that no one else, other than the people you permit, can access the info.
MAKE USE OF A VPN
VPNs let you make secure connections to other networks over the internet. This is also a very effective way to protect all the data in your computer from other people with malicious intent. There are many VPNs that offer their services on the internet, but you can choose the best budget VPN for the best value.
UPDATE OPERATING SYSTEMS AND PROGRAMS WHEN NECESSARY
There is a reason why things like OS and program updates are released every now and then. Every update has some type of answer to a defect in the program that could compromise your sensitive info. If you fail to update them, you may be exposing your device to hackers looking out for lazy tech-users like yourself.
LOCK YOUR DEVICES
Whether it's at work, at a public café, or at home with your family, it's best to always lock down your device before completely walking away from it. This will prevent other people from accidentally clicking away at the important documents you need to file.
BE VIGILANT
Always stay on the lookout for the potential danger that could ruin your work efforts. Always be suspicious of emails you receive that you didn't ask for. Emails with special offers, that request you to click a link, or to input details are potentially dangerous. Pay attention to the names and email addresses to make sure you're sending messages to the right recipient.
About the Author: Lianna Arakelyan is a digital marketing expert to the extreme with a knack for search engine optimization strategy and implementation. She is extreme in her work, with a deep goal of always being updated on online and offline marketing and technology news of the world.