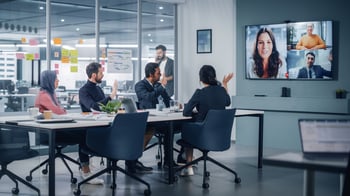 The digital age has brought with it a host of opportunities for businesses — one of which is the ability to recruit globally and offer a remote or hybrid work setup. While this can be a boon, it also comes with its own set of challenges that organizations' HR teams are now faced with. Some of these challenges can include these two pressing concerns:
How to manage employee expectations in a hybrid work setup?
What are some ways to ensure that employees are productive, even when they are working remotely?

In this article, we will discuss how businesses can better manage employee expectations and staff productivity with a hybrid work setup. Read on to discover the advantages of hybrid work arrangements, and why employees are more likely to stay when they work in an organization that recognizes their needs.


But First, What's in it for Your Business?
Let's look at some of the benefits of having a hybrid work setup. Here are some nuggets of information that you might find intriguing:

An article by the

Harvard Business Review

found that firms with remote-work or work-from-anywhere (WFA) policies have seen employee retention allow for annual net savings of up to 18,000 USD per employee.
According to a press release by the Boston Consulting Group and The Network, 89% of employees (209,000 participants in 190 countries) prefer a job that will enable them to work remotely on at least occasionally.
A Gallup poll found that employees who spend 60-80% of their time working remotely report higher levels of engagement than those who spend little or no time working remotely.
Given these numbers, it can be assumed that a hybrid work setup generally empowers your business to access a larger talent pool, improve employee productivity and engagement, and reduce attrition rates.
Now that we've looked at some of the benefits of having a hybrid work setup, let's move on to how businesses can manage employee expectations and staff productivity with this type of arrangement.


How to Manage Employee Expectations and Productivity with a Hybrid Work Setup
There are various factors that can influence how your staff responds to your organization's hybrid work arrangement. After all, a hybrid work environment provides your organization with the best of both worlds when it comes to in-office and remote work. Depending on your team's personal preferences and your business needs, you can tailor the hybrid work setup to best fit your company culture.
That being said, here are some ways you can better manage your team while on a hybrid work setup:


Empower your online team to do more by giving them more bandwidth
If your business, for instance, is online and you need to increase your audience reach, but your current staff is already putting in the extra hours, it might do your business well to consider working with digital marketing providers.
Your business can choose to work with an agency for other aspects of your business, such as social media marketing to reach your objectives in the digital space. This effectively allows your hybrid team to free up more bandwidth and focus on revenue-generating tasks, whether directly or indirectly, like product development or quality control. Social media management is a service that many remote or hybrid organizations can utilize to grow their business.
Also, with the right tools in place, you can help boost your hybrid team's engagement at work – all because you empowered them to do more. Set them up with the necessary equipment, internet connection, and trainings to make them an expert in their field.


Factoring in the "new employee" experience
Just as you would with any new hire, it's important to take the time to orientate and onboard your employees — even if they are remote or working part-time from home. A key component of this is setting expectations early on, so your team knows what is expected of them and can hit the ground running.
For new hires, your onboarding team or welcome committee can also host a webinar or schedule a video call on company culture orientation, talking about the organization's history, explaining the org chart and the different departments, and providing your new hire with a primer on what they can expect.
You can also choose to send out welcome packages or employee kits that include branded merchandise like a water bottle, ID lanyard, or the CEO's favorite books. This definitely adds some zest to the "new employee" experience.


Focus on output and task completion vs billable hours rendered
In a hybrid work setup, it can be easy to get caught up in the idea of "billable hours." However, it's important to remember that your team is not working in a vacuum — they are working with and around other people, which can impact the time it takes to complete a task.
Instead of focusing on the number of hours your remote team spends working, focus on the quality and output of their work. This will help to ensure that your team is productive, regardless of whether they are in the office or working remotely.
If necessary, install a "Bossware" – which allows you to monitor your team's productivity – but do implement with the necessary explanation that comes with its use in your organization.


Ask your remote staff about their preferences and what works best for them
While it's important to have company-wide policies and procedures in place, it's also important to remember that not everyone works the same way. Some people may prefer to work remotely, while others may prefer to come into the office for certain tasks.
The best way to find out what works best for your team is to simply ask them. By doing this, you can tailor your hybrid work setup to best fit the needs of your team.


Be clear and transparent in both verbal and written forms
When it comes to setting expectations, it's important to be clear and explicit about what is expected of your team, as well as setting deadlines for tasks.
It's also necessary to be consistent in your communication, so your team knows that you are serious about the expectations you have set. This can be done by sending regular updates and reminders, as well as holding team meetings (both in-person and online) to go over any changes or updates.


Carefully calibrate the frequency of communication
While it's important to be clear and consistent in your communication, it's also important to find the right balance. If you are constantly sending updates and reminders, your team may feel like they are being micromanaged. On the other hand, if you don't communicate enough, your team may feel like they are being left in the dark.
The best way to find the right balance and foster a healthy workplace environment is to carefully calibrate the frequency of your communication. This means sending updates and reminders when necessary, but also giving your team the space to work independently.


Recruiting in the Digital Age for Employees in a Hybrid Work Setup
The digital age has brought about many changes in the way businesses operate, including the way they recruit employees. With a global pool of talent to choose from, businesses now have the opportunity to hire remote and hybrid workers, which can be advantageous, but naturally, not without any challenges.
It's no secret. Hybrid and remote work setups are the key to the future of global organizations. All you have to do is learn how to unlock its potential.
If you want to discover more ways to recruit and manage a topnotch team, visit our resources or send us a message today!
About the Author: Bernard San Juan III is the Managing Partner of Truelogic who comes from a successful career in online companies, where he played a critical role in building & managing workforce groups. He has redesigned the organization's IT infrastructure to improve order processing and logistics. His skills include managing performance, managing costs and training. He also manages overall sales, customer satisfaction, graphic design, copywriting, and training with first line supervisors.