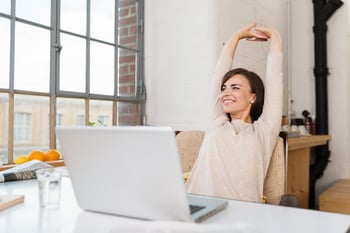 The benefits of remote work are undisputed—from the flexibility to build your own schedule to the ability to create an office anywhere. However, remote work has its downsides too. According to an article on Science Time, this setup tends to compel employees to work more than necessary due to the blurry lines between work and personal life. Eventually, it paves the way for increased stress, anxiety, and faster burnouts.To prevent this from happening, it's important to set healthy boundaries. Not only will it allow you to stay mentally sound, but it will also keep you productive throughout the entire week. Here are some tips to help.
How To Make The Most Out Of Your Remote Work Experience


1. Create a dedicated workspace
It's hard to isolate work hours from personal hours if you're working from your own bedroom. It is essential to create a dedicated workspace in your house that is away from distractions and noise. It doesn't need to be a full-blown office—a separate desk and a comfortable chair will do just fine, as long as it's comfortable and peaceful.
Treat the space as if it's your office cubicle. "Clock-in" at a certain time, and leave when you've finished work for the day. This will help you resist the temptation to keep checking emails or hopping back on tasks that should stay inside your "office."


2. Take regular breaks
Just because you're working within the comfort of your own home, it doesn't mean that you should deprive yourself of breaks. In fact, a study by the Draugiem Group found that employees are more productive if they take frequent breaks. This is because our brains work in bursts of high activity that last about an hour before powering down.
To this end, Pain-Free Working highly recommends taking five-minute breaks every hour or so. They don't have to be elaborate either. You can simply dedicate this time to stretching, grabbing a snack, or going for a quick walk. You'll find that your mind will be more prepared to take on the next set of tasks after.


3. Mind your clothing
Working in your pajamas is akin to working on your bed. It's comfortable, cozy, and will absolutely keep your brain on relaxation mode. But of course, that this doesn't mean you should throw on suits and heels at home. What matters is you change out of your clothes from the night before and establish a routine that tells your body, "time for work."
4. Get a time tracker
If you still find it hard to stick to an 8-9 hour working schedule, then perhaps a time tracker can further help remind you. Look for those that can be integrated into current software you already use for work. Toggl, for example, can be installed as a Bitbucket extension and can track the exact number of hours you spend coding.
Similarly, Everhour can be integrated with GitHub. All That Saas has also listed some of the best time trackers on the market, which includes other selections like Hourly and Hubstaff. Being aware of your time allows you to see which tasks eat up most of your day, and it will also help you stay on track with your daily schedules.
5. Be strict with your days off
If it's a weekend or holiday, resist the urge to get some work done. Days off are there to help you recuperate. Again, it doesn't have to be fancy vacations or expensive spa days all the time. Even just clearing your weekend to catch up on your favorite TV shows can do a world of good for your sanity.
You can also finish a book, bake, exercise, and basically indulge in any of your favorite hobbies! If you want to be more productive, you can even enroll in online courses to expand your knowledge. The point here is to leave the work for your next workday, and focus on yourself.
About the Author: Roxane James is a freelance writer with a preference for topics in business and lifestyle. She one day hopes to start her own money blog and travel the world.