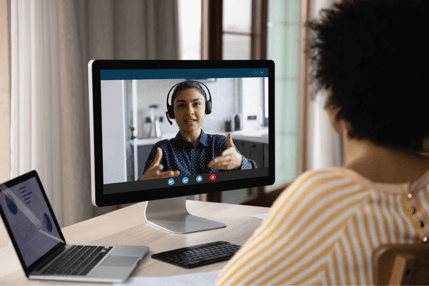 Considering a career shift or advancement? Curious about what it takes to make the jump to the Fintech industry? Want to make the right career moves based on your skills and experience? If so, it's time to befriend a Fintech recruiter.
Sometimes, I think recruiters get a bad rap due to misconceptions circulating throughout candidate communities. Unfortunately, many job seekers still don't see the perks of working with recruiters. Instead, they think that we're just in it for ourselves.
Speaking from 14+ years of recruitment experience, I can assure you that those myths couldn't be further from the truth! Really, we're here to offer you guidance, support, and opportunities to thrive in your career. I'm excited to share what I consider the top benefits of working with recruiters like me - especially if you're in the market for your next Fintech role.
1. GET HIRED FASTER
Recruiters may seem like "the middleman," but we actually help you get your job faster. Our goal isn't just to find you a great job but also to save you (and our clients) time, money, resources, and headaches. We know that for every stakeholder in the hiring process, time is a huuuge commodity.
In working with job seekers daily, recruiters know that being a candidate is time-consuming and hard work. Before moving you through our process, we want to ensure that you're fully aligned to a role that will support and challenge your unique technical skill sets. Although that may sound like finding a needle in a haystack, we're happy to be a magnet to find that needle a whole lot faster!
You can think of us as a match-maker between you and our clients. The objective isn't to fill a seat. Instead, we're trying to get the right candidate with the right skill sets and experience into the right seat with the right client.
2. RISK-FREE & COST-FREE
This one is important. Candidates often think there's a financial cost associated with working with a recruiter. However, partnering with us to find a job is actually risk-free and cost-free. You read that right - it doesn't cost a dime to work with us! We only need a bit of your time and open communication.
Another myth I'd love to debunk is that recruiters take a cut of your salary to pay our clients. Believe it or not, we don't! Job details and wages are all pre-determined with our clients, and none of your pay goes to us. In fact, staffing and recruitment companies don't get paid by clients until a candidate is placed in a position - and that money comes from our client's budget (not your salary).
It sounds cheesy, but the biggest motivator for recruiters is your satisfaction with the job and your positive experience working with us. The better the client-candidate match, the more roles our clients will want to fill through our organization. Candidate and client satisfaction allows recruiters to work with more great candidates.
---
Learn About Changing Careers to the Fintech Industry in our Back to Work Podcast Here!
---
3. INSIGHTS & CONNECTION TO THE CLIENT
Another major selling point of working with a recruiter is that our teams are in constant contact with our clients and fully aware of their wants and needs. This insight and connection can really come in handy for you as a candidate! Recruiters can offer you helpful advice on what our clients may expect from your resume, technical proficiencies, upcoming interviews, and even how you might perform in the position.
On the one hand, we know our clients' unspoken needs and desires. On the other hand, we can see things in candidates that our clients can't immediately see just by looking at your resume. We can use this insider knowledge to have your back and convey your true potential when we submit you to a role.
This "fly on the wall" perspective isn't one you'll have if you apply to a company directly. Insight into both parties only occurs when you work with a staffing and recruitment company like Yoh. It could even be vital to landing your next job.
4. CONSULTATIVE CAREER ADVICE & PARTNERSHIP
Whether you've already applied to an opportunity or not, your recruiter will most likely ask a series of questions to gauge your professional wants and needs. Our purpose isn't to be nosy, but rather helpful. The more transparent you are in these initial conversations, the better chances we'll have at pointing you in the right direction.
Some prompts we may throw your way during intro calls include:
Tell me about yourself.
What are you looking for in your next position?
What are your preferences?
Why are you in the market for a new job?
What are your technical proficiencies?
What is your desired salary range?
When I work with a candidate, I want us to be partners. My goal is to offer you consultative career advice and get to the root of your experience and preferences. By doing so, I'm able to find an actual match rather than simply submitting you to any available position, match or not. Again, this ties back to benefit #1 of saving you time! A partnership isn't something you'll get by applying to a company directly - it's a bonus of working with a recruiter.
5. OPEN DOORS & ONGOING OPPORTUNITIES
It never hurts to build upon your professional network, especially with a person who's connected to jobs in your industry! Candidates tend to think that if the first role they apply to doesn't work out, it's time to go back to the drawing board. However, that shouldn't be the case. A strong relationship with your recruiter could amount to additional and future opportunities.
Let's say you're not a match for the first role in which you've applied… There may be other opportunities that your recruiter is working on and can help you land. Consider that recruiters have strong networks themselves and may know a peer who's hiring for similar roles. If nothing else, your recruiter can provide guidance and advice to build a selling resume, secure the trendiest certifications, and share some tools and technologies in which you could build proficiencies.
At the end of the day, we want to create long-term relationships and offer a helping hand. Who knows what may happen down the line… you could refer a friend or even reach back out when something else catches your eye.
FINAL THOUGHTS
As you look for your next Fintech role, I encourage you to explore a partnership with a recruiter. We'll get your resume in front of decision-makers and help you advance your career at an incredible company. Just remember that it pays to be open, honest, and transparent. We need to know your wants and needs from the beginning in order to help you find true success. Good luck in your career search!