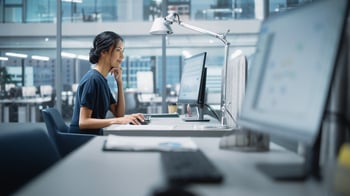 The way we work continues to be drastically affected by COVID-19. While most people may have changed where they work, some are focused on changing their entire career paths. Fintech is an enticing industry that has gained tremendous momentum over the past few years. With projections of global growth of 25% annually, there are no signs of the need for Fintech talent slowing down.
In this episode of Yoh's Back to Work podcast series, our host, Joe McIntyre, and Recruiting Team Lead for Yoh's Fintech Services, Ron Spadaro, discuss why people are looking to leave their current industries and join the Fintech revolution.
Why employees are leaving their jobs or changing careers
From a recruiter's standpoint, Ron notes that the pandemic has made many people realize that life is too short. Now is the time to make the significant career changes they've been putting off to follow their passions. Or they've chosen to retire earlier than planned to enjoy time with loved ones.
Now more than ever, employers need to conduct exit interviews to learn why their employees are leaving. In some instances, the employee might be experiencing a life change, but there may be indicators that the company needs to make changes to retain talent.
Ron indicates that many people who have chosen to change their career paths state that they feel stuck, bored, or looking to be challenged further. Techies are constantly learning and in search of mastering the latest technologies. The ever-growing field of Fintech is where many turn to grow with it.
Join the fintech revolution!
Fintech is driven by people with experience in business, marketing, computer programming, and qualitative research, to name a few. Ron remarks that there has been a natural migration of professionals to this all-encompassing field to help Fintech startups scale up to the next level. As more companies incorporate Fintech-related services into their business models, every company will eventually morph into a Fintech company.
The perks of working in this industry can typically include a higher salary, more autonomy, upward mobility, and simply the idea of building something unique that can drive change. These companies are drawing in young professionals eager to dive into the startup culture. Many find more of a work/life balance and opportunities to make a difference in the lives of their customers when working in the Fintech space.
Fintech companies are always looking to scale up and need top talent to reach their goals. If you're looking to change your career path to join this industry, Ron suggests being prepared to enter into the startup mentality. Be confident in your abilities and roll up your sleeves to accept the new challenges!
Find out what hot jobs are currently hiring in Fintech and more advice for switching careers by listening to the full podcast episode.