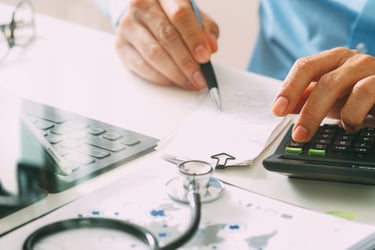 A surge in demand for Revenue Cycle talent is sweeping the nation. Healthcare organizations are struggling to increase cash flow, accurately code services rendered, and reduce days in accounts receivable (AR). Maintaining a healthy revenue cycle is trickier than ever. So, how can you plan ahead to combat the adversities?
Taking proactive steps to employ a highly-skilled and experienced Revenue Cycle and Health Information Management (HIM) team is your answer. An end-to-end revenue cycle management (RCM) solution is your best bet to address the core challenges that you, and most healthcare organizations, are facing to maintain financial viability and provide quality patient care.
From front-end to mid to back-end positions, there are four core areas of end-to-end RCM support you'll want on your team for optimal success.
4 Key Areas of RCM & HIM
1. PATIENT FINANCIAL SERVICES
RCM begins and ends with Patient Financial Services. It all kicks off when a prospective patient picks up the phone and makes the call to schedule an appointment. Roles in this capacity will determine if and how the patient is insured. Otherwise, they'll determine if the patient is self-paying. The role of Patient Financial Service professionals ends when the patient has made their last payment. Since this team is involved in every step of the payment process, the accuracy of the patient financial services element of RCM plays a significant role in the health of your entire cycle.
Some positions that fall into this bucket include:
Medical Billing, Medical Collections

Authorization (Pre and Prior)

Financial Counselors

Insurance/AR Follow up


2. PATIENT ACCESS
When it comes to Patient Access, there's no room for error. Patient Access impacts the revenue cycle in numerous ways, but ultimately, it's a core place where patients make their first judgments and impressions surrounding your organization. From scheduling appointments to capturing patient insurance information and more, patients today have high expectations surrounding the overall process and how it should unfold - on both their end and yours! Failure on the Patient Access side can leave a bad taste in your patient's mouth and potentially motivate them to switch providers altogether.
Some roles to consider include:
Patient Account Reps/Specialists (PAR/PAS)

Patient Service Specialists (PSS)


3. CUSTOMER SERVICE
A seamless patient experience must also occur at the time of appointment from check-in to check-out! Front desk and medical office administrative personnel play a crucial role in the patient's experience during their visit. Although these customer service capacities are common across industries, they're even more vital to get right when it comes to healthcare. Once the patient arrives, there should be a quick and easy procedure to follow, depending on whether the patient is new or returning. This includes having forms ready to fill out and a process surrounding patient identity and insurance verification. As appointments conclude and patients prepare to leave, customer service roles assist in scheduling succeeding visits and handling co-pays.
Key Customer Service roles include:
Front Desk Support

Medical Office Specialists (MLS)


4. HEALTH INFORMATION MANAGEMENT (HIM)
HIM professionals oversee patient health data. Depending on how your data is stored, HIMs are trained to deal with traditional data such as physical copies, as well as electronic medical records (EMRs) and personal health records (PHRs). Since they're trained in health tech applications, they often serve as a connecting point between administrative, operational, and clinical functions. In addition, top-notch HIM professionals tend to come equipped with certifications.
Medical Coders fall into this bucket when it comes to your RCM. Their job is to update patient records with the information needed for billing purposes. In their resumes, you may come across certifications such as Certified Professional Coder (CPC) or Registered Health Information Administrator (RHIA).
At a high level, some key HIM roles might include:
Medical Coders

Health Information Managers
FACILITY VS. PHYSICIAN SIDE?
It's important to note that these roles may function differently on the facility and physician sides. While the facility-geared personnel can cross over to the physician side, physician experience can't cross over to the facility side. This is due to several core reasons:
1. Knowledge/Skill Discrepancies
Skill Sets, certifications, and system knowledge may vary between both sides. Professional medical coders often differentiate themselves by specializing in one coding set. They also bring different certifications to their role to demonstrate their skills, such as CPC or RHIA.
2. Coding Discrepancies
There are undeniable differences between physician or professional codes versus facility codes. In particular, facility codes are more in-depth, detailing both the volume and intensity of the resources used to deliver care. This might include the use of medical equipment, medication, and staff. For example, CPT codes are different on the facility side than on the physician side.
3. Claims Discrepancies
Generating an understanding of the differences between outpatient and inpatient claims is crucial for medical billers. Procuring the proper reimbursement from insurance companies for patient procedures is possible if you submit the correct forms. CMS-1500 forms are used exclusively by physicians for outpatient care like X-Rays and MRIs. The CMS-1500 form is the only version accepted by Medicare. Whereas UB-04 forms are used by health facilities (e.g. hospitals, clinics, urgent care centers) for inpatient claims like childbirth and rehabilitation. Submitting the CMS 1500 & UB-04 forms is essential to completing the claims process in its entirety.
Grasping the systems used to facilitate the claims process is critical. Hospital billers would be primarily operating off of epic queues to generate workflows. These workflows make certain the necessary information is documented for the end user. These workflows document (scheduling, registration, insurance verification, charging, and claims). Physician billers would need to be extremely well versed in software that helps manage their practice. Systems like Medisoft ERP, NextGen Healthcare, and AthenaHealth, in conjunction with Microsoft Excel, allows physicians to manage their billing functions effectively.
FINAL CONSIDERATIONS
It's evident that employing the most highly-skilled RCM team is paramount to the health of your Revenue Cycle. With talent shortages here to stay (at least for the time being), it may be impactful to work with a skilled and knowledgeable HIM and RCM recruitment and delivery partner when making your next hire. The right team can provide consultative guidance and top-notch talent to achieve your goals and keep your organization in motion!