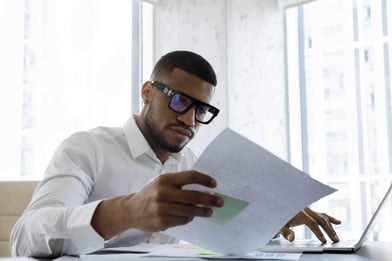 Credentialing is a 'hot-button' topic for healthcare businesses and practitioners alike. On the business side, credentialing is one of the most overlooked and ignored areas of revenue cycle management (RCM). Most healthcare professionals agree that juggling other business functions and tasks leaves no room for it, especially those in roles that are already stretched thin. Unfortunately, the sentiment is the same on the practitioner side. For practitioners, credentialing is often an extensive, expensive, and time-consuming process, to say the least,
I want to bring credentialing back to the forefront of the conversation. While tedious at times, the impacts of proper credentialing on your organization, team, and day-to-day are vast and can ultimately save you time, money, and major headaches.
What is Credentialing?
"Credentialing" is how practitioners become an approved provider through a hospital, practice, or medical facility. It verifies a medical provider's qualifications like their education, medical experience, licenses, and more. In practice, it's done by filling out and reviewing forms, verifying background information, and complying with established payers' standards for participation.
In healthcare, physician credentialing is the process of organizing and verifying the professional records that qualify a doctor to practice medicine. This includes their board certifications, hospital admitting privileges, education, malpractice insurance, professional references, work history, etc.
Ultimately, there are three primary mechanisms for credentialing, which include:
Licensure
Certification
Accreditation
For healthcare businesses, credentialing is a vital part of RCM because it's how they get paid. However, those in charge of performing the task find it cumbersome. While there are definite red flags to consider when credentialing (i.e. frequent practice changes or moves, and unexplained time gaps in work history), it's easier said than done. A slight credentialing error could lead to revenue loss since claims can easily get delayed or denied.
It's also important to note that payer requirements change over time, making credentialing a cyclical process that requires dedicated oversight and management. Due to its ever-changing nature, credentialing is typically required every four years. That's why it's crucial to know the benefits of proper credentialing and who you need on your team to get it right – the first time around.
Who does proper Credentialing benefit?
1.

Healthcare

O

rganizations

& P

ractices
For hospitals, healthcare facilities, and practices, proper and timely credentialing can streamline costs, impact provider morale, increase revenue, and reduce compliance issues and time between payments. In addition, since credentialing is a step above the typical contracting process, it provides liability coverage to minimize risks associated with taking on new providers.


2. Medical Providers/Practitioners
Being credentialed with more commercial insurance companies gives providers access to a higher volume of patients (i.e., the whole pool of patients covered by those insurers). While singular payments may be lower than other insurance plans, the high patient volume typically evens it out. In addition, the liability coverage that credentialing offers will reduce the risk of providers and practitioners taking on new patients and working with new healthcare organizations.


3. PATIENTS
For patients, proper provider credentialing increases their protection and value of care. Ensuring that only qualified providers are available to people is a great way to keep patients in good hands. Credentialing also leads to increased health standards nationwide since more credentialed providers amount to more provider access and, ultimately, more people seeking quality care. If more providers are credentialed to a patient's insurance payer, they'll have more options and be likely to seek care however and whenever it's needed.
Who's responsible for Credentialing?
While credentialing is beneficial for all stakeholders in the healthcare system, it's definitely no easy feat. Credentialing isn't a task for your typical medical biller – it takes a highly-specialized skillset and knowledge of best practices. Therefore, investing in a dedicated credentialing resource or team is vital for proper credentialing. Businesses with a focused credentialing department benefit tremendously from fewer errors in the process and faster returns.
Medical Biller, Credentialing
Credentialing Coordinator/Specialist
Provider Enrollment Specialist
Knowledgeable and dedicated SMEs in these roles are responsible for all credentialing procedures and tasks. They prepare provider enrollment applications, demographic updates, and tracking metrics for all eligible provider types. They also maintain updated data for each provider in your credentialing databases and online systems and execute the timely renewal of licenses and certifications. Lastly, they're responsible for ensuring that your enrollment activities meet federal, state, and department guidelines when processing application submissions.
Taking Credentialing to the Next Level
It's evident why credentialing is a time-consuming and extensive process from every angle. However, it's also clear that credentialing is an essential step in your revenue cycle that needs to be addressed. I can't stress enough the importance of not cutting corners when it comes to credentialing!
Enforcing proper provider credentialing is the best way to reduce your days in A/R and minimize delays and denials in your revenue cycle. It also offers critical benefits to the patients who support your business and deserve proper care. Investing in an expert credentialing specialist or team is a step in the direction. Dedicated credentialing resources will make fewer errors and benefit from a focus or goal in their roles.