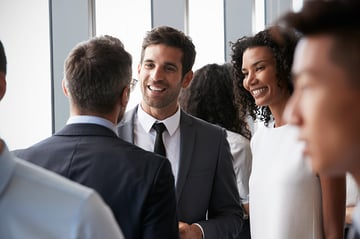 Whether you're new to the Fintech world or a seasoned pro, attending annual events with your team is a great way to stay in the know. These events are significant for learning the hottest trends in WealthTech and networking with Fintechs on every level, from startups to large corporations. There are varying levels of participation, whether you are representing your company, hosting an informational booth, or demoing your latest Fintech solutions. There is something for everyone at these events. Traveling is always a perk, too, as many events are shifting from a virtual to an in-person/hybrid platform.
My team is looking forward to attending these five WealthTech events this year. Let's dive into what each of these events has to offer:


1.
Money 2.0 Conference USA
When: april 11 - 13, 2022 |
Where: the mirage, las vegas
Money 2.0 highlights the latest happenings in the world of money, along with valuable information on the ever-evolving global financial landscape. So much has changed in our economy due to the COVID-19 pandemic. Three days of 30+ panel discussions and keynote speakers will provide you with actionable strategies for managing and growing your wealth and insight into the latest Fintech innovations transforming our relationship with money. Sessions worth noting are "The Future of Money & Finance: Bitcoin, Cryptocurrencies and DeFi" and "The Rise of the Metaverse: Implications for Finance and Insurance." Find mentors in finance coaches that you will have the opportunity to network with for invaluable advice for your business' success. Exclusive pitching events will allow you to showcase your ideas and solutions to early-stage investors.


2. the wp wealthtech summit
When: May 17, 2022 | Where: Virtual
If a single-day event is what you're looking for, check out The WP WealthTech Summit. This virtual conference features 11 speakers engaging in panel discussions and keynote presentations focused on educating advisors on how to better leverage technology, build robust portfolios, and prepare for emerging trends in wealth management. Live Q&A sessions with the speakers and live chats with other participants are available throughout the day to network and share ideas on the day's thought-provoking discussions. New technologies are disrupting the WealthTech space. I'm looking forward to learning from these experts sharing advice on further digitizing your practices, and staying current on the latest cryptocurrency strategies.


3. financial planning invest
When: June 16 - 17, 2022 |
Where: Hilton midtown, NY, ny
INVEST 2022's in-person event in the heart of Midtown Manhattan is honing in on the must-watch WealthTech megatrends 2022. Top innovators in Fintech bring their newest tech and solutions to demo with sponsorship opportunities. With 30+ sessions throughout the conference, the goal is to identify market drivers, the economic outlook, and which methodologies successful organizations are implementing. I'm most looking forward to the session "Predicting WealthTech's Next Big Players'" in which top wealth management investors share which technologies they view as game changers and what they look for in successful Fintech teams. In-person networking opportunities are scattered throughout the event, filled with AI in WealthTech experts, Crypto buffs, and every type of Fintech looking to expand their knowledge.


4. Finovate Fall: WealthTech Investing Summit

When: September 12-14, 2022 |
Where: Marriott Marquis Times Square, NY, NY; virtual
This unique Finovate experience includes 75+ seven-minute live demos of the latest and most innovative Fintech products. Quickly see what's going on in the market and see where your organization might be able to utilize the latest technologies. With 130+ speakers, there are sessions for every Fintech to learn about the latest trends in WealthTech to apply to your company's success immediately. 1100+ founders, innovators, and experts will be in attendance in person. Build connections and engage with WealthTech disruptors at networking events featured throughout the conference. Finovate focuses on keeping its sessions brief and informative. Look out for 5-in-5 sessions in which five expert speakers each have five minutes to bring you up to speed on exciting Fintech technologies and trends on the horizon.


5. fintech meetup
When: march 19 - 22, 2023 | Where: aria, las vegas
Fintech Meetup takes place during the first quarter of every fiscal year. I had the pleasure of attending this year and am looking forward to attending next year! This year's virtual event allowed you to create a profile about your role in Fintech, what you can offer other attendees, and what you would like to learn from others during the event. From there, you can browse through 120+ target profiles (CEOs, COOs, SVPs, etc.) and set up 15-minute meetings with Fintech innovators of your choice. I'm looking forward to the 22 collaborative meetups added to my calendar with my WealthTech peers! Next year's in-person event will be a wonderful time to reconnect with old and new connections while learning about the latest WealthTech trends from engaging panel discussions and content sessions.


Conclusion
Learning from peers in your industry is an invaluable opportunity. My team within Yoh's Fintech Practice has found these events to be excellent opportunities to network and continue to move the bar forward in Fintech and WealthTech's growth, as well as provide our clients with today's top-notch talent. As new technologies are always debuting, we take it upon ourselves to constantly learn and develop our skills. Hope to see you at one of these upcoming events!