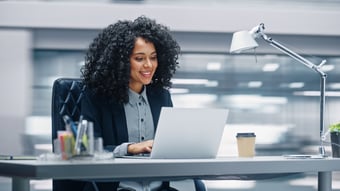 A permanent role is the goal of many people on the job hunt. However, things don't always go the way we plan. You might even find yourself in consecutive temporary roles. It's always best to expect the unexpected when applying for new positions, but you might miss out on the benefits of temporary work!
As someone who has worked temporary roles that have led to permanent employment, I am happy to share with you the top advantages you can reap while working in a temporary position.


Advantage 1: Build your Network
Temporary work could lead you to work in an industry you may have never expected for yourself. You could really like this new industry and base the trajectory of your career working in this field.

Working consecutive temporary jobs provides many opportunities to practice your networking. These people you would not have met elsewhere can connect you to full-time roles or whatever the role of your dreams may be! Working across industries and positions opens you up to deciphering the type of work you like and don't like. This reigns true for recruiters especially. You might try out some temporary roles recruiting in various industries until you become a Subject Matter Expert (SME) in a particular industry and stick with it.
Advantage 2: expand your skillset
A new role is always a chance to broaden your horizons. You can gain new skills and hone the ones you already have. Building additional experience to list on your resume can make you a more attractive candidate.

As a more experienced candidate, you could be considered for higher caliber roles you might not have expected for yourself. My experience working as a temporary recruiter in industries such as Industrial, Legal, and Healthcare allowed me to gain a wide variety of skills and knowledge that I used to sharpen my recruiting techniques. Eventually, that gave me the edge to get hired as a permanent technical recruiter.


Advantage 3: FLEXIBLE HIRING REQUIREMENTS
Many companies are bouncing back from the pandemic or fighting The Great Resignation and need workers. Companies realize how important it is to be flexible with where their employees can work and are choosing to go fully remote or remain hybrid friendly. This has applied to many temporary roles as well.
Depending on the role, some temporary positions allow you to come in at a higher rate than a permanent hire. Keep in mind you might receive fewer benefits, but it depends on what your needs are at the time. Some positions might even offer weekly pay. Most importantly, temporary roles provide you with a steady income while you continue to look for the role of your dreams.
Advantage 4: Kickstart your Career or Change your Career Path
Temporary jobs open the doors to many opportunities. Getting involved at a company you admire is one of them. You might start in a different role than you want, but getting a feel for the company can help you climb the ladder to that dream role. Finding out what you like and don't like about a job is another perk of working temporary positions.

Since the COVID-19 pandemic, many people have realized that life is too short. Many people are seizing this opportunity to make the significant career changes they've been putting off to follow their passions. Fintech, for example, is a booming industry with no signs of slowing down in the future. Techies and financial experts are kicking off their Fintech careers, working temporary roles in startups to uncover which aspects of the industry they strive in. They're building their resume and adding many new skills along the way.
Advantage 5: Opens doors for full-time employment
No matter what role you take on, showing up every day and proving you are an asset to the company builds an added layer of trust as an employee. Across Yoh and all of our affiliated enterprises, "We Do What We Say" is a term you will commonly hear. This mentality I brought with me as a temporary worker helped me get noticed and eventually hired full-time.
Working with a team that holds that statement in high regard makes the job even better. Work hard, build relationships with your team members, and you might get called back for that full-time position!
conclusion
Be adaptable to change no matter where you are in your job search. Otherwise, you might become stagnant and burnt out in a career you don't like. There are many opportunities for you to land your dream career, temporary jobs being one of the best places to start. Set short-term goals for yourself to help you achieve your long-term goals!