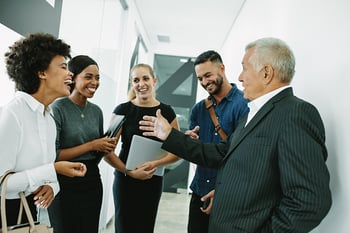 Conferences are great places to build business relationships and get to know people with unique skills and ideas. But sometimes mingling feels awkward, and networking sounds like something door-to-door salesperson would do.
In fact, just mentioning the word 'networking' makes many people immediately think of awkward handshakes, senseless small talk, and emails from strangers that want to pick their brain. Because of this, some people will turn a conference outing into a dreary smartphone-staring competition.
That's only because many of us don't know how to make networking fun, productive, and natural. If you are attending a conference ranging from the topics of WealthTech to Validation, here are some pro tips to change your perspective on conference networking.
Step Up Your Conference Networking Game
1. Get Your Paperwork Ready
When you visit a conference, there are two things you may want to bring: a business card and a few copies of your resume. Why? Because business cards are a great way to exchange personal information quickly during any downtime between scheduled events.
As for resumes, having a copy of it could potentially land you a job because conferences are full of networking opportunities. Before sending out your resume, try to perfect it first. Make sure it's up-to-date, has quantifiable achievements from previous roles, and includes resume power words.
2. Practice Your Elevator Pitch
An elevator pitch is a concise two to three sentences describing what makes you unique. It's designed to grab attention and make others genuinely interested in you.
The problem is that many of us aren't comfortable pitching ourselves. It's challenging because you don't want to come off as an overly self-centered person, but you do want to talk about yourself enough that a potential employer understands what you bring to the table. Solution? Learn how to write a short and sweet elevator pitch that makes the person like you enough to hire you or at least connect with you on LinkedIn. Check out this Indeed guide to learn more.
3. Show up Early and Prepared
Showing up early and well-dressed is important for making good first impressions at conferences, but there is more than just this that you should do before arriving at a conference.
First and foremost, do your research. Go over the central figures and facts about the industry, and check the list of participants and speakers at the conference. It's also a good idea to read blogs and news feeds to become informed about the speakers' accomplishments. If you get the chance to chat with those people, you'll be able to spark a conversation with little effort and be perceived as someone who has been immersed in that industry for a long time.
4. Know How to Jumpstart a Conversation
When you go to a conference, you will sometimes bump into people that want to talk to you, but they don't feel comfortable starting conversations. Instead of initiating a conversation, they may stop 5-8 feet away and go into hover mode: they will look at you and say nothing.
What do you do? It's simple: you approach and introduce yourself.
Here are a few examples of conversation starters:
"Is this your first time attending this conference?"

"What speakers did you particularly enjoy?"

"Do you plan to drop by some other conferences this year?"

"I am currently working on XYZ. Do you have some tips to help me?"
Later, when you feel like the conversation has ended, you'll be able to excuse yourself without feeling bad.
5. Always Have an Exit Strategy
Following the previous point, always have a conversation exit strategy in place. Otherwise, you might get stuck with a person that you have nothing in common with, turning into a conversation with no growth opportunity. So how can you exit? Be polite and know how to excuse yourself gracefully.
Here are a few ways you can back out of a dead-end conversation:
"I would be happy to chat some more with you, but I need to run and find my wife."

"Thanks for your time, but unfortunately, I am going to be late for my appointment."

"What time is it? 5 P.M.? I have a phone call to make. Sorry, but it was nice to talk!"
Need some more tips? This Fast Company guide has got you covered.
6. Go Social
Share the information and tips you learn while you're at the conference on social media. If there are influencers, you could share what they have to say with the right #hashtag. Why? Their audience will appreciate that, and the influencers might notice you are giving them exposure and helping them share what they want to share in the first place. Having them notice you could present you with advancement opportunities in the future.
7. Follow Up
Once the conference is over, try to get in touch with the people you liked the most.
Tweet them, send them an email, or message them on LinkedIn. Just make sure that you max out your LinkedIn profile first so that it appears professional. Discuss how the conference went and suggest whatever you think is appropriate (coffee invitation, plans for future conferences, etc.).
So—What Do You Think?
There you have it; seven tips to help you network at conferences like a pro. Now, what's your experience with event networking? Did you land a job through someone you met there? Can you share your ice breaker ideas to start a conversation with high-fliers? Share your thoughts in the comments!

About the Author: Max Woolf is a writer. He's passionate about helping people land their dream jobs through the expert career industry coverage. In his spare time, Max enjoys biking and traveling to European countries. You can hit him up on LinkedIn.