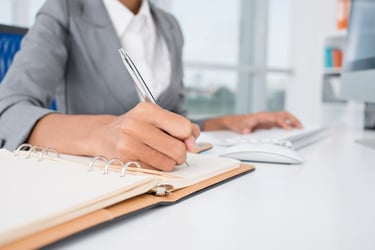 There are over a million administrative professionals currently employed in the United States today! This figure comes as no surprise as an administrative position offers a myriad of career benefits, including opportunities for the development of a professional skill set, career advancement, and job stability. I possess over a decade worth of experience in talent acquisition – having helped hundreds of candidates not only land a position in an administrative capacity, but also thrive in their careers. Over that time frame, I have garnered strategic tips both from my own experience starting out in a support role, and directly from administrative colleagues on approaches to excel in the position. I'd like to share those six tips with you. Let's dive in!
1. Polish your Resume to Perfection
Your resume is a reflection of your capacity to perform. In an administrative role, showcasing a polished resume is essential. Your resume serves as the first indicator of your written communication skills for potential employers. Carefully editing your resume highlights attention to detail and demonstrates the ability to excel in precise client and internal communications. Inconsistencies and even the smallest of errors on a resume can raise red flags for potential employers. Here are four common inconsistencies that can impact your ability to land the interview:
Formatting – Different font styles, sizes, or formatting inconsistencies throughout the resume


Consistency – Variances in how company names are presented (e.g. using abbreviations or full names inconsistently), or how months and dates of employment are presented. Additionally, keeping the grammatical tense the same throughout the resume is important


Employment Descriptions – Inconsistent descriptions of job responsibilities and achievements (e.g. not enough detail in one employment section)



Repetition – Avoid using repetitive statements throughout the resume
2. Don't Underestimate the Value of Customer Service Experience
Customer service skills, whether gained in the education, retail, or hospitality industry can be highly transferable and valuable in an administrative role. Professionals who have developed strong customer service skills bring to the table a deep understanding of effective communication, problem-solving, time management, and empathy. In an administrative role where interactions with colleagues, clients, and stakeholders are frequent, these skills become a cornerstone for success. For example, the ability to empathize and actively listen to colleagues' needs or effectively communicate with clients can greatly enhance one's capacity to coordinate tasks, manage schedules, and handle various administrative responsibilities. Therefore, highlighting these skills on your resume is not only relevant but essential.
3. Positivity and Enthusiasm Always Shines Through
Enthusiasm and positivity in an administrative role signal a strong desire to learn. A positive attitude fosters a welcoming environment, making it easier for colleagues to seek out your assistance. Demonstrating enthusiasm for the role during the interview process and consistently showcasing your talent and willingness to grow in your position can set the tone for your professional journey and contribute to your long-term success within the organization. Oftentimes, opportunities for growth arise from a positive attitude. Never underestimate the power of exuding a positive demeanor – especially in a role that calls for regular interpersonal contact.
4. Listen and Ask Questions
Active listening combined with asking questions are pivotal in an administrative role. I've had the chance to ask "What advice would you give to someone new coming into your role?" in many exit interviews over the years, and without fail, each and every person has always answered back "ask questions!" Asking questions allows you to best understand how your team would like to be supported and contributes significantly to elevating efficiency and effectiveness, as well as can make you stand out as someone who is thoughtful, committed, and engaged in their role.
5. Network with Intent
Network for the present. Networking for the future is an important part of any career journey, but building a network of resources that can aid you in your current role can be equally as important. In essence, proactive networking within your administrative community can be your ticket to success, because they've been in your shoes and have the knowledge to steer your development in the position and assist with questions or guidance.
6. Have Confidence in your Abilities
It's easy to succumb to imposter syndrome – especially if you are new to the role. It's important to keep in mind that confidence in your abilities not only bolsters your own performance but also inspires trust in your colleagues and superiors. When someone comes to you with a problem, it means they trust you to solve it. You know more than you think you do! It's important to be resourceful in your role and think about how you can try and solve an issue with the tools at your disposal. Instilling confidence into yourself will do wonders for your professional journey.
Final Takeaways to Succeed in an Administrative Career
Achieving success in an administrative role can take time, as you build trust from those you support, develop a strong internal network, and gain confidence in yourself and your capabilities. The tips outlined above hold true for almost all roles and career paths, not just administrative positions. If you're actively seeking an administrative role, but don't know where to start your search, consider reaching out to our experts here. Our network of recruiters are ready and able to assist you in your career journey.