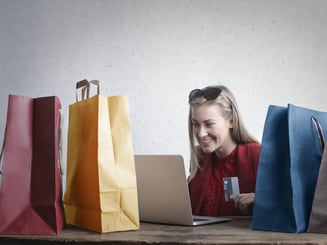 We're spending more time online today than ever before. While some brands understand and embrace digitization, others may not be so eager to jump on board. It's no secret that a lot has changed in the retail space over the past year. Digital transformation and COVID-19 have entirely shifted the way people shop. Lately, online shopping trends have skyrocketed and become the "new normal."
Although I'm in IT staffing, I'm also a customer. A shopper (who does a lot of shopping). Even before COVID-19, I enjoyed the therapeutic nature of the online retail experience. But at the beginning of the pandemic, online shopping was the only option I had, and the same held true for a lot of people.
In the last year, the buying experience drastically changed, and brick-and-mortar stores felt the pinch. Several companies were in the red, and some even filed for bankruptcy. On the flip side, others thrived. Even amid the most brutal COVID-19 days for businesses, some companies did so well. How come?

A SHIFT FROM IN-PERSON TO A VIRTUAL CUSTOMER EXPERIENCE
I think about walking into some of my favorite stores - I instantly know where I am based on the scent in the air, the music playing, and the décor. It's truly an experience! Over the past year, brands realized they had to continue giving us that experience, both online and in-person. Since the technology is there, the customer demands it.
Today, a brand's customer experience has a major impact on the buyer's experience and the company's bottom line. Whether in-person or virtual, a pleasant shopping experience will always increase the buyer's odds of making a purchase. Before the pandemic's disruptions, some brands had their digital transformation process well underway and were able to quickly adjust when life went virtual. Others needed to quickly pivot with website revamps, chatbots and helpful customer service, and other digital add-ons to create a great online shopping experience and maintain their competitive edge.
But don't just take my word for it. Take a look at some brands that have fully embraced the digital transformation to benefit their customers and revenue.
3 BRANDS DOING IT RIGHT TODAY

1. THE VITAMIN SHOPPE
The Vitamin Shoppe is taking their vitamin delivery to the next level with Instacart. Waiting for my shipment to arrive is now painless. If I need something quick, I can have it dropped at my door that day. Also, as both a customer and an IT Account Executive, I've noticed changes Implemented on their website, an easier online ordering process, and helpful articles on wellness and beauty. Do I want to take Collagen? I think so, but let me see what The Vitamin Shoppe says about it, first!
These changes may sound small, but for some of us, they're huge. They make the joy of online ordering even more joyful, and that makes me want to buy.

2. ANTHROPOLOGIE
When I'd walk into an Anthropologie store, I knew the exact candle they were burning. Their Volcano brand is their signature scent, and many of us buy that candle to make our homes smell the same. That smell, along with the branding and décor, resembles the in-person Anthro experience.
Oddly enough, when I shop on their website, I feel like I can smell the candle. Their website resembles their store so much that I hardly miss walking into the brick-and-mortar location. The aesthetic is there, the vibe is there, and their customer service remains top-notch. Whoever created their website - my hat is off to them!
All of these things make shopping online at Anthro a breeze. Not to mention that checkout is a cinch since my credit card info is securely saved. It's almost as easy as shopping on Amazon.

3. AMAZON
Amazon changed the game with 1-Click, or the "BUY NOW" button. One swipe to the right, and my item is on its way. The "Reorder" option also comes in handy, so I don't have to go searching for what I bought. Lastly, they've implemented a "Call back" feature, which links the order I'm having an issue with directly to a customer service associate. I get a phone call instantly to my cell… It's brilliant!
All of this convenience makes Amazon the first site I go to when I need an item. And we haven't even gotten into Amazon Pay, which I can now use on other sites like ShopBop, Thrive Causemetics, as well as getting my Whole Foods groceries. Have I ever not bought something because I had to get out of bed and get my credit card? YES…. (I didn't need that dress anyway). My point is, Amazon wouldn't dare let that happen. It's simply too convenient.
We all know that Amazon soared during the pandemic. However, they also had many fantastic procedures already put into place and didn't have to pivot as much to amplify their virtual presence. Despite this, customers still expect and demand that same level of ease and convenience from other brands.
INNOVATING BY FOLLOWING THEIR LEAD
The takeaway… These three brands are making and keeping their customers happy. They're probably not feeling the COVID-19 pinch as much as other companies. In the age of virtual gaming, shopping, and dating, you need to have your website work for you. And, if it falls short, you'll feel it. Shopping is now a visual experience online. We can upload selfies to try on clothes, hairstyles, and makeup. So, while I miss all of the real window-shopping I used to do, I'm not left experience-less. Beautiful, interactive websites make me feel like I'm already there.
To the brands feeling the pinch, what does your website look like? How easy is it for your customers to buy, try-on, and return? If you feel something is lacking, work on it because online shopping isn't going anywhere.