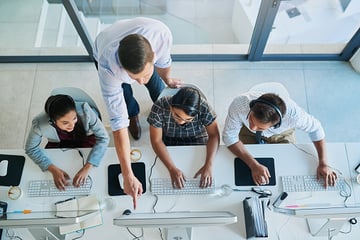 Jobs in IT attract high salaries, dynamic projects and the potential opportunity to relocate anywhere in the world, especially thanks to the increase in remote roles. The good news is that it is possible to get a job in the IT sector without appropriate education/experience. Read on to find out how to do it.

What are the entry points into IT for non-technical specialists?
It is not only developers and testers who can work in IT. Every company has several non-technical positions, including:
Financiers

Lawyers

Administrative staff (HR, office managers, secretaries),

Marketing Specialists (Analysts, PR, Content Managers, SMM)
If you have a degree in law, journalism, philology, marketing, economics or accounting, you can apply for the relevant position in an IT company. In this case, any previous work experience will be relevant and illustrate your level of competence.
You can also apply for a Sales Manager or Support position. In the first case, you will need to sell products, explain to the customer the benefits they will receive by purchasing the company's product, negotiate and agree on mutually beneficial cooperation.
Note that most companies train support specialists free of charge at the beginning of their work, so it is possible to get to such a position without any previous experience, even if you are an essay writer.
Another area of activity in IT, which is suitable for beginners, is graphic design. This position sometimes does not even require higher education, natural talent, ability to work in Adobe Photoshop and Adobe Illustrator, and knowledge of the basics of composition are enough.


Entry Points for Technical Positions
As for technical positions, some companies are willing to consider candidates without experience in IT. The lowest entry threshold is for Front-end developers and QA specialists.
Basic knowledge can be acquired on training courses (if there is no technical education), and then you can work on your skills in a team and deepen your knowledge and improve your qualifications if you wish.


Does the age of the candidate matter?
Although a generation of programmers 40+ years old has already appeared during the industry's formation, the IT sphere is still relatively young.
If we're talking about professionals who want to get into IT-company without the relevant work experience, it is evident that recruiters will prefer the youth - graduates or seniors. What is the reason for this? Such professionals have a lively mind and can learn new things quickly, and most importantly, they can be taught everything they need to perform the tasks of a particular project at once. Besides, openness and the ability to work in a team are highly valued in IT companies, and a young person is easier to adapt and make acquaintances. That is why age is an advantage, no matter how we declare a nondiscriminatory recruiting approach.
If a person decided to change the profession after 30, he predictably would have difficulties. An IT company will gladly hire an experienced programmer for a Middle+ or Senior position, regardless of age. But there is an unspoken rule: those who are just starting their career should apply for the Junior position.


How to write a CV: Tips for the candidate
If you have decided to change your profession, you should not hide your work experience that is not related to IT. If there are white spots in your CV (years when a person allegedly did not work at all), a legitimate question arises about what he did during that time.
If there is previous experience, it is always better to specify it. You can highlight specific skills and knowledge gained and think about what of these will be useful in IT. Perhaps at your previous job, you had to negotiate, resolve conflicts, do the planning and learn the principles of time-management or people-management? It is useful to write about this in your CV.
In the Hard Skills column, it is best to list only the candidate's skills. Sometimes it happens that the CV says, for example, knowing MySQL, but during the interview, it turns out that the person has just read and has only a general idea. Such situations make the recruiter feel negative about the candidate because it seems that the person is trying to deceive the employer or cannot adequately assess his knowledge.
Do not ignore the Soft Skills box. Sometimes candidates write in it just for fun - to check a box. And sometimes, they start praising themselves. This is not the way to do it. To determine which soft skills are worth mentioning in the CV, think about what goals you set for yourself in the new place of work. For example, if you want career growth, do not write that you are a non-conflict person. To be considered for a promotion, you will, in any case, have to be "visible" - to defend your point of view, to propose innovations, and in the team, there will be those who will be dissatisfied with it or have a different point of view. It is better to write that you know how to negotiate, always find common ground and know how to make balanced decisions.
Writing about communicativeness is ineffective. Every other person calls themselves a communicative person; it's so worn out that recruiters don't pay attention. It is better to write whether you are an introvert or an extrovert - they will definitely notice it.


CONCLUSION
There is no lack of IT jobs in the current market. Now is the time to reevaluate your skillset and consider which skills you can apply to a role in IT. Soon you will be reaping the benefits of a career that is ever evolving and growth with the latest trends in tech.
Author's Bio: Jean Hartley worked for 10 years in the marketing agency. Now she is a freelance writer for Writemypaperbro, an educational service..