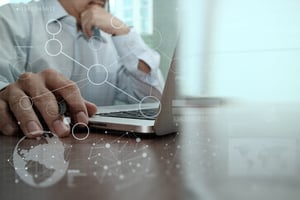 When it comes to selecting an ERP (Enterprise Resource Planning), Workday is increasingly becoming one of the most popular ERP cloud systems available. But without the right partner, managing a system with this extensive range of capabilities can become completely daunting for one organization to manage.
The Growth of Workday
Workday has witnessed rapid customer adoption with a CAGR (Compound Annual Growth Rate) of about 55 percent since 2013. This is attributed to its strategic acquisitions, geographic expansion, and continuous product enhancements.
Moreover, the Workday application offers an agile, configurable and a user-friendly interface. Its high customer traction is primarily achieved through its unique solution, exquisite engagement model, and continuous technology innovations.

But, a Workday implementation is quite distinct from those of traditional ERP technologies. Due to reduced project duration and fewer resources required, the Workday implementation costs are lower than traditional ERP implementations. There is better buy-in and enhanced adoption owing to an active Workday prototype used throughout the design process in which client data items are tested and taken live.
What's a Workday Partner?
Initially, customers might not realize the need of partnering, but the rapidly expanding global footprint and the sharply increasing scale of customer usage stress the fact that managing Workday cannot be done by enterprises on their own. Though a Workday implementation could be taken in-house, configurability poses a hefty challenge as several processes and systems would have to go through innumerable transitions which are underestimated during the initial planning stage.
Furthermore, Workday's current release schedule consists of about three updates annually. Many clients, particularly complex and global organizations, are likely to go through one or more updates during implementation. These recurring updates require the project to be tested and taken live as per the release cycles planned, which usually gets affected due to even small project delays if done in-house. Thus, to get a high ROI, quicker implementation with lesser technical glitches, and progressing innovation from Workday, enterprises collaborate with service partners who can bring the required know-how and expertise for both domain expertise and solution knowledge.
As a matter of fact, Workday also directs all its customers to use Workday service resources to effectively check the work of partners (or in-house implementation resources if it is done in-house), so while going for in-house implementation is an option, choosing the right partner has almost become a prerequisite for Workday.
Workday's partner network is comprised of boutique firms working exclusively on Workday projects, system integrators who have dedicated personnel for Workday services, and HCM (Human Capital Management) service providers. Customers utilize this diversity to find the right set of talent to meet their deployment needs. The service partners are extensively trained for enabling the efficient Workday deployment as well as the ongoing adoption of new capabilities. They assist clients design process flows and business rules to utilize pre-built features of Workday. The integration partners are trained to deliver seamless integrations that can support seamless movement into the cloud. This seamless integration enables information to flow from Workday to internal systems, cloud applications, and third-party services. Programmatic change management policies, including communication and training to adapt users to the new ecosystem, are a key element of the Workday implementation plan.
Selecting a Workday Partner
It's important that when you go into the selection of a partner, you understand what you need them for, and what they should be providing you. Here are some major features that are often sought after when selecting a Workday Partner.
As there are frequent updates, the enterprises adopting Workday should seek faster, quicker and flexible rollouts and a partner with an ability to assimilate these periodic updates.
Deep functional expertise, technical knowledge and HR domain expertise on a global level are a few must-haves for the service partner.
Any enterprise, while choosing a partner, prefers those having a substantiated track record and a long strategic partnership with Workday. This enables the enterprises to get support from Workday for easier and faster problem resolution and technical fixes without touching their code.
Additionally, the enterprises should also look for a partner capable of thinking through the simultaneous integration of change in processes, practices, organization, people, and technology.
One key element that should not be missed while selecting a partner is an efficient change management plan built in the Workday implementation plan rather than an add-in to get appropriate acceptance from all channels.
A partner having a CoE or a structured governance system put in place is an added advantage.
Though the Workday Partner ecosystem is vast, it is still in nascent stage in terms of partners having their own tools and prebuilt IP, such as testing and migration tools, or having their own localized resources in clients' geographic area.
Global delivery models and ongoing services are a few non-mandatory features sought after while selecting a partner but are not a precondition as the market is still growing at a rapid pace. This rapid pace of the evolving market accentuates the fact that the enterprises should rethink their partner ecosystems often and should not commit to long-term deals.
Choosing the right implementation partner has sizable implications for the business. One of the pitfalls which the enterprises should be prudent of is to avoid rogue partners who do not have formal partner status today and are clamoring to get into the mix. Especially, those who are not following a standards-based integration approach. Workday might not extend support for technical glitches in such cases. In these scenarios, any support issues and ongoing testing in between the releases will be the client's responsibility. Furthermore, clients should make sure that adequate amount of implementation resources and HRIS members are available at each geographic location as per the project plan and business requirements for large scale global rollouts.
Many times, the implementation partners believe that these could be done remotely, but this might create a situation such that the implementation process might not be aligned with the company's culture and internal ways. This, in turn, can impact the implementation and user acceptance. Finally, the implementation complexities and time should not be underestimated in the beginning as this could lead to delays at a later stage. Owing to these unique challenges and considerations, the IT services on Workday is witnessing an explosive growth.
If you find yourself leveraging Workday's cloud-based, on-demand systems, you are most likely looking for efficiency and a return on your investment throughout your enterprise. Partners offer assistance in conversion, upgrade, or integration. Whether they manage the project or find staff for your internal team, it's important to find a partner that has technical Workday experts that have proven experience for continued success on such a sizable operational investment.
About the Author: Arkadev Basak is a leader in the Business Process Services practice at Everest Group and assists clients on topics related to the entire HR and talent services value chain including permanent and contingent talent acquisition, payroll, benefits, learning, broader talent management, and multi-process HR outsourcing.