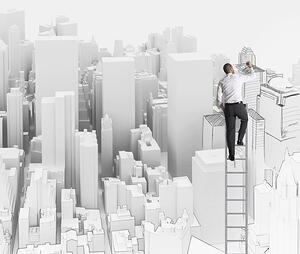 When your organization gets to a certain size, there is just too much data for singular departments to handle manually. And even if they aren't managing it manually, their systems and process may be out-of-date making the situation no better.
When it comes to Big Data, to keep up with the Joneses, it may be time to evaluate a system that seamlessly streamlines the connection between human and financial resources. Tada! Here comes Enterprise Resource Planning (ERP) software. ERPs standardize, optimize, and integrate business processes across finance, human resources, and other departments. Typically, the software operates on an integrated software platform using common data definitions performing on a single database.
Choosing an ERP system is among the most challenging decisions facing organizational leaders today. But one of the most prominent words on the ERP scene is Workday. Workday is a unique product in that it started on and is maintained on the cloud. The fact that the cloud no longer has to run the software through their own data centers brings the cost down due to the fact that no extra hardware is needed. No additional hardware costs mean no additional staff costs to support and maintain that hardware. Also, being a first in that space gives them a one up on competitors since they are testing and improving their cloud services before their competitors get a chance to.
Starting off their ERP service from a blank slate also works to Workday's advantage. It's almost run like a startup; you will find top innovators doing exciting things to grow and improve Workday. As TechTarget says in their review of Workday, "It's rewriting the book on HR systems and doing it in a true SaaS environment -- single codeline, all customers on the same release, no customization but configuration and several releases per year."
But just like every enterprise-wide system, it's important to know what the next steps are when the ink has dried on your Workday contract. Here are three things to keep in mind as you look to deploy a large ERP like Workday.
Evaluate your Functional, Technical, and Budget Needs for Implementation
An ERP partner like Workday offers their products in human capital management, payroll, time tracking, finance and accounting systems. This is meant to take the burden off of your existing HR and Finance teams. But remember, implementing something like Workday is a considerable undertaking. For them to keep producing for the good of the company, you will need to get a better understanding of what is involved in implementation.
Implementation of an ERP like this involves, but is not limited to, data cleanup, a conversation of all the payroll history into the new cloud-based system, integration with other possible existing software you may need to, and sometimes, it even includes ramping up a shared service center to support the new tool. Before an ERP implementation, it's essential that you accurately analyze your budget and your staff to make sure that you have what is required to make sure this enterprise-wide tool is set up correctly.
Be Prepared for the Unexpected
In a perfect world, you set up an ERP system like Workday, train your staff, and walk away to watch the magic that the ERP product does for efficiency! Though it's not a lie that it helps efficiency, we all know better that after implementation it isn't all smooth sailing. Sometimes organizations are in a rush to go-live with their new ERP system. Rushing to get it up and running can cause various problems and errors you may not have seen coming.
A few things that may come up can include:
Are you ready for standardized documents and training for new hires?
What happens if your company goes through a merger or acquisition?
What happens if you decide to start expanding your business significantly or move internationally?
What happens if there is new technology that your ERP needs to play nice with?
Whether it's organizationally or technologically, there's always something that can pop up when it comes to managing new technology, especially at this broad of a scale. Try your best to conduct research, analyze and create best practices for these bumps in the road, based on your industry or the specific needs of your company.
Find a Knowledgeable Partner
When it comes down to it, the best decision you can make after choosing Workday as your ERP is finding a Workday Service Provider. This should be lined up, even before you sign the contract. Partners will help you make better decisions for your organization and give you unbiased, independent advice on workday practices. Workday has a talented and robust team of consultants to guarantee their customers' success.
They have done it all before. These partners take the guesswork out of implementation and also can be on-call for any bumps in the road that may arise. They can ramp the project team up or down as needed during the execution, saving you time and money. They can give you the time and attention required to the task at hand so that the rest of your organization can get back to their day-to-day.
If you decide to implement Workday as your ERP solution, keep these things in mind as you sign the dotted line and if you need an experienced Workday Service Provider, click below to get in contact with one of our experts to get the conversation started.

About the Author: Mitchell Fass is the Executive Vice President, ERP and Enterprise Solutions Cloud practice at Staroint Solutions, A Yoh Company. With more than 30 years of experience with enterprise software, Mitch has helped clients address a range of issues, including enterprise strategy, systems integration, and operations improvement. Mitch received a B.A. in Accounting and Business Administration from Rutgers University.